The announcement this week at the Farnborough International Airshow that AirAsia has committed to order more Airbus A320 Family aircraft may not have come as a surprise. The Malaysian airline and its affiliates across in Thailand, India, Indonesia and the Philippines have already received more than 170 new A320s and the Low-Cost Carrier (LCC) is already firmly established as largest airline customer for the Airbus single aisle product line.
However, its choice for the first time of the largest variant, the A321, does highlight a continued maturity of the carrier and follows a trend already adopted in the much more advanced LCC sector in Europe and North America to acquire larger capacity airliners to support demand growth and further lower its operating costs.
AirAsia has signed a firm order with Airbus for the purchase of 100 A321neo aircraft, its first order for the largest model of the A320 Family. Seating up to 236 passengers in a single class layout, the A321neo will enable the airline to increase capacity versus its current A320 fleet while benefitting from the lowest operating costs in the single aisle category.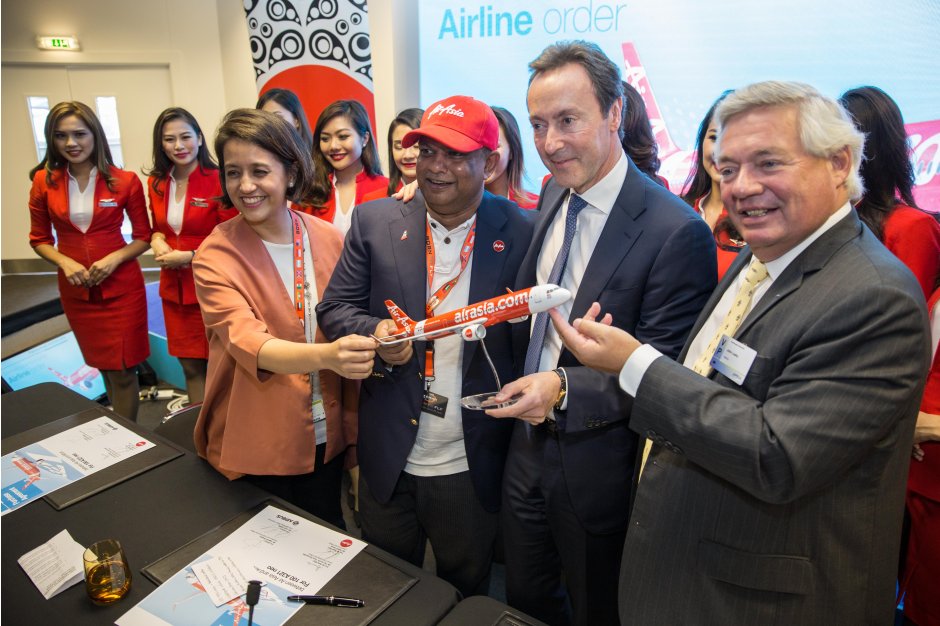 The AirAsia Group currently operates close to 1,000 flights per day to more than 120 destinations in 24 countries and has reported healthy load factors of 85 percent in the first quarter of 2016, up 8 percentage points from the same period last year. The A321neo will help the carrier to facilitate this ongoing strong demand as well as further reduce cost per Available Seat Kilometre across the group and enable the carrier to maintain its low air fare offer.
"The A321neo will be operated on our most popular routes and especially at airports with infrastructure constraints. It will allow us to bring higher passenger volumes with the same slots, therefore providing immediate benefits to the airports," said Tony Fernandes, chief executive officer, AirAsia Group.
Norwegian also placed an order during Farnborough for 30 of the long-range A321neoLR variant, becoming the first LCC to commit to the aircraft. This follows a commitment signed in June 2012 for 100 A320neo aircraft and represents a switch from that existing deal of 30 A320neo aircraft to support the carrier's growth and modernisation strategy.
The aircraft it ideally suited to transatlantic routes and can enable airlines like Norwegian to tap into new long-haul markets which were not previously accessible with current single aisle aircraft. First deliveries ar due to commence in 2019.
"I am very excited about this new order of the Airbus A321LR," said Bjorn Kjos, chief executive officer, Norwegian. "The new 'short long-haul' aircraft available from 2019 fits really well with our global expansion plans and future long-haul network, both in terms of size, range and fuel efficiency.
"The Airbus A321LR is the newest narrow body long-haul aircraft on the market and with this order we will have a significant cost advantage and increased competitiveness, which means that we can offer our customers low prices on board brand new aircraft to a wide range of new destinations,ʺ he added.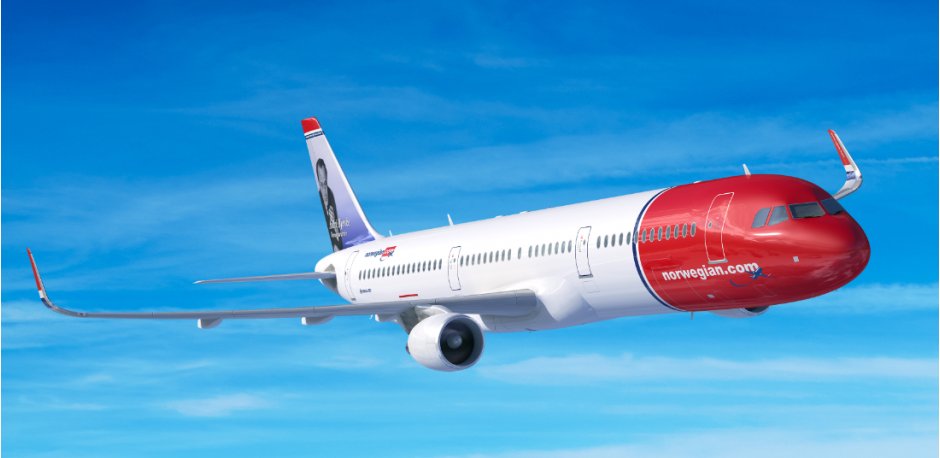 Over recent years we have already seen LCCs such as Vueling, Wizz Air and WOW air in Europe, Frontier Airlines and Spirit Airlines in North America and Volaris in Mexico move from just operating the A320 to introducing the larger A321 after the manufacturer modified the interior to encompass a higher density arrangement boosting seating from 220 up to 240 and take advantage of the more favourable operating economics of the larger aircraft. In Asia, LCCs Jetstar Pacific Airlines, VAir, VietJetAir have also significantly grown A321 operations across their networks.
Airbus says that at the middle of this year it had delivered 1,307 A321ceo aircraft of which 1,290 remain in commercial operation. It had also secured 1,129 firm orders for the new A321neo which after making its first flight in February 2016 is expected to be certificated and into passenger operation before the end of this year.
Our analysis of schedule data from intelligence provider OAG highlights the growing use of the A321ceo among LCCs. From holding just a 1.7 percent share of A321ceo departures back in 2017, low-cost carriers will be responsible for 10.3 percent of frequencies in 2016, based on published schedules. This rise has been mainly driven by growth over the past two years since the adoption of the high-density version with a129.6 percent rise in low-cost departures in 2015 and 109.0 percent growth expected this year.