Located on the Mediterranean coast in South-East France, Marseille-Provence Airport has firmly positioned itself in the minds of the air service development community through its regular attendance of World Routes and regional events and its successful hosting of Routes Europe back in 2014. The airport has taken advantage of its location at the intersection of French rail and road networks to become a key gateway to the South of France, to Marseille and, of course, the famous Provence region.
The Marseille Provence Airport team is in Chengdu at this year's World Routes eyeing destinations across the North and eastern part of Europe and an expansion of flights to long-haul markets as potential targets. They are already excited about growth in 2017 after a strong 2016 that has already delivered 17 new scheduled routes.
In fact a number of agreements are understood to be close to formalisation for growth in 2017 and await formal announcement from the airlines. "Our presence at Word Routes should lead to final decision about some great new routes and destinations to be revealed soon," confirmed Véronique Lemme-Alexandre, head of market research and network development, Marseille Provence Airport in Chengdu, China.
Over the space of the last 10 years, Marseille Provence has strived to expand its air connectivity, growing from 51 direct scheduled routes in 2006, to offer 150 in 2016. The airport is now handling over eight million passengers per calendar year and will soon pass the nine million passenger figure. As it shows no signs of relaxing investing a half billion Euros to extend its terminals and to meet the forecasted traffic growth in air travel for the next ten years.

As a gateway to France's 2nd biggest city in number of inhabitants, and thus a strong local market, Marseille Provence's passenger traffic is mainly driven by outbound passengers, which accounts for 60% of its total. However, this number is shrinking closer to 50% as the Provence region is welcoming more and more tourists every year. In addition, Marseille's status as a cruise call continues to generate further long-haul international tourist arrivals, with many itineraries facilitated by air service.
Marseille is also the biggest economic area in the south of France and is home to a number of businesses that can help sustain new air services, including the likes of Airbus Helicopters, L'Occitane, Pernod-Ricard and CMA-CGM; the third largest shipping company in the world, or the Port of Marseille, well-known as a logistic gateway to Southern Europe.
Marseille Provence continues to extend its catchment area by improving ground transportation to and from the airport. An increasing number of passengers are now travelling to Marseille Provence on public transport (bus/train), supporting its sustainability goals.
Its excellent transportation system is already serving a wide catchment area of 2.9 million people within a one-hour drive and 6.5 million people within a two-hour drive and efficiency will improve with a renovation of its bus station. This will enable it to more easily accommodate arrivals and take advantage of its direct links via bus and rail infrastructure to 73 cities in south-east France.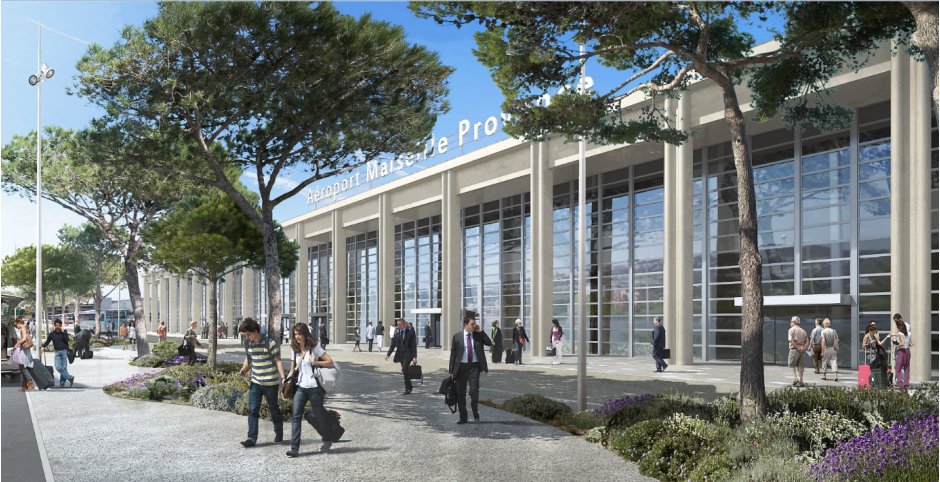 The airport is working hard to enhance its network offering and sees a lot of opportunities to establish further connections from the airport and at the same time boost the frequency of some of the routes it already has. In 2016 it has welcomed new flights from easyJet, Volotea, Vueling, Aegean Airlines, MeridianaFly, Aigle Azur and seen a very notable rise in hub operations with growth from British Airways, Iberia, Air France, Brussels Airlines and Alitalia.
The low-cost carriers continue to play an important role at Marseille Provence where the construction of its dedicated low-cost terminal has played an important role in the airport's recent growth. By 2019, Marseille Provence will introduce an extension to this facility, while by 2021 it will also have extended the main terminal structure and enhancing the passenger experience. Finally, by 2023 the airport will build a new international airbridge, mainly dedicated to facilitating long-haul aircraft.
"We are entering a new phase in the airport development indeed, with extension projects well designed to welcome our forecasted traffic growth," said Lemme-Alexandre.
Beyond that the Marseille Provence team has worked a lot over the past months to rethink the customer experience at the airport, improve the overall comfort and revonate the airport "identity" with a new logo to be revealed in November this year. They are hoping their World Routes attendance will help grow traffic still further!