HK Express link 'to further boost Guam'
The recently-announced HK Express flights to Guam and Saipan will further stimulate the US territory island after a number of other recent breakthrough routes, according to Nigel Mayes of ASM.
HK Express are to launch flights to both Guam and Saipan in December and January. The carrier will fly to Guam four times a week when the service launches, subject to government approval.
A low-cost carrier serving Guam is a real breakthrough for the US territory island best-known as a hub for United Airlines and largely serving Japanese tourists. Bringing in a low-cost carrier such as HK Express is going to be beneficial to stimulate the market. Guam have worked closely with Airports Strategy and Marketing (ASM) to create new routes to the island.
Nigel Mayes, senior vice president – consulting and product development for ASM said: "Guam has experienced a lot of success recently with the introduction of LCCs stimulating the market to and from the island. For example, Cebu started flights in March this year to Manila, whilst the South Korean market has experienced phenomenal growth since the first LCC entered the market in 2010."
"Traffic has grown on the South Korean market by 357 percent from 175,000 passengers to nearly 800,000. We are confident HK Express will be no different to the other LCC carriers operating into Guam and will stimulate the Hong Kong – Guam further," he added.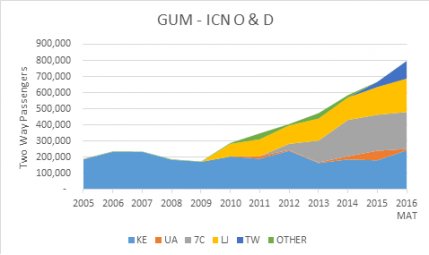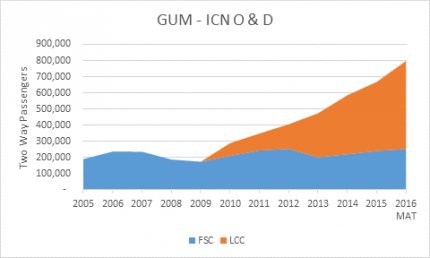 Above charts show the impact of full service and low cost carriers on the Guam - Incheon market.
The number of tourist arrivals to the islands reached a new record in 2015, with almost 1.4 million visitors to the island. Despite a drop in numbers from their biggest market – Japanese visitors – there was a 39 percent increase in South Korean arrivals. Guam also experienced growth in the number of visitors from greater China. Their numbers are up by 8,600 to 31,752.
Guam is well positioned to deal with an influx of tourists. The island's economy depends primarily on tourism, and boasts close to 10,000 hotel rooms in 41 resorts and hotels. The island is the gateway to the Marianas and Micronesia, with plenty to offer as a tourist destination. Not only can Guam offer duty free shopping, but it is also home to adventure sports, dolphin watching and water parks. The island has Spanish, Japanese and American influences that can still be felt today.
Director and CEO of HK Express, Andrew Cohen, said: "HK Express strives to make travel more accessible for all at super low fares, as we believe travel is the bedrock of cultural exchange and community. There's really nowhere in the world like the Western Pacific. It's miles away from busy cities and crows, and we're thrilled to finally connect Hong Kong travellers with these pristine beaches, excellent hiking trails, volcanoes and fresh air."
Executive manager of the Antonio B. Won Pat International Airport in Guam, said: "HK Express' four times a week operation provides our travellers new opportunities for travel between Hong Kong and Guam. The preliminary schedule shows a daytime arrival and departure, much preferred by passengers, and not currently available from this destination… We are aware of HK Express' LCC status is an opportunity to enhance travel preference to Guam as a destination, the value of this service is warmly welcomed."
According to Sabre Market Intelligence Data, almost 16,000 people travelled from Hong Kong to Guam in 2015 – this figure has continued to rise since 2013.
The Guam route is to begin on 15 December, with a morning flight leaving Hong Kong on Mondays, Wednesdays, Thursdays and Sundays.