Icelandic low-cost, long-haul operator WOW air is considering a number of both primary and secondary markets in Europe and North America as it continues its significant network growth. The airline will grow its fleet by 70 per cent across 2017 growing from eleven this past summer to 17 aircraft, including the arrival of a first A320neo due in the spring of 2017.
Having lived in the shadow of Icelandair's effective European and North American network strategy since it launched services in 2012, WOW air has now exploded into the low-cost transatlantic market with a network that covers almost 30 destinations in Europe and North America. And having grown capacity by over 90 per cent in 2016, it expects to continue its rapid rise as the low-cost long-haul model continues to stimulate traffic across the Atlantic.
While the low-cost model has proved successful in the short-haul sector, it hasn't easily transferred into long-haul markets, a situation that WOW air's founder and chief executive officer Skúli Mogensen believes the carrier is well-placed to succeed.
"I believe there is a tremendous potential for low-cost travel to further stimulate demand between Europe and North America," he told Routesonline during a recent interview. "We are not talking about taking demand from existing services, but introducing a whole new market for long-haul travel."
"We are already seeing this in the data from our existing routes into Canada and the United States, which are performing extremely well and securing very positive loads that are ahead of our ambitious targets. These flights are actually growing the market," added Mogensen.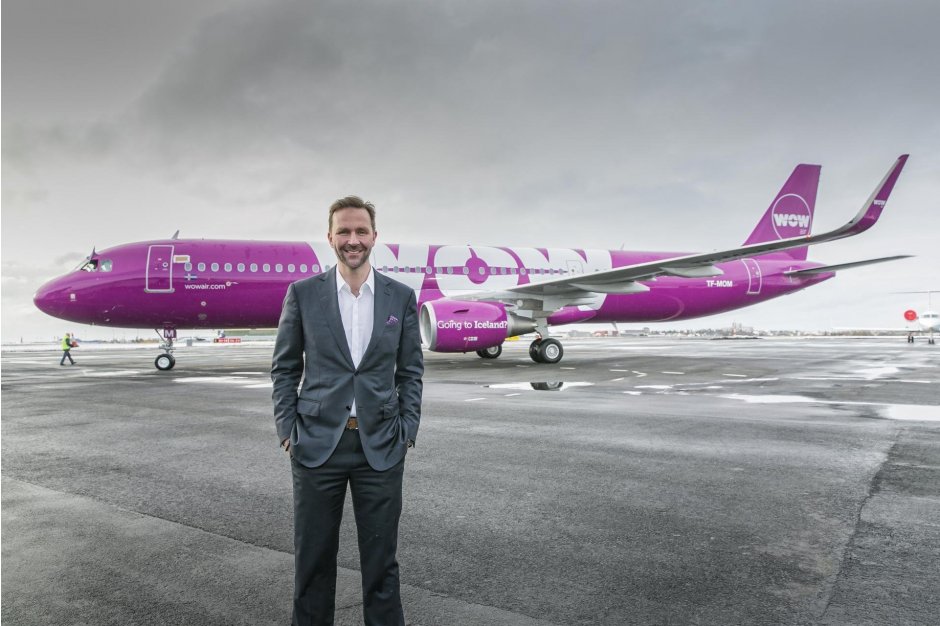 WOW air and its European low-cost rival Norwegian are driving growth in a relatively mature market by offering much lower fares than the incumbents. "These low-fares are actually stimulating and growing the market significantly," said Morgensen.
After adding Bristol, Edinburgh, Frankfurt, Las Palmas, Nice and Stockholm to its European network and Los Angeles, Montreal, Newark, San Francisco and Toronto to its North American network in 2016, WOW air has already confirmed plans to launch flights to Brussels, Cork, Miami and Pittsburgh in 2017. It is also significantly boosting capacity in many of its existing markets with year-on-year capacity already planned to rise 49.1 per cent in 2017, based on published schedules, including growing its flights to Los Angeles and Newark to a daily frequency.
"We are developing a model of mixing primary and secondary destinations across the Atlantic into one-stop city pairs. I don't like calling them secondary markets as they are not, but these are destinations that don't quite have enough pull to support just point-to-point demand," explained Mogensen.
The airline's latest new destination in the US is a great example of this. WOW air is offering the first and one of only two non-stop flights into Europe from Pittsburgh International Airport next year. The four times weekly service from Keflavik International Airport, serving Reykjavik, will launch from June 16, 2017 and will be flown using an Airbus A321.
"Pittsburgh is certainly a destination on the rise and one that will appeal to a wide range of traveller," said Mogensen. "The destination perfectly fits with our network flows, is within the range of our current Airbus A321 ceo fleet and operationally is within a 24 hour return flight window."
The WOW air fleet currently consists of nine A320 ceo Family aircraft – two A320s and seven A321s – and three widebodied A330-300Es that are used on the flights to the US west coast. Looking ahead the airline has an outstanding commitment for four additional A321ceo jets and three neo aircraft – one A320 and two A321s – which will arrive from spring 2017 and continue through 2018.
There are also suggestions that additional A330s could arrive to support an expansion to markets out of the range of the single-aisle jets. With a plan to double traffic from around three million passengers in 2017 to six million in 2020 there will certainly be a need for further fleet arrivals towards the end of the decade.
"We are always looking to think outside of the box and will consider any markets within the range of our aircraft as possible future WOW air destinations. We will look at it on a case-by-case basis and if the data adds up and is a viable option for us then we can grow," said Mogensen.
"The arrival of our first neo equipment from Airbus in spring 2017 will give us additional range out of Iceland and could deliver some interesting future city pair options to support our network. We will for sure consider the A321LR from 2019 which would extend that range still further," he added.