UK leisure carrier Jet2.com and its tour operator business Jet2holidays are to boost their activities out of their new at London Stansted Airport from summer 2017. Even before a flight has departed "phenomenal customer demand" has influenced the addition of a seventh Boeing 737-800 to its base fleet, an eight per cent capacity growth and the addition of four additional destinations to its inventory.
Having made its name in Northern England, Northern Ireland and Scotland, Jet2.com is moving its successful low-cost business model south. For summer 2017 it is opening its eighth and ninth UK bases in Birmingham and London Stansted, the latter putting it into an airport market currently dominated by long-established Ryanair and easyJet operations.
The airline's revealed parent, Dart Group, revealed plans to establish the London Stansted operation in September, believing the market has great potential for its holiday business, serving the populations of North and East London and the East of England. And it appears that customer demand has backed its prediction.
Its network from March 2017 was originally planned to encompass 21 European leisure destinations (Lanzarote, Malaga, Alicante, Dubrovnik, Faro, Madeira, Fuerteventura, Girona, Crete (Heraklion), Ibiza, Kos, Larnaca, Gran Canaria, Menorca, Paphos, Majorca, Pula, Reus, Rhodes, Tenerife and Zante) served by six aircraft. But high demand means that Jet2.com will now introduce a seventh aircraft, adding flights to Antalya, Corfu, Dalaman and Split from July 2017, plus boosting frequencies to Majorca, Menorca, Crete and Zante.
"We are delighted by the response to our London Stansted Airport launch which has had a huge resonance with customers in the south of England. The phenomenal reaction to our launch means we are already growing our presence at London Stansted," said Steve Heapy, chief executive officer of Jet2.com and Jet2holidays.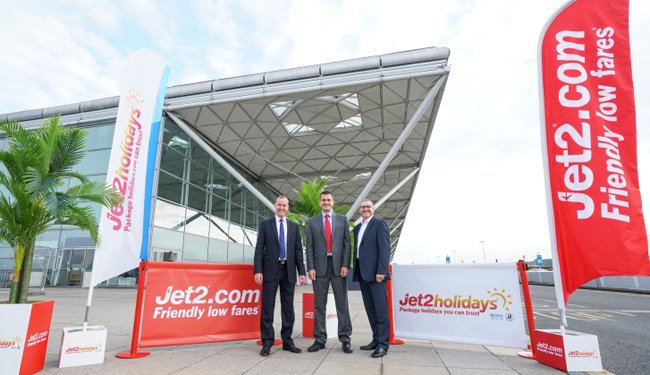 The airline will now offer a total of 96 weekly flights from London Stansted this summer to 25 destinations, rising to 27 in winter 2017/2018, with the addition of links to Geneva and Salzburg. In total, the new routes and additional flights represent the addition of over 65,000 extra seats, taking the total number of seats on sale from London Stansted to over 875,000.
Jet2.com will face direct competition on all but two of the routes it will serve from London Stansted with Funchal in Madeira and Heraklion in Crete being the only markets not served by other operators from the Essex airport in 2017. Its main competitor will be Ryanair who it will overlap with in 15 markets, but it will also compete with Thomas Cook Airlines (13 routes), Thomson Airways (eight routes), easyJet (six routes), British Airways (four routes) and Cobalt Air (one route).
In the past many operators have been reluctant to compete directly into these popular leisure markets, but Jet2.com's operations from other points across the UK means it already has scale in these destinations and a brand recognised by consumers. Manchester Airports Group (MAG), owner and operator of Stansted Airport, believes all these markets are ripe for additional capacity and the strong demand certainly backs that view.
"The announcement by Jet2.com and Jet2holidays is fantastic news for Stansted Airport and for passengers from right across the east of England and London," said Mats Sigurdson, aviation director at London Stansted. "We were confident that the new Jet2 base would prove popular with passengers and this really positive start is a clear demonstration of the strength of demand that exists across the region."
Jet2.com has seen its capacity out of the UK grow from 2.22 million seats in 2006 to 3.60 million this year and this is set to rise 45.4 per cent to 5.23 million in 2017, based on existing schedules published in OAG Schedules Analyser. Ahead of its latest route additions it held a 4.6 per cent of the current capacity from London Stansted for summer 2017 ranking it as the third largest carrier behind Ryanair (78.7 per cent share) and easyJet (9.9 per cent share).