Regional airports have 'a bright future'
Expert panel optimistic on prospects for regional airports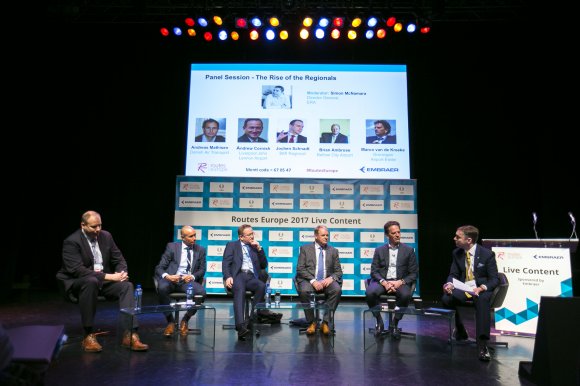 Regional airports offering regional routes face a strong future despite facing a number of hurdles to ensure financial success.
Speaking during the live content session in a panel debate on the subject at Routes Europe 2017 in Belfast, Groningen Airport Eelde CEO Marco van de Kreeke said there is an increasing appetite amid consumers for point-to-point travel away from the hubs.
And he added some routes can only be served by smaller aircraft which are often spurned by larger mainstream airports as economically unviable.
Eelde said: "What I see is that it's not about regional airports; it's about the region wanting connectivity.
"There are some routes which can only be served by smaller aircraft, Regional airports need those kind of services and are willing to partner with airlines, from that sense regional airports are absolutely the future."
However, he added the airports must still work hard to ensure the routes are economically viable.
He said: "Smaller airports, like all airports, have a difficult time making a profit. What we do is work with our partners and then how the airport is financed is less important.
"If we can get the local government to pay for fire-fighting and security, then we can get better deals with the airlines.
"Regional governments shouldn't see airports as somewhere to make money, but somewhere to make connections that bring money to the region."
Belfast City Airport CEO Brian Ambrose agreed they had to be nimble, adding: ""The costs remain the same for airports - you still need the same number of fire fighters. So aircraft technology that allows us to expand our network is very exciting."
Andrew Cornish, CEO at Liverpool John Lennon Airport, added that while passenger numbers remained the key to ensuring a route's success, monetising every aspect of the journey helped ensure they were economically viable.
He added: "The most important thing is that routes work. You can have all the fancy routes you want, but you need people in the seats.
"We rely on non-aeronautical spend. You can fly to Tenerife for £50 now, and when could you ever do that before? You can get a ticket for ridiculously cheap, but then pay for parking and food. It's a great model and a win for everyone."
He added persuading a larger airline to pick up the route is another key way of ensuring the new route's success thanks to the resources they could throw at it.
He added: "Some airlines do make a difference. If Ryanair or easyJet launch a new route it goes from day one; they have huge marketing machines."
However, bmi regional CCO Jochen Schnadt argued that while the regional flights remain an attractive source of increased passenger numbers, airports in the sector need to remain wary of the prevailing trends among airlines.
He said: "I would be lying if I said the trend is anything other than bigger, faster better. For us it's not a question of if we up gauge to bigger aircraft, it's when.
"Some routes can never be changed in terms of aircraft. You can have the lowest unit costs in the world; but if you can't fill the aircraft it's not going to work.
"We are building a nice list of the second cities in countries. Just because they're not the capital city and prime business, that doesn't mean there's nothing happening.
"We need to find the right capitalisation in the regions. Connectivity is the first step for business and the job creation and taxation that goes with it."