Iran orders rising despite backdrop of increased tension with Trump's USA
Rising political tensions between the US and Iran threaten to the growing relationships which were promising to bring Iranian aviation into the global community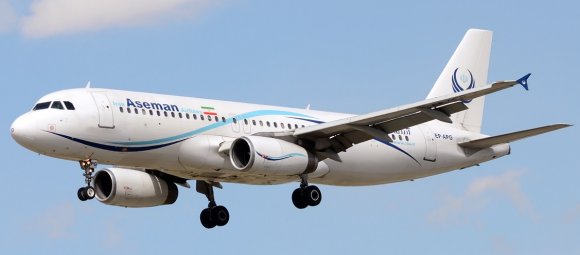 At the same time as the US Senate voted to advance a bill which could impose fresh sanctions on Iran, the country's Aseman Airlines was declaring its confidence that a $3bn deal with Boeing would still go ahead.
The deal for 30 737 Max jets and an option for 30 more is the latest in a string of contracts between major manufacturers and a market which is in severe need of them, but another which could fall foul of the ever-changing political landscape in the enigmatic region.
Boeing has since confirmed it has applied to the US Treasury's Office of Foreign Assets Control for a license to see the deal through.
And Amir Reza Mostafavi remained bullish, with Bloomberg reporting him as saying: "We're a commercial company, like Boeing is a commercial company, and we're operating in an economic sphere, not a political one."
"In this area, work is moving forward and things are getting under way."
Whether or not Aseman's confidence is misplaced will soon be tested, but the Iranian aviation market is one worth watching. A country of 80 million people, its position in the world has been hard to gauge down the years, with tumultuous changes in its political and religious leadership over the last quarter of the 20th century making it a pariah for many years.
But since the signing of a nuclear deal with six major powers in 2015, Iran is no longer out in the cold – completely. Slowly but surely, international businesses are working through what's still a delicate landscape in order to prepare the ground for business links to be developed – aviation being in the vanguard.
Iran is forecast to require some 400 to 500 new aircraft to modernise as well as to grow its existing passenger fleet to catch up with years of pent-up demand on domestic as well as international routes. According to Airbus, the latest generation of fuel-efficient aircraft will also allow new routes and markets to be exploited. As this list shows, there's plenty of opportunity for manufacturers to get their newer models into the market.
Top equipment used from Iran (total seats Q1 2017)*
| | | |
| --- | --- | --- |
| 1 | Boeing (douglas) MD-83 | 1,487,086 |
| 2 | Airbus A320 | 923,003 |
| 3 | Fokker 100 | 825,124 |
| 4 | Boeing (douglas) MD-82 | 506,634 |
| 5 | Boeing (douglas) MD-88 | 296,549 |
| 6 | Boeing (douglas) MD-80 | 279,036 |
| 7 | Airbus A300-600 Passenger | 193,529 |
| 8 | Airbus A310 Passenger | 192,712 |
| 9 | Boeing 727-200 Passenger | 179,740 |
| 10 | Boeing 737-500 Passenger | 175,196 |
Most of the manufacturers are getting deals lined up. It was announced in May that carrier IranAir has taken delivery of its first four ATR 72-600 turboprop aircraft, having earlier this year agreed a deal with the French-Italian manufacturer for 20 aircraft, plus options on a further 20 planes.
ATR has taken its lead from European giant Airbus, which in January delivered the first of the 100 aircraft ordered by Iran Air, an A321, in a handover ceremony in Toulouse, as IranAir looked to firmly set in motion a fleet renewal and expansion programme. The order comprises 46 single-aisle and 54 wide-body jets.
Farhad Parvaresh, IranAir's chairman and CEO, said of that deal: "This significant milestone marks the first practical step in IranAir's ambitious passenger aircraft fleet renewal and its stronger presence in international civil aviation. Iranian travellers can be proud with our selection of the world's most modern single aisle aircraft.
He added that the deal "signals that with international collaboration and co-operation, we can achieve mutually beneficial commercial goals".
The Aseman deal is only part of the picture when considering Boeing's involvement in Iranian aviation. In December it was reported that IranAir had agreed a ten-year, $16.6bn deal for 80 passenger planes – 50 737s and 30 777 craft. The deal represents the largest US-Iran contract since 1979.
Although the first craft are due to be delivered in May 2018, hopes were raised in April that a swap deal could be arranged for a plane originally intended for Turkish Airlines – Turkey's flag carrier having deferred orders after a slowing of traffic due to its own politically uncertain climate.
That deal hasn't materialised. The American manufacturer noted: "Boeing and Iran Air continue to work on implementing the sales contract for commercial passenger airplanes signed in December 2016, at which time we announced first deliveries are scheduled to start in 2018. We continue to follow the lead of the US government on all our dealings with approved Iranian airlines."
The political situation is still delicate and threatens the long-term viability of Iran's plans – some banks are said to be wary, understandably enough, of financing deals when the possibility of punitive sanctions is still present. However, according to Reuters, the UK government's export credit arm UK Export Finance is among those willing to fill the gap, allowing Iranian airlines the opportunity to buy planes made by Airbus in the EU
So what's the current state of play regarding Iran? Where are the key destinations, the most important carriers, and where are the gaps it will be looking to plug?
The answer is that it's very much an open field at present. The most significant carriers on flights from Iranian airports are Iran Aseman Airlines, ATAlines (another Iranian carrier), IranAir, Zagris Airlines and Caspian Air. That's not surprising, really – seats on domestic flights still outnumber those on international flights by more than two to one.
The main international destinations from Iran, over the first quarter of 2017, won't surprise many either – the UAE, Turkey, Iraq and Qatar heading the list. Germany is the top Western destination by some distance, with 75,265 passengers in Q1 – Italy and the UK are the next in line from Europe, with 33,660 and 30,575 passengers respectively.
Top international destinations from Iran (total seats Q1 2017)*
| | |
| --- | --- |
| United Arab Emirates | 434482 |
| Turkey | 326969 |
| Iraq | 257863 |
| Qatar | 88534 |
| Germany | 75265 |
Clearly, that leaves a lot to go at in terms of building global networks – the whole of the Americas for one, while Central and Eastern Europe is also ground to be explored. The size of the potential market is significant – the ten-year pattern shows that just short of 15 million flights were taken from Iran in 2007, rising to 22.3 million in 2016 and a projected 23 million this year.
As to where growth areas might be for international flights, Al Najaf International Airport in Iraq is the most notable riser – with no flights at all in 2007 and 2008, it clocked up 45,000 seats in 2009 and is now topping 700,000 seats per year. Doha, the capital of Bahrain, is another eyecatcher, seeing traffic treble from Iran over the course of ten years.
What is clear here is that the last decade has been one of domestic growth, in which different economic centres around the country have started to modernise the country's transport infrastructure. Persian Gulf Airport in Assaluyeh opened in 2005, and a decade ago was only registering 30,000 users – that figure is now in excess of 300,000.
Mashhad, Iran's second busiest airport behind Tehran, has more than doubled passenger numbers in the last decade, as has Ahvaz, another Iranian airport. Ahvaz now offers flights to Dubai, Istanbul and Kuwait, along with domestic flights.
Shahid Sadooghi Airport, which serves the city of Yazd and its surrounding areas, has seen traffic grow from 144,667 to more than 315,000.
It's been a case of steady growth then, in markets domestic and local. The long-term geopolitcal situation is difficult to read of course, but with steady leadership and good business sense applied, it looks like the building blocks are in place for Iran to make its presence felt in the global aviation industry and become more of a global citizen in general.
*All data provided by OAG