Interview: What's next for Wizz?
Owain Jones outlines the fast-growth airline's route development strategy to Routesonline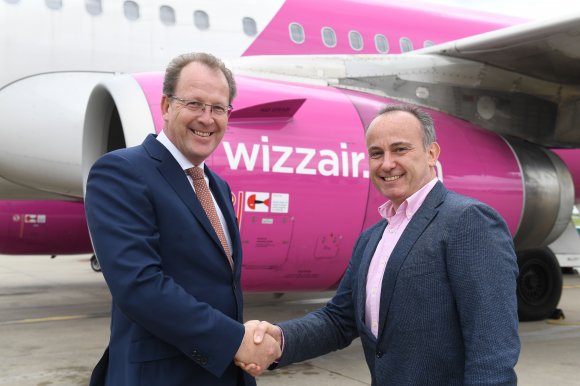 Last week another three major announcements were made by the aggressively-growing Hungarian airline Wizz Air.
The carrier opened a new base at London Luton Airport, its first in Western Europe. Additionally, 10 new A321ceo aircraft were added to its all-Airbus fleet, while it revealed details of a "massive expansion" at its Budapest home with 32 new weekly flights starting in 2018.
The airline's growth has been phenomenal since its first flight in 2003 and shows little sign of slowing. It put an extra 18.9 percent capacity into its network in 2016, with current predictions of a further 22 per cent in the current year.
Although the new London base may be its first outside of its spiritual home in Central & Eastern Europe (CEE), it's a logical step rather than a statement of intent.
Seven of its ten largest routes by capacity involve Luton, including its largest BUD-LTN route which had 72,980 seats in Q1 2017. It flies to 42 destinations in 18 countries from Luton.
New base
At the launch of the new base Routesonline spoke to chief operating officer Owain Jones who explained the other rationale behind the move.
"London Luton has been a key part of the Wizz growth story over the past 13 years," said Jones. "We're now carrying over five millions passengers from London Luton so around 33 percent of the airport.
"We're the second-largest operator here behind easyJet, but on some months we're actually the largest. It's a significant part of Wizz' operations and in fact something of an outlier in that we don't have a base here."
Jones added that the speed of its network growth meant the "opportunity to gain some additional capacity in the restricted London market" was too good to refuse and will also lead to further operational efficiencies.
"We thought we should take advantage of the new overnight stand, and also the opportunity to simplify some of our operations in and out of London," he said. "So rather than operating some flights on W patterns in CEE we're now able to operate those flights direct with our London-based aircraft."
Spiritual home
Although the carrier sees potential for future development across Europe, the majority of its growth opportunity lies in CEE, said Jones, as the possibility to stimulate the growing markets in the region.
"When choosing new routes our network development team consider a lot of factors, but its principally demand," said Jones. "Is there a population there which wants to travel by air? Our home CEE markets are developing rapidly in terms of GDP between 2.5 and 6.5 percent each year. That obviously translates directly into growing demand for air travel."
"The market gain in CEE is different to Western Europe. Everybody is scrapping it out on the Western routes and they're trying to steal passengers from other airlines. It's a very saturated market in terms of capacity and demand. CEE is completely different."
Wizz Air's top ten routes (total seats - Q1 2017)
| | |
| --- | --- |
| BUD | LTN | 72,980 |
| LTN | WAW | 58,010 |
| OTP | LTN | 53,130 |
| LTN | KTW | 37,980 |
| LTN | CLJ | 36,540 |
| LTN | SOF | 33,510 |
| EIN | BUD | 32,660 |
| BUD | MXP | 32,430 |
| DTM | KTW | 32,220 |
| LTN | GDN | 31,140 |
Marching East?
Although the first base in Western Europe catches the eye, Wizz Air has also been slowly making further inroads to the east. Despite Jones' remarks about the scrap for passengers in Western Europe, earlier this month it launched a LTN-TLV service which takes on EasyJet and Monarch.
This has been joined by a new service from Budapest to Astana in Kazakhstan, eclipsing existing routes to Moscow and St Petersburg as its furthest venture east. However, Asia is not currently on the carrier's radar.
"Anything outside the EU is a little more difficult because you tend to be dealing with restricted traffic rights," explained Jones.
"We're fortunate in that we have a strong growing home region where we are the largest carrier and that's what we intend to remain.
"The key is stimulating demand, which is why we're so focused on cost. If you look back to 2004 there were a number of 'old airlines' operating who had barely added a route in 13 years. All of the growth has come from ultra LCCs, primarily Wizz and latterly Ryanair.
"In 2017 alone we have 117 new routes on sale network-wide. Wizz is about growth, Wizz is about bringing new markets rather than just remaining the status quo."