Each week ahead of World Routes 2017 we will be profiling a different member of the Routes team. Next is our scheduling manager Simon Baxendale.
Q: What do you do at Routes?
My role within Routes is scheduling manager; the scheduling team are responsible for scheduling 18,000+ meetings across all the Routes events each year.
Not only am I responsible for the pre-scheduling meeting diaries but we look after the Onsite Meeting System. We continuously strive to improve all of our systems and listen to YOUR feedback making sure that they cater for all your meeting request needs as well as being easy to use.
Q: What's the best part of your job?
Routes and the Scheduling department pride ourselves our continuous effort to improve the delivery of our events. It is important to strive to improve, to make sure that we are fulfilling ever changing delegate and industry demands. This type of ever changing work is what I enjoy, being able to listen to our attendees and work towards finding a solution that fits in with how they perceive the ideal Routes Experience.
Over the last few years there has been big changes and improvements in the delivery of the meeting diaries and the Onsite Meeting System, it really has been an exciting time for the Routes Business and one I hope to continue going into 2018.
Q: What are you most looking forward to at World Routes 2017?
Barcelona is a fantastic city, actually one of my favourite cities that I have visited. Such a hotbed of culture and entertainment, really is a city of experiences. You have the beautiful Park Güell and the iconic La Sagrada Familia to see, two landmarks that any city in the World would be envious of.
In regards to the event itself, it's already looking like it will be one of the best ever. Barcelona is set to be an event of firsts and you should see all new features and improvements both the pre-event and Onsite Meeting Systems, watch this space!
Q: What is your dream holiday?
My dream holiday would have to be a road trip across the West Coast of America.
Flying into Las Vegas and hiring a car a drive through Yellowstone National Park and then across to the coast. To experience cities such as LA, San Diego, and of course San Francisco. Being able to drive across the Golden Gate Bridge to the giant redwoods is something that is high up on my list of things to do.
---
World Routes 2017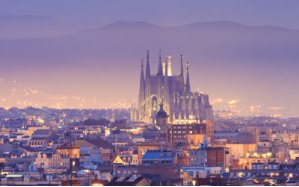 World Routes provides an unrivalled platform for route development professionals to discuss, develop and plan route strategy.
A dynamic programme of face-to-face meetings, industry renowned social events and engaging live content, will provide delegates with maximum networking and negotiating opportunities, to further develop their route networks and debate the hottest topics affecting the market place.