Lucky Air plans Thailand base in overseas expansion
Second-city specialist eyes intercontinental routes from wider range of bases.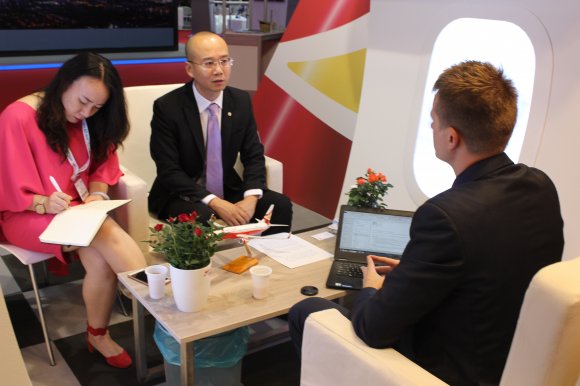 Chinese low-cost long-haul carrier Lucky Air is hoping to kickstart its expansion overseas with a new base in Thailand.
Jiang Shuqiang, marketing director, outlined the airline's ambitions to Routesonline as part of its attendance at World Routes 2017 in Barcelona.
The airline, which earlier this year told Routesonline it would be opening up to ten new bases in the near future, has previously focused its operations solely in core 'second-tier' cities such as Chengdu and Kunming
But it is increasingly confident of capturing a larger market share in Asia and beyond.
"We want to explore new markets in some international cities," said Mr Jiang. "We have already transitioned from full-service carrier to an LCC, and now we need to explore some new cities according to the economics, population and resources the city can provide.
"Maybe our next step will be to use a hub in Thailand as our first overseas base."
Although the carrier is looking overseas and within China for its expansion, Mr Jiang stressed that it would not be considering flights from major 'first-tier' cities such as Beijing and Shanghai.
"Lots of people who live in second and third-tier cities now have a very strong demand to travel overseas," he explained.
"Previously they would need to connect at Beijing or Shanghai, but now we are opening long-haul routes from China's second cities so that people can travel point-to-point.
"Lucky's strategy is to focus on second and third-tier cities' medium and long-haul routes, so naturally we're extremely confident in these markets."
"In Kunming Changshui International Airport we will develop some new routes to South Asia and islands routes, while in Chengdu we will focus on the Americas, Africa and Western Asia."
To underpin its strategy Lucky Air has been investing significantly in aircraft. It currently operates and A330 on its Moscow route, which started in June, and by the end of this 2017 should have a second in service with more to follow.
However, Mr Jiang revealed that the A330s are a "temporary" solution for its international growth.
"By the end of 2018 we will introduce out first A350 which will help us to create some intercontinental routes," he said. "In time that is likely to become our main aircraft to operate international routes."