bmi Regional keeps it niche and to the point
bmi Regional is planning to spread its wings with an expanding repertoire of routes in niche European destinations. The airline's Jochen Schnadt talks possible future partnerships, aircraft orders and avoiding Brexit chaos.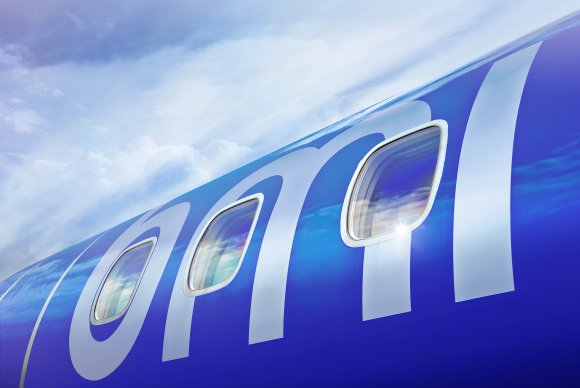 The UK might be beating a retreat from the European Union, but bmi Regional is intent on waving its Union Jack tailfins in parts of Europe that other airlines simply ignore. Lublin, Norrkoping, Brno and Saarbrucken may not be on the list of many people's must-see destinations, but niche business markets like these are the bread and butter for bmi, which serves 46 such routes in 11 European countries.
In October, the carrier marked five years as an independent entity under the umbrella of Airline Investments Limited (AIL), which also owns Scotland's Loganair. AIL swooped when IAG absorbed bmi mainline, (the former British Midland Airways) in 2012 and British Midland Regional Ltd, with 20 Embraer 135 and 145s, was hived off.
As a standalone brand within AIL, bmi now does exactly what the "Regional" part of its name suggests. Bmi is based in its former parent company's home near East Midlands airport, but the British Midlands aspect is sounding a little parochial today as 60 percent of bmi's route network does not touch the UK, let alone the Midlands, a proportion likely to increase despite Brexit.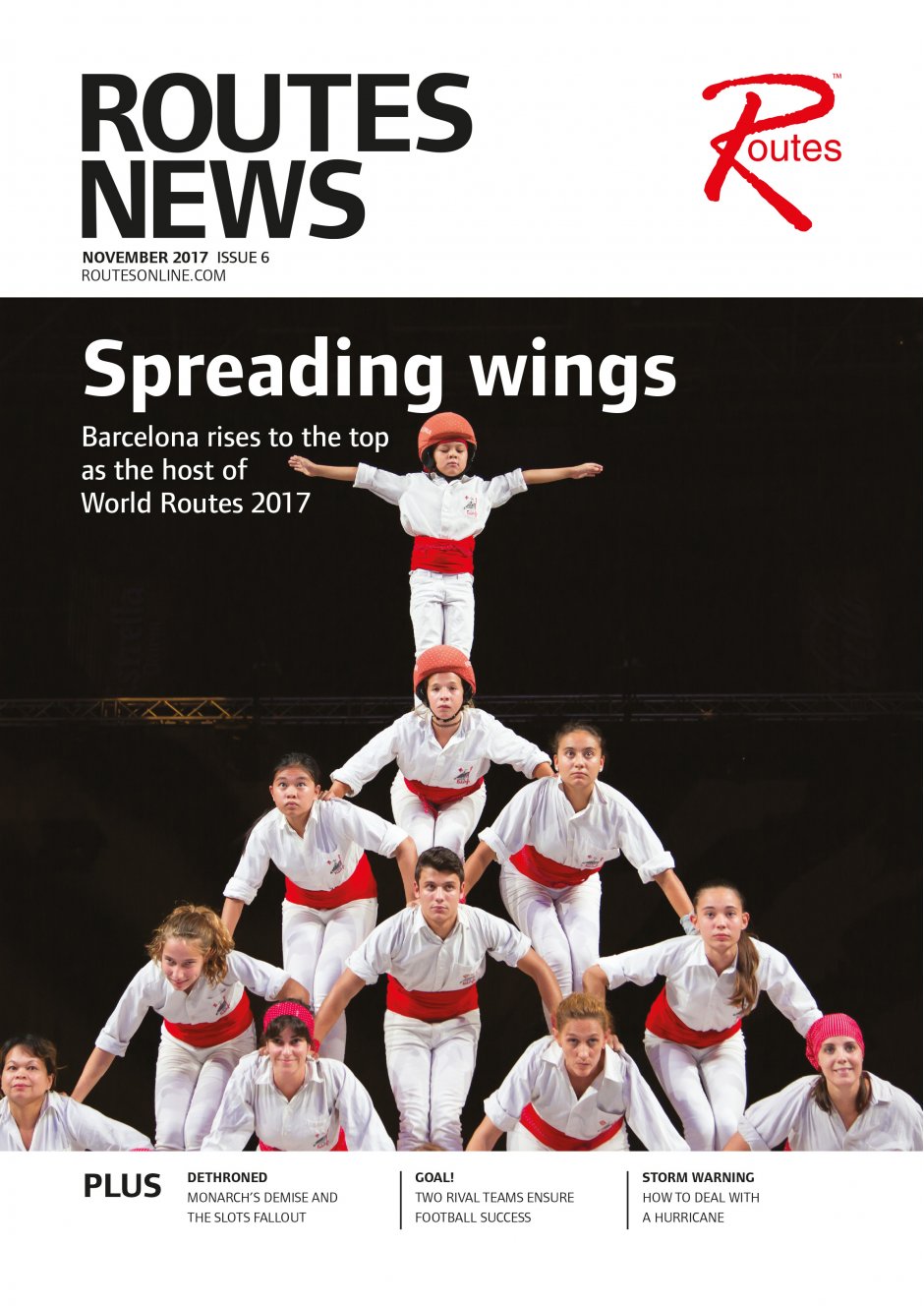 ---
This article first appeared in Routes News edition 6 2017
---
"There is no strategy to say it is going to be X per cent but there is a clear feeling that there are probably more opportunities to grow outside the UK than in it," says Jochen Schnadt, bmi's CCO, who adds that this strategy has "nothing to do with Brexit". On his radar for new destinations are Europe's manufacturing centres, especially the Nordic and German-speaking areas, plus Northern Italy and "certain regions" in central and Eastern Europe that focus on industries like life sciences and technology.
"That's where we see the opportunity to do a whole lot more than in the past," he says. Bmi's 37- and 49-seat fleet is almost fully committed, so any expansion will need additional and bigger aircraft. "That's part of the plan. There's no new 50-seat aircraft coming out. The time is coming to upgauge what we have done with smaller aircraft," says Schnadt.
This means building "critical mass" via the addition of "six to eight 80 to 100-seat aircraft", he explains, not just to serve point-to-point destinations but also to make bmi attractive enough to partner with larger airlines.
Second-hand options
Bigger, new generation Embraers are a potential fit, but nothing larger, Schnadt says, adding: "The moment we get into Airbus territory, we are no longer in a niche and are competing on price."
Manufacturers should not start knocking on his door, however. "The most logical step is probably starting with secondhand aircraft. Realistically, it will be six to 18 months – that and Brexit may happen together." He adds that the existing fleet will be part of bmi "for the foreseeable future".
The list of where to send the new aircraft is secret and doubtless already drawn up, but what is the advice for any airport wanting to head it? "At the most simple level, we need their understanding that they have to be our extended sales force," Schnadt says. "Some of these markets, you can't stimulate by price. We need commitments and support that allow us to fly at times when we don't make money."
Expansion brings us back to Brexit and exactly how bmi proceeds after March 2019 over the potentially tricky issue of an EU operating licence, one it will need for its portfolio of flights on mainland Europe. One idea for Vienna-born Schnadt is to do what easyJet has done and put a plaque on a door in his home city, giving it an EU Air Operator Certificate. Austria, he says, is keen to attract EU businesses to settle there and has less stringent employee protection laws than, for example, Germany.
Possible partnerships
The other strategy is a merger, equity stake or joint venture with an EU airline. Bmi will be a more attractive partner if it achieves its target of a pre-tax profit this year. AIL itself is profitable, and in the year to 31 March 2016, bmi's EBITDA was just over £1m. "We are looking to deliver what we said we would (this year), which is a profit before tax; we will target turnover of over £100m," Schnadt says, adding that Loganair "would remain separate" from bmi.
Lufthansa, bmi's biggest codeshare partner is one obvious partner option as Munich is currently bmi's second-biggest base, with eight routes and five aircraft. A deal with Lufthansa would be ironic, seeing that bmi was briefly owned by the German carrier, which it then sold to IAG. Schnadt, however, has his doubts. "I would never say never, but I don't think it's a natural one. Lufthansa sees itself as an operator of large aircraft at major hubs with a separate low-cost airline."
A clue may come in bmi's future codeshare partners, which will join Brussels Airlines and Air Dolomiti. Together, these two airlines' codes are placed on 18 of the airline's routes. "It's conceivable there will be another three to four codeshare relationships announced in the next 12-18 months. More airlines see the opportunity to work with us," he says.
To these are now added sister brand Loganair, whose release from the Flybe franchise means bmi puts its code on nine Loganair flights from Aberdeen, Manchester and Edinburgh. Arrangements like these replace bmi's former advantages which it enjoyed as a Star Alliance member, albeit in a small way.
"All the partnerships we had disappeared [when the group was broken up]," Schnadt says. Over five years, these have been re-established." Schnadt believes bmi is a big enough brand and distribution platform to feed major hubs of partner airlines as well as its point-to-point work. "A lot of those secondary and tertiary regions want to connect," he says.
However, he is adamant that point-to-point flying remains bmi's primary focus. "That's where we earn a reasonable return."
Capital connections
There is no escaping the fact that many potential airport partners want connections to London. Bmi sells a Heathrow-Brussels route, but on Brussels Airlines' metal. Its solitary London service, from Stansted to Derry, is a Public Service Obligation contract. Schnadt is keen to serve the Northern Irish city from elsewhere and expand frequency to Derry from Stansted but that is where his interest in London ends.
"Heathrow and Gatwick are essentially full and their pricing strategy is completely alien to our business model. London City is unlikely – unless you are a big global brand with big strategic contracts in place, few airlines have ever made money there." Britain's second city is another matter and a Birmingham base opened this year, with Graz, Gothenburg and Nuremburg the first routes.
Schnadt believes Bmi's Midlands heritage will help in the post- Brexit era. "The UK government wants to recreate the UK as a global trading nation. The Midlands is where things are made." The Bmi tailfin and brand will fit very well there, of course, but does it really fit a pan-European carrier in a post-Brexit era?
"The relevance of the bmi brand going forward is something that has to be addressed," he admits. "Customers have pretty fond memories of bmi being a challenger brand [against British Airways], so maybe we can just jazz it up and redefine it." Purists will hope so, but before that comes the challenge of Brexit itself, which Schnadt believes the UK is woefully unprepared for.
"We need to work on the view that in March 2019, the shutters come down. Where there is a lack of planning, there is always chaos – and chaos is typically expensive."
Meanwhile, those talks with airports – and big corporations near them that will supply passengers – go on. Schnadt is keen to offer more extras to its corporate customers, such as a guaranteed parking space close to the terminal, as part of the package airports can offer, over and above the usual fast-track security and lounge access. "There's no limit to what you can do," he believes.
Prospective bmi airports please take note – Schnadt's shopping list could be heading your way.