Routes Americas is handed over to Quebec City
The Routes Americas route development forum has been officially handed over by Quito, Ecuador to Quebec City, Canada – the host destination for 2019.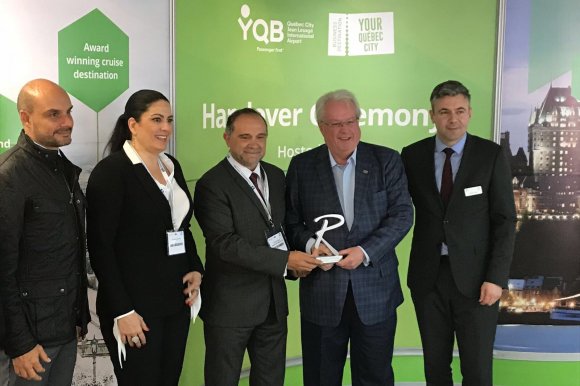 Routes Americas brings together leading airlines, airports and tourism authorities to discuss air services to, from and within the entire Americas region. Over the last three days Quito Turismo and Corporación Quiport have been hosting Routes Americas 2018. The event in the Centro de Exposiciones Quito (CEQ) has attracted 650 delegates, including 70 airlines, 150 airports and 35 destinations.
Routes Americas 2019 (12-14 February, 2019) marks the first time that the event will be held in Canada with Quebec City Jean Lesage International Airport (YQB) as host of the event. A major expansion programme is currently transforming the airport and YQB is seeking new route opportunities.
The Quebec City metropolitan area has recently undergone exceptional economic growth, reaching a total GDP of CAN$34.6bn in 2016, thanks mainly to a highly diversified economy and booming service sector.
"We are very happy and proud to host the 12th annual Routes Americas in 2019. Québec City is an ideal location for the first Canadian Routes Americas and hosting it will certainly help Québec City Jean Lesage International Airport (YQB) position its air services. It's a unique opportunity to take a group of influential players from the global aviation industry and show them everything the Québec City region has to offer," said Gaëtan Gagné, president and chief executive, Québec City Jean Lesage International Airport.
Routes Americas 2019 will be held during the largest winter festival in the world, Carnaval de Québec. An ice palace, ice sculptures, night parades and a canoe race are features of the celebration that has run every year since 1955.
Steven Small, brand director of Routes said "Delegates can look forward to an exceptional experience at Routes Americas 2019. Quebec City will delight visitors with its rich history and culture, nearby natural wonders, fine dining, and friendliness.
"The world-class facilities of Québec City Jean Lesage International Airport's new international terminal will also be on show and will deliver significant opportunities for new business development."