International operations beckon for Vistara
Indian full service carrier Vistara is now eligible to fly overseas after receiving its 20th aircraft.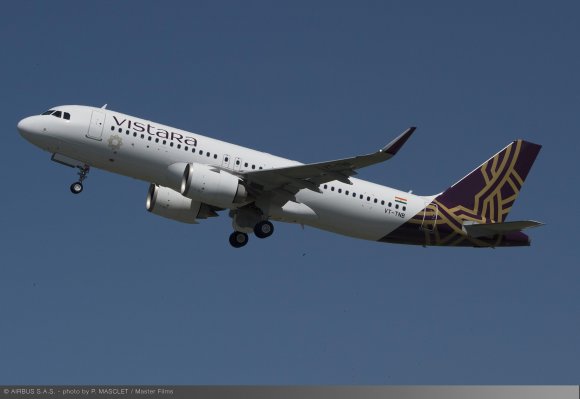 Vistara, a joint venture between Singapore Airlines and Tata Sons, has passed the Indian government's threshold for an airline to operate internationally after taking delivery of its 20th aircraft.
Domestic carriers need to maintain a minimum 20 aircraft in order to fly overseas under the National Civil Aviation Policy outlined in 2016.
Vistara's new Airbus A320neo aircraft comes in a cabin configuration of 158 seats (eight Business Class, 24 Premium Economy and 126 Economy Class).
Growth of departure seats and frequencies (2015-18):
"This is not just another addition to our fleet, but a landmark one that signals Vistara's arrival on the global map and marks the beginning of our next phase of growth," said chief executive Leslie Thng.
"What Vistara has achieved in three years is nothing less than phenomenal, and we're confident that our distinctive approach to the business will continue to set new benchmarks for the industry."
It is understood that Vistara, which started operations in January 2015, is aiming to start international services in the second half of 2018.
Vistara currently operates more than 770 flights per week, with 27 city pairs. Its busiest route is between Mumbai (BOM) and Delhi (DEL) with 120 weekly departures, according to OAG Schedules for w/c 9 April 2018.
Recent expansions to its network have included double daily flights between Kolkata and Chennai and the launch of a third daily flight between Kolkata and Delhi.
Vistara's route network (w/c 9 April 2018):