Mexico City "bursting at the seams" amid capacity constraints
Mexico could lose more than 20 million passengers per year by 2035 if infrastructure development does not keep pace with demand for aviation connectivity.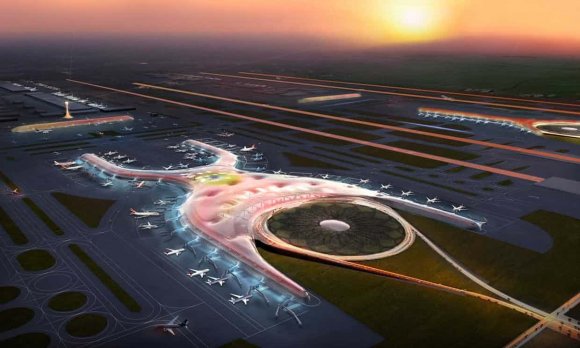 A report by the International Air Transport Association (IATA) has emphasised its strong support for the construction of a new international airport for Mexico City (pictured), claiming that unless the airport is built as planned the country could lose in excess of 20 million passengers by 2035.
Aviation already makes an enormous contribution to Mexico's economy, supporting 1 million jobs and 2.9 percent of GDP. But lack of infrastructure capacity at its capital city is "degrading" the ability to capture an even larger share of the benefits of aviation connectivity, IATA said.
The study showed that for a country of its size, Mexico underperforms in terms of its integration with the global air transport network. It currently trails countries with much smaller home markets, including Panama, the Dominican Republic, Colombia, Peru and Chile.
The IATA report also identified the cost of missed opportunities if infrastructure development does not keep pace with demand for aviation connectivity.
It found that if the new $13bn airport is not built, it could mean 20 million fewer passengers per year by 2035. This translates into a negative impact of up to $20bn in future GDP contribution and up to 200,000 fewer jobs in Mexico supported by aviation in 2035.
"The current airport is bursting at the seams. It serves 47 million passengers, almost 50 percent over its design capacity of 32 million," said Peter Cerda, IATA's regional vice president for the Americas.
"A new airport is vital to enable Mexico City to benefit more fully from its ideal geographic position linking North America and Latin America."
Mexico City International Airport, also known as Benito Juárez International Airport, has experienced huge growth in recent years, with figures from OAG showing the total number of available departure seats has increased from 18.3 million in 2008 to 27.9 million a decade later. It is forecast to grow a further 4.5 percent this year to 29.1 million.
The new airport, championed by President Enrique Peña Nieto, has been under construction since 2015 and is scheduled to open in 2020. However, doubts hang over the project with Andres Manuel Lopez Obrador, a front-runner in the forthcoming presidential elections in July, vowing to halt further work amid budgetary pressures and corruption allegations.
But Cerda said: "With its enormous local population, strong attractions for business and tourism, and geographic advantages, Mexico City has the ability to play a much bigger role on the world stage.
"But for that to happen, aviation infrastructure needs to be adequate and affordable, which is why it is absolutely vital that the new Mexico City Airport is built as planned."
Top ten routes from MEX in H1 2018
A collaboration between Foster + Partners, FR-EE (Fernando Romero Enterprise) and NACO (Netherlands Airport Consultants) won the international competition to design Mexico City's new international airport in September 2014. At 470,000 sq m, the airport will have three runways, and an expansion plan up to 2062 with an eventual six runways.