Why Delta is returning to India
US carrier Delta Air Lines claims that its planned return to India is because of agreements over three of its Middle Eastern rivals' practices. However, analysis of the market suggest there are bigger factors at play.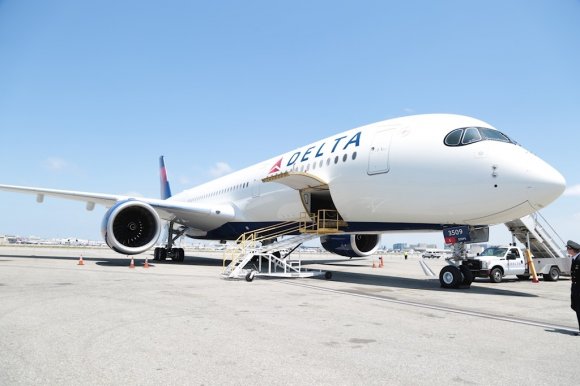 It is almost a decade since Delta Air Lines last operated a non-stop flight between the US and India and more than three years since it withdrew from the Indian market altogether.
But last week the US carrier announced plans to resume services to Mumbai from 2019, with chief executive Ed Bastian saying the move was part of its "vision to expand Delta's reach internationally".
The background
Delta previously flew non-stop from New York J F Kennedy to Mumbai, but cancelled the route in 2008. It then operated to the densely populated city from Atlanta Hartsfield-Jackson until October 2009 when it suspended the service amid lower than projected passenger demand.
After that, the carrier served Mumbai from Amsterdam, the hub of its joint venture partner KLM, but ended flights in early 2015, claiming it could not compete with one-stop services offered by Gulf carriers.
The move left United as the sole US airline serving India non-stop from the US, given American Airlines had also withdrawn from the market in 2012 as part of its network rationalisation.
Delta said its planned return to India followed agreements between the US and the governments of the United Arab Emirates (UAE) and Qatar to address the issue of subsidies being provided to their state-owned carriers.
In announcing the proposed resumption, Bastian praised US president Donald Trump for taking "real action" to enforce the open skies deals with the UAE and Qatar. Under the terms of the voluntary agreements, there will be greater financial transparency, a freeze on fifth freedom rights and a reduction in subsidies for Gulf carriers.
But while Delta's CEO affirmed that such arrangements have "made this new service [to Mumbai] possible", it is likely that shifting market dynamics, the airline's fleet changes, and a desire to forge a closer alliance with codeshare partner Jet Airways provide more compelling reasons for the service resumption.
A changing market environment
India is one of the fastest-growing aviation markets in the world. According to the International Air Transport Association, the country will leapfrog the UK and Indonesia to have the third largest market by 2036. Compared with 2016, it will have 337 million new passengers to total 478 million.
In addition, India remains one of the world's fastest growing major economies. Projections for annual GDP growth in 2018-19 show a minimum of 6.9 per cent.
Such strong economic growth, coupled with a population that has a greater propensity to fly, therefore strengthens the business case.
Of the two carriers offering non-stop US-India flights, United currently flies from Newark Liberty to Delhi and Mumbai, while Air India operates from Delhi to Chicago O'Hare, New York J F Kennedy, San Francisco and Washington Dulles, and from Delhi and Mumbai to Newark Liberty.
Since Delta and American ceased their respective US-India routes - instead only offering onward connections from Europe to India via codeshare partners - available capacity on these non-stop services has steadily grown.
According to figures from OAG Schedules Analyser, overall two-way capacity grew 16 percent between 2015 and 2017 to total 1.33 million seats last year.
US-India two-way non-stop capacity (2013-17):
Looking more widely at O&D demand using statistics provided by Sabre, overall two-way US-India passenger numbers have increased by 34 percent over the last five years, growing from 3.96 million in 2013 to 5.32 million in 2017.
Competitive pricing from one-stop Gulf carriers operating sixth freedom routes has clearly been a major factor. In 2017, 940,000 passengers travelled via Dubai, 498,000 via Doha and 397,500 via Abu Dhabi. Of the top five carriers by passenger numbers - Emirates, Air India, Qatar Airways, Etihad and United - three are from the Middle East.
US-India O&D demand by airline (2013-17):
Delta's fleet changes
Although Delta will therefore still face yield pressures on direct US-India flights from carriers with hubs in the Middle East and Europe, the airline has improved its own competitiveness in recent years.
In March this year it introduced its first Airbus A350 on services from Atlanta Hartsfield-Jackson to Seoul Incheon, replacing the Boeing 777 on the route launched in June 2017.
Passengers can now fly the A350 on services from Detroit to Tokyo Narita, Seoul Incheon, Beijing Capital, Shanghai Pudong and Amsterdam Schiphol.
According to Airbus, the A350-900 offers a 25 per cent improvement in fuel efficiency and a 25 per cent lower seat-mile cost compared to previous generation competitor aircraft. In addition, the jets generate a 20 percent improvement in Delta's operating cost per seat compared to the Boeing 747-400 aircraft they have replaced.
Delta's A350 also feature its Delta One suite, the first business class cabin to feature a sliding door at each suite, and its new premium economy product. Both will likely appeal to business travellers, particularly on long-haul flights, meaning the carrier will be less reliant on economy class for revenues.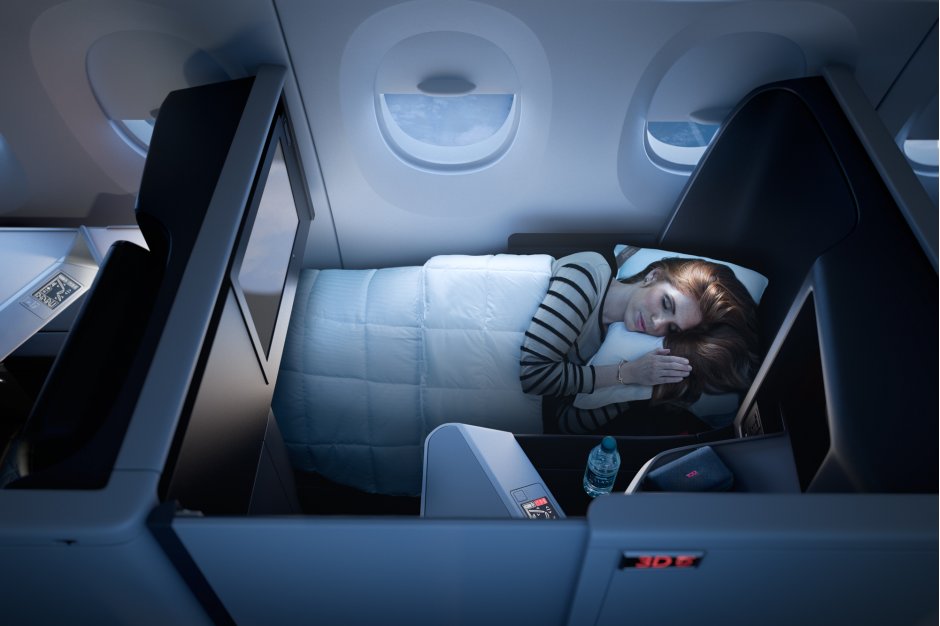 Utilising Jet Airways' network
In late 2015, Delta and KLM launched a codeshare agreement with Mumbai-based Jet Airways allowing passengers to connect via Amsterdam on flights to Delhi and Mumbai. Since then, it has been extended to the technology hubs of Bengaluru and Chennai from Amsterdam and Paris respectively.
Once its Mumbai route launches, Delta said it hopes to expand its existing codeshare relationship with Jet Airways to provide "seamless connections to other destinations within India", subject to government approvals.
Jet Airways currently operates services from Mumbai to 33 destination in India, including Delhi, Hyderabad and Kolkata, and will therefore be able to provide Delta with feeder traffic.
Jet Airways' domestic network from Mumbai (BOM) in Q2 2018: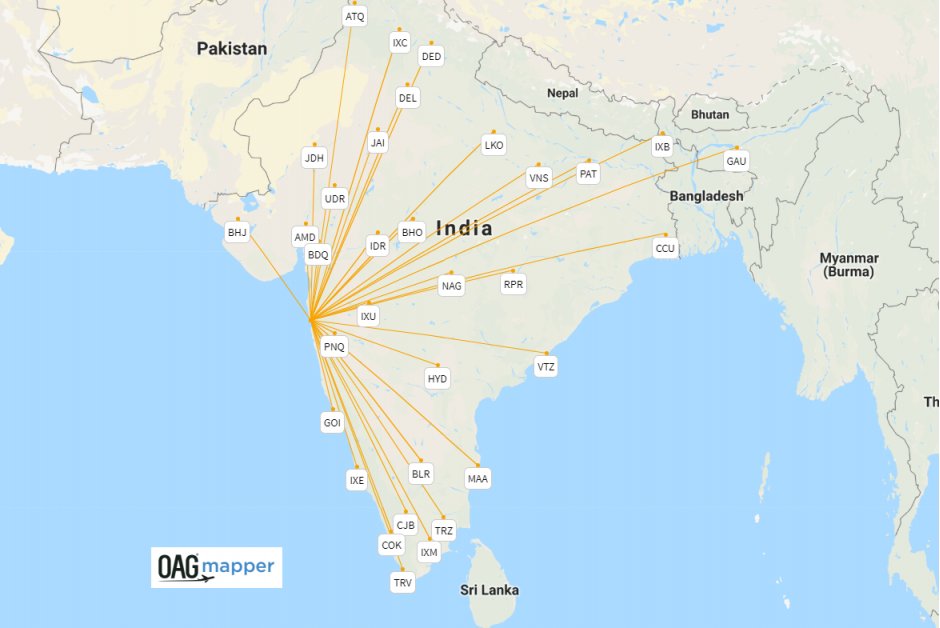 Delta is yet to reveal which of its US hubs will provide a gateway to India, but it is likely to try again from either New York J F Kennedy or Atlanta Hartsfield-Jackson. Although yields will remain under pressure, the airline can expect that more fuel-efficient aircraft, improved business traveller proposition, and its ties with Jet Airways will give it a better chance of success this time around.