Avianca resurrects plans for regional Colombian airline
Colombian flag carrier Avianca is resurrecting plans to launch a regional airline, five years after scrapping a similar proposal amid trade union issues.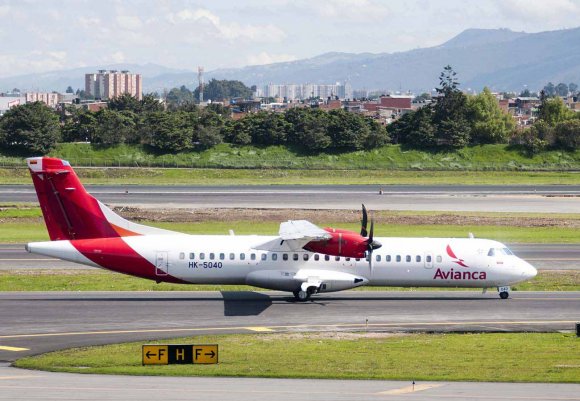 Avianca has incorporated a new airline subsidiary that will operate seven domestic routes in Colombia.
The country's national airline said it has formed Regional Express Americas, which will be based in Bogota. Services will be operated by ATR 72 Series aircraft.
A Securities and Exchange Commission filing said the carrier would provide transportation services as well as "engineering and maintenance services, training and operational support in all types of transportation".
The planned launch comes five years after Avianca pulled the plug on plans to start a regional carrier. The group bought 15 ATR 72s to form Regional Express Americas, but scrapped the idea in 2013 because of concerns from unions over the hiring of pilots.
The aircraft were instead used in its mainline fleet.
A document lodged with Aerocivil, Colombia's civil aviation authority, said the latest incarnation of Regional Express Americas would have its main base in Bogota and auxiliary bases in: Cali, El Yopal, Florencia, Ibagué, Manizales, Popayán, and Tumaco
The proposed routes and weekly frequencies are:
| | |
| --- | --- |
| Route | Frequencies |
| Bogotá - El Yopal - Bogotá | 10 |
| Bogotá - Florencia - Bogotá | 10 |
| Bogotá - Ibagué - Bogotá | 24 |
| Bogotá - Manizales - Bogotá | 19 |
| Bogotá - Popayán - Bogotá | 8 |
| Bogotá - Villavicencio - Bogotá | 5 |
| Cali - Tumaco - Cali | 3 |
According to OAG Schedules Analyser, the routes are currently served by Avianca's mainline operations.