SAA CEO pledges to bring 'a culture of winning'
After less than a year in the role Vuyani Jarana outlined his turnaround plans for South African Airways, including bringing a "culture of winning" to the carrier.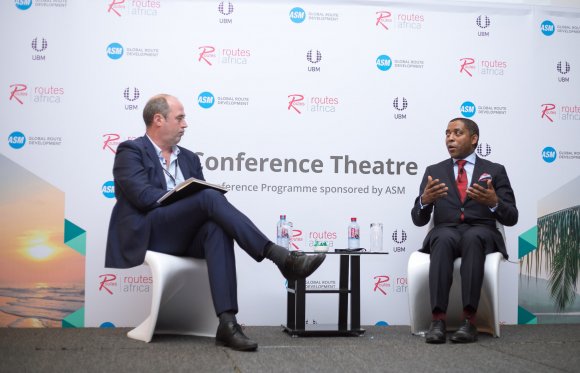 A mindset of "winning" is vital if South African Airways is to successfully complete its turnaround, the CEO has told Routes Africa 2018.
Speaking on stage at the conference programme, Vuyani Jarana said 'winning' must be embedded in every business practice if the embattled carrier is to become successful.
"Winning is very important in any organisation. If you are not consistently winning people will lose faith in you," he said.
"You need to build a culture of winning. We want to play to win and succeed. But it's not going to come without sacrifices.
The sacrifices Jarana referred to included its cost saving operation, which will see the airline cut staff and unprofitable routes as it seeks to restore its fortunes.
However, Jarana stressed that all unprofitable routes are not under threat, with additional support available to some.
"We're not saying every unprofitable route is a candidate to be shut down," he said. "We need to work around these routes and turn them around."
One major factor in future success involved African airlines cooperating more in the future, said Jarana, a theme throughout the first day of the conference.
"We have to stitch together assets and capabilities. The single African air transport market enables us to do many things," he said. "What will make it work is commercial opportunity. We need to work together to create better intra-African connectivity.
"The continent has lots of small operations, green shoots all over the place. I think it's too early to start talking about consolidation, but we need to explore more commercial partnerships."
Jarana was speaking days after Somaskaran Appavou, the CEO of Air Mauritius, said he was in talks about setting up the first African alliance including SAA, Kenya Airways and Rwandair.
Carriers must "find shared inspiration and ways of winning together", said Jarana, while suggesting that joining a non-African alliance is not on the carrier's radar.
"With most African airlines it's about finding the right partners who have a shared inspiration," he said.
"Because alliances are very broad in nature it is a very broad church. There aren't enough commonalities; we need to find similar cases and stitch them together. So far we think the continent is the right place to build these relationships."