New airline entrants fuel Cambodia's growth
As KC International Airlines becomes the latest entrant to Cambodia's market, Routesonline looks at the country's strong growth in recent years.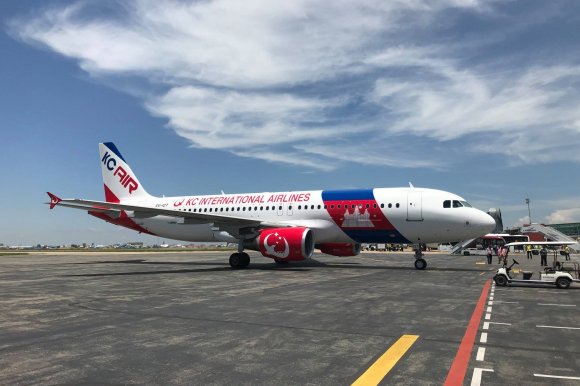 Full service carrier KC International Airlines is the latest airline to take to the skies in Cambodia.
The start-up has now received its air operator's certificate (AOC), allowing it to begin schedules services. It comes less than a month after taking delivery of its first aircraft, an Airbus A320.
As reported by Airlineroute, KC International plans to operate five routes from Phnom Penh, the country's largest airport. They are to Bangkok (one daily); Chiang Mai (three weekly); Manila (four weekly); Siem Reap (four weekly) and Taipei Taoyuan (three weekly).
The launch of the fledgling carrier, a Chinese-Cambodian joint venture, comes as Cambodia's aviation market continues to grow strongly.
Over the past decade, data from OAG Schedules Analyser shows that the total number of departure seats has surged by 149 percent, increasing to almost 7.2 million in 2017.
Growth in the country's international market has been a key driver, with capacity rising by 24 percent last year compared with the previous 12 months.
Analysis of flight schedules data shows that the number of international departure seats is set to rise by a further 15.6 percent in 2018 to total more than 6.2 million.
Domestic capacity this year is also scheduled to grow by an impressive 32 percent to 966,000 available seats.
KC International's launch means there are now seven Cambodian airlines operating in the country, compared with four just five years ago. Including international carriers,
Other recent additions include:
JC International Airlines, which started operations in March 2017. The carrier, backed by Chinese investors, is this year on course to become the fourth largest in Cambodia's market by available departure seats. In recent weeks it has launched a string of new services, including three additional routes to China (Phnom Penh – Guiyang; Siem Reap – Xi'An; Siem Reap – Xuzhou).
Lanmei Airlines, a low-cost carrier with a fleet of three Airbus A319s and two A321s. Named after Lancang-Mekong River, the airline started operations in September 2017 and currently operates a network of 23 routes. In September, it plans to launch a service to the Maldives with a three-weekly Siem Reap – Male route.
Cambodia Airways Co, a full service carrier owned by Prince International Airlines Company. The airline received its AOC on 6 July 2018 and operates from three destinations in Cambodia - Phnom Penh, Siem Reap and Sihanoukville, and one internationally in Macau. In October, it will also add flights to Taiwan Taoyuan.
Vinci, which owns Cambodia's three international airports Phnom Penh, Siem Reap and Sihanoukville, said passenger numbers surged 20.6 percent during the first six months of 2018 in spite of the low season.
Phnom Penh Airport recorded "outstanding traffic" growth of 30.1 percent, fuelled by the strong influx of passengers traveling from other countries in Asia, especially China, Vietnam, South Korea and Thailand.
At Sihanoukville, the country's main beach resort, its international airport reported growth of 99.5 percent thanks to the arrival of the new Chinese carriers Hainan Airlines and Ruili Airlines and the opening of several new routes. During the period, a new terminal was inaugurated to help accommodate the expected rise in passenger numbers over the next five years.
Image credit: KC International Airlines