Why Korean Air is returning to Boston
Boston has secured a non-stop route to its largest unserved city in Asia, representing one of the first additions to the newly launched transpacific joint venture between Korean Air and Delta Air Lines.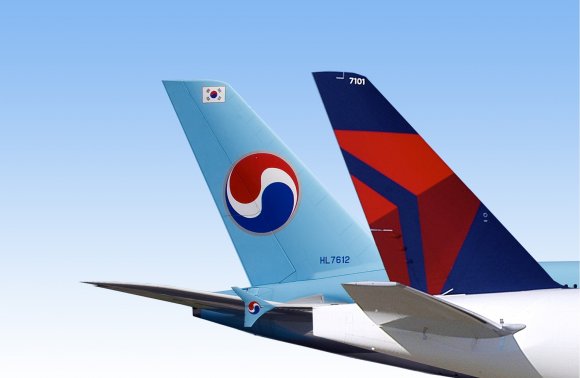 The livery of South Korea's largest carrier will once again be present at Boston Logan from next spring after Korean Air confirmed plans to open a non-stop service from Seoul Incheon.
The five-weekly route will start on 12 April 2019 and be operated on the SkyTeam member's new 787-9 Dreamliner aircraft featuring six First Class sleeper suites, 18 Prestige business class sleeper suites, and 245 seats in economy class.
Its planned launch follows the new joint venture between Delta and Korean Air, which will see the two airlines working together to align schedules and fares across the Pacific.
The Boston - Seoul flight, along with new Minneapolis/St. Paul-Seoul service that Delta is launching in 2019, are the first additions to the JV's Seoul-Incheon network since the two carriers launched their partnership in May.
Passengers can access 290 destinations on Delta in the Americas and 80 destinations in Asia on Korean Air. In January 2018, the two carriers co-located in Incheon Terminal 2, making connections between Asia and America quicker.
"By combining the schedules of Korean Air and Delta, our customers are able to enjoy unparalleled travel options," said John Jackson, Korean Air's managing vice president.
"Our joint venture is undeniably the strongest transpacific partnership and provides both of our airlines with a solid competitive edge."
Korean Air and Delta's US-South Korea capacity (2014-18):
Korean Air last served Boston in the 1990s and the airport will become its 11th US gateway. It currently serves Atlanta, Chicago, Dallas, Honolulu, Las Vegas, Los Angeles, New York, San Francisco, Seattle, and Washington.
Seoul, meanwhile, adds to Boston's list of destination in Asia. The airport currently has flights to Beijing and Shanghai (Hainan Airlines), Hong Kong (Cathay Pacific) and Tokyo Narita (Japan Airlines).
"As a major gateway for high tech industries, Boston is the most popular unserved point from Korea with rapidly growing demand to Asia," said John Jackson, Korean Air's managing vice president.
"The city, with its numerous universities and colleges, is a growing New England hub attracting companies in fast-growing industries like IT, bio-technology, healthcare, finance and pharmaceuticals."
Analysis of preliminary data provided by Sabre Market Intelligence shows that Seoul is Boston's biggest unserved market in Asia in the 12 months to June 2018, ahead of Mumbai, Delhi, Ho Chi Minh City and Taipei.
In addition, Boston is the largest unserved North American market from Seoul. More than 24,000 individuals of Korean descent live in Massachusetts, including nearly 5,000 in Boston.
Thomas P. Glynn, the chief executive of Boston Logan owner and operator Massport, said: "Offering non-stop service to South Korea, one of the world's largest economies, has been a priority and we are happy that it has come to fruition.
"We welcome Korean Air to Logan and look forward to connecting not only our economies, but students, families and tourism as well."
It is understood that incentives from Massport will total almost $1m over the next two years, including marketing expenses and landing fees.
With the launch of Boston and Minneapolis/St. Paul, Korean Air and Delta will offer up to 29 flights a day between 14 gateways in the US and Asia. From South Korea alone, the carriers will have more than 115 weekly flights to 13 US destinations, an increase of 10 percent from summer 2018.
Korean Air's planned non-stop service between Boston and Seoul:
| Route | Flight number | Departure | Arrival | Days of operation |
| --- | --- | --- | --- | --- |
| Boston(BOS) - Incheon(ICN) | KE090 | 13:30 | 16:50*1 (+1 day) | Tue, Wed, Fri, Sat, Sun |
| Incheon(ICN) - Boston(BOS) | KE089 | 09:30 | 10:30 | Tue, Wed, Fri, Sat, Sun |