Low-cost carriers dominate top ten fastest-growing airlines
Eight of the top ten fastest-growing major airlines during the first half of the year were low-cost carriers, new research by Routesonline has found, with an Indian operator leading the way.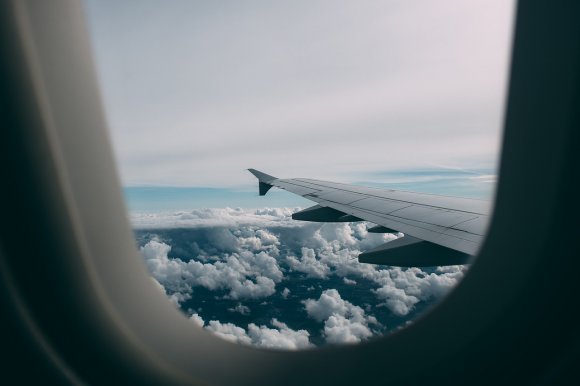 Indian carrier GoAir has grown its capacity at a faster rate than any other major airline in the world during the first six months of 2018, boosted by a string of new domestic routes and frequency increases.
The Mumbai-based airline, owned by the conglomerate Wadia Group, had 1.7 million more departure seats available during the first-half of this year, compared with the same period in 2017.
In total, almost 7.3 million departure seats were on offer, up from 5.6 million a year earlier. The figure gave it a growth rate of 30.7 percent.
Launched in November 2005, GoAir operates from 23 destinations in India with more than 1,550 weekly flights.
Its fastest-growing markets year-on-year have been Ahmedabad, Bengaluru and Hyderabad. New routes added this year include Ahmedabad - Chandigarh, Delhi - Nagpur and Hyderabad - Lucknow.
The carrier operates an all Airbus fleet with 19 A320-200s, 19 A320neos and a further 125 A320neos on order. Two A320neos have joined its fleet - one in June and one in July - since Airbus resumed deliveries of the aircraft powered by Pratt & Whitney engines.
On 30 August 2018, GoAir chief executive Cornelis Vrieswijk revealed at a press conference that the carrier will begin its first international flights this October. It will operate services to Phuket and Malé from Mumbai and Delhi.
"We are looking for opportunities to spread our network wider," added Vrieswijk, who joined the airline in June.
New routes launched by GoAir during H1 2018: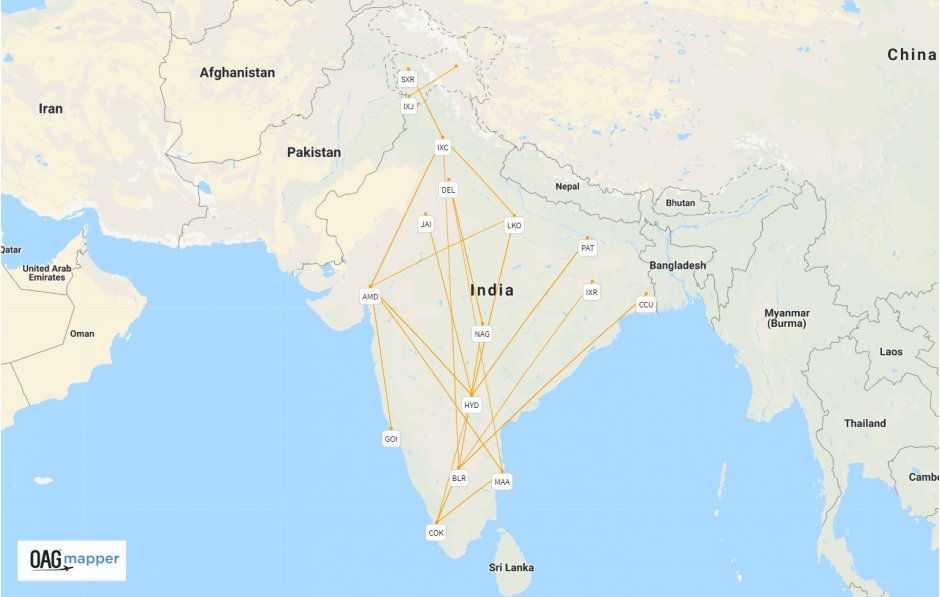 Joining GoAir in the top ten at number nine is fellow Indian budget carrier IndiGo, which grew its capacity by 18.8 percent during the six months to June 2018. It had more than 34.5 million available departure seats during the period, a sharp rise from the 29.1 million a year earlier.
The increase was despite a number of its A320neos being grounded following the Pratt & Whitney engine issues. The carrier currently operates 127 A320-200s and 41 A320neos, with 364 A320neos and 25 A321neos on order.
IndiGo had a 40.3 percent capacity share of India's domestic market during the first-half of 2018, analysis of data provided by OAG Schedules Analyser shows.
With the country forecast to become the world's third-largest aviation market by 2025, intense competition from the likes of Indigo and GoAir looks set to heap further pressure on Air India and Jet Airways. Qatar Airways has also stated its ambition of launching a short-haul carrier in India.
Domestic carriers in India by capacity share (H1 2018):
The list of fastest-growing airlines was compiled by ranking the top 100 carriers in the world by available capacity during the first-half of 2018, based on figures from OAG Schedules Analyser. The data was then compared to the capacity figure during the same period in 2017 and ordered by year-on-year percentage growth. In total, eight of the top ten carriers are low-cost.
At number two in the list behind GoAir is US low-cost airline Frontier Airlines, which enjoyed capacity growth of 23.3 percent during the first six months. It offered 11.3 million departure seats during the period, compared with 9.2 million in H1 2017.
New routes launched this year include 19 from its hub at Denver International Airport to destinations including Buffalo, Grand Rapids, Jacksonville International and Myrtle Beach.
Chinese low-cost carrier Spring Airlines placed at number three in the top ten, with growth of 23.2 percent. The Shanghai-based airline added more than 2.1 million seats in H1 2018, compared with a year earlier.
Brazilian airline Avianca Brazil and Central and Eastern European carrier Wizz Air completed the top five.
Top ten fastest-growing major airlines during H1 2018: