Interview: Titan Airways celebrates 30 years
Alastair Kiernan, business development director at charter airline Titan Airways, discusses the carrier's 30th anniversary, opportunities in the market and the challenges posed by Brexit.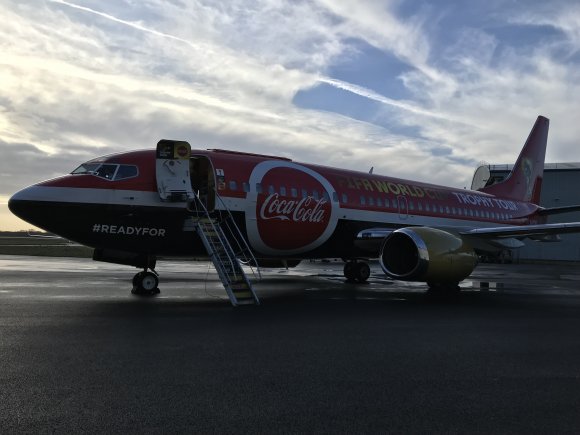 Titan Airways, the UK-based charter airline is this year celebrating its 30th anniversary. Alastair Kiernan, business development director, took time out of his schedule at World Routes 2018 to look back on the past three decades and explain more about key opportunities and challenges in the market.
What have been some of your greatest achievements over the past 30 years?
I suppose the greatest is remaining a profitable organisation for 28 out of 29 years and our 30th year end looks as if it will be profitable too.
We are 100 percent privately owned and have a small director team who have a wealth of experience and an amazing workforce who are dedicated to the cause.
This year we also operated the FIFA World Cup Trophy Tour 2018 which lasted 3.5 months on a 29 year old Boeing 737 – 300 (due to leave the fleet this October) which performed without any issues at all for the whole tour. It took in 51 countries, 89 destinations and flew in excess of 146,000 kms. That is pretty outstanding.
We also completely transformed the interior of the aircraft with a media area in the front cabin a fixed cabin divider followed by just 38 business class seats in a four abreast configuration in the rear of the cabin. We installed LED lighting throughout, three new toilets and the exterior was painted in a dramatic Coca Cola / FIFA colour scheme.
How many aircraft do you have and what are your fleet development plans?
Our fleet currently consists of:
1 x Boeing 737 – 300QC (Due to leave the fleet October 2018)
1 x Boeing 737 – 400 (Due to be converted to a Freighter in October 2018)
1 x Boeing 737 – 400F
1 x Airbus A318 – 100
2 x Airbus A320 – 233
3 x Airbus A321 – 211
2 x Boeing 757 – 200
1 x Boeing 767 – 300ER
1 x Phenom 300
Plans looking ahead will probably be the introduction of an Airbus A319 to replace our Boeing 737s and possibly more Airbus A321 aircraft.
We are still mulling over our wide-bodied operation possibilities but have nothing concrete at this stage in regard to what our plans will be. There are various options on the table.
The wet leasing market is forecast to grow by about 10 percent by 2022. How big of an opportunity is there for Titan?
It is a very big part of our business around 62 percent currently and we plan to continue providing wet and damp lease to carriers all over the globe.
We aim to continually modernise our offering and have recently introduced brand new ACRO slim line seats for our A320 / A321 aircraft, which are ergonomically great for passenger comfort, very easy to maintain and mean we can maximise the capacity of the aircraft we operate.
We would like to increase if possible longer term ACMI lease operations (ie one year or more), or certainly would welcome the opportunity of providing aircraft to carriers over our winter period November to April which is the hardest time to sell capacity due to the volume of so many providers with the same problem.
Summer is an easy sell, winter is slightly more difficult, although we are getting better at what we can achieve over this period.
This year we still have an Airbus A321 available between November 2018 and April 2019. We would welcome any enquiries from carriers who require additional capacity or have longer term requirements for sub charter and wet / damp lease.
What are your main challenges at the moment? How are you preparing for Brexit?
As with any business, we face challenges, but I think it is how you look at them as a whole. They are inevitable, but if your work force are with you and you have the right team, those challenges can be easier to deal with. Regulation is probably one of the hardest.
We want to ensure we run a safe, reliable and flexible business with an approach to our staff and our customers that provides a commitment to quality, a passion for what we do and continue to do what we do but better each time.
Things will go wrong from time to time and it is how you deal with those issues. So keeping our customers happy is a huge priority for us.
Brexit may be a challenge for sure. I think the biggest issue here is that no one really knows what the outcome will be.
We have our thoughts on a variety of options which will mean we ensure we continue to provide capacity to our customer airlines in Europe as the demand looks as if it will be there for the future, certainly as we know the growth is still forecast to continue into 2022 and possibly beyond.
What has been your main message at World Routes?
My main message is really that, if you as a carrier want to look at leasing, there are operators that share your passion for the business you are in.
Certainly at Titan Airways we have dedicated a huge amount of time and effort in providing a modern product with a huge amount of emphasis on safety and reliability as well as commitment to our customer airlines. We operate 24 hours, seven days a week, 365 days a year with a dedicated team of individuals, our own maintenance facility and operational base at London Stansted.
We look after your passengers in flight and we are proud to work with a vast number of national flag carriers, low cost operators and have managed to continue through three decades of business and we are still going strong.
We have never been the cheapest solution, but safety and quality costs and we aim to continue this by evolving our product and offering, and over time continuing to modernise our fleet.
If you need a partner lease carrier that can provide this, then we are here to help and will continue to attend the various Routes forums over the coming years.