Qantas and KLM to codeshare on Amsterdam route
Qantas has expanded its codeshare options for its passengers travelling to Europe after signing a deal with KLM Royal Dutch Airlines.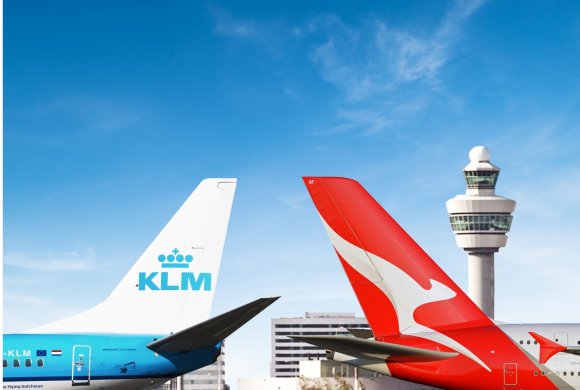 Qantas and KLM have signed a new codeshare agreement for passengers travelling between Australia and Holland.
Qantas will add its code on KLM's daily flights between Singapore and Amsterdam and KLM will add its code on Qantas international flights between Singapore and Sydney, Melbourne, Brisbane, and Perth.
Alison Webster, chief executive of Qantas International, said the new codeshare was part of the airline's strategy of building strong partnerships with other airlines to improve travel options for its customers.
KLM chief executive Pieter Elbers added: "Australia is an important destination for business and leisure travellers, which is why Qantas is such an important partner."
Qantas Frequent Flyers will be able to earn points and status credits when travelling on the Qantas-coded flights between Singapore and Amsterdam. Eligible customers will be able to access to the KLM Lounge in Amsterdam, in addition to the Qantas lounges in Australia and Singapore. The carriers are also exploring redemption opportunities on codeshare flights.
The new agreement with KLM adds to Qantas' expanding codeshare network. In September, the carrier announced plans to start a codeshare partnership with fellow oneworld alliance member Cathay Pacific from 28 October.
Under the agreement, the Qantas code will be added to Cathay Pacific and Cathay Dragon services across services in Asia from Hong Kong to ten destinations including India, Myanmar, Sri Lanka and Vietnam. It will also be added to Cathay Pacific's long-haul flights from Hong Kong to Perth and Cairns.
In return, Cathay Pacific will add its code to 13 routes on Qantas' domestic network in Australia.
Qantas this year has also re-established a codeshare agreement with Air France on flights to Paris and signed a codeshare deal with Air New Zealand on 115 domestic routes in New Zealand and Australia.
In addition, it continues to codeshare on Emirates' services between Amsterdam and Dubai. The Emirates alliance that was formed in 2012 and renewed in March this year.