Bulletin board: aviation industry news round-up
This week: Delta orders ten more A330-900neos; London Stansted's growth plan approved; Jet2 owner increases route network; Belfast City completes £15m upgrades and more.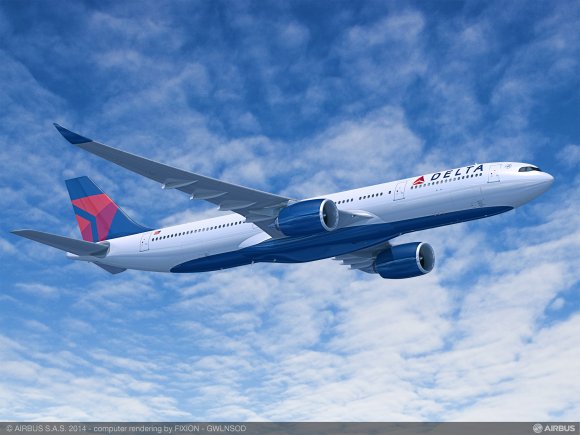 A round-up of the latest news from the aviation industry this week.
Delta orders ten more A330-900neos
Delta Air Lines has ordered a further ten Airbus A330-900neo aircraft, increasing its order for the widebody to 35.
Simultaneously, the airline has agreed to terms with Airbus to reduce its A350-900 purchase commitment to a total of 15 aircraft from 25.
The ten previously on order have been deferred to 2025-26, with certain flexibility rights including the right to convert these orders to A330-900s.
"Expanding our A330 order book not only ensures that Delta's near-to-medium-term wide-body needs are taken care of, but also drives our strategic, measured international growth," said Gil West, Delta's senior executive vice president and chief operating officer.
"The next-generation engine technology from Rolls-Royce which powers the A330neo provides compelling operating economics, superior fuel performance and the range and coverage for our transoceanic needs going forward."
London Stansted's growth plan approved
London Stansted's planning application to increase the number of passengers it is permitted to serve to 43 million a year has been approved.
Uttlesford District Council has given the green light for the airport to increase the total from its current 35 million.
The airport said the approval would support international connectivity, including more long-haul routes.
The decision is great news for the airport, our staff and the growth ambitions of the region, London and the wider UK and will improve passenger choice and convenience and boost international long-haul routes to fast-growing markets like China, India and the US," said Ken O' Toole, chief executive of London Stansted.
Profits rise as Jet2 owner increases route network
Dart Group, the owner of leisure carrier Jet2, has reported that operating profit increased by 68 percent to £350.1m in the half-year to 30 September 2018, compared with the same period a year ago. Revenues rose by 36 percent to almost £2.25bn.
Jet2 flew a total of 8.93 million passengers during the six months, up from 7.14 million a year ago. The number of routes operated during the period rose by 17 percent to 304, while capacity grew by 24 percent to 9.47 million available seats.
However, chairman Philip Meeson cautioned that increased losses are expected in the second half of the year as it continues to invest in additional aircraft and marketing.
Belfast City completes £15m upgrades
George Best Belfast City Airport has officially opened its upgraded terminal facilities following a £15m infrastructure investment.
The significant upgrade of the departures lounge includes new retailers, enhanced bars and restaurants, additional seating and a new security search area.
Brian Ambrose, chief executive at Belfast City Airport, said: "Our focus now turns to outside the terminal. We plan to commence work on our car parking facilities starting with a covered walk-way and introducing further enhancements to our offering in 2019."
Visit Belfast's chief executive Gerry Lennon added: "With increasing numbers choosing to visit Belfast, tourism is really on the rise and with positive experiences we hope they will encourage their friends and family to come too."
Belfast was the host city for Routes Europe 2017 and has enjoyed an upsurge in tourism and air services in recent years.
easyJet orders 17 more A320neos
easyJet has exercised purchase rights for another 17 Airbus A320neos under an existing framework agreement signed in 2013.
The airline said the aircraft are "subject to a very substantial discount from the list price" and are expected to be funded through a combination of internal resources, cash flow, sale and leaseback transactions and debt.
The low-cost carrier has also deferred delivery dates of 18 A320neo aircraft by up to 24 months and converted 25 purchase rights for A320neo into purchase options, which has the primary purpose of securing delivery slots in 2024.
easyJet said this provides "additional flexibility" to its existing plans: by 2022 it could increase its fleet size to 385 or reduce it to 316, using existing Airbus delivery arrangements and operating lease optionality.
Details of the aircraft order were announced as the airline released its full-year financial results. Total pre-tax profit increased by £60m to £445m in the 12 months to 30 September 2019, compared with the previous year, while revenues grew by 16.8 percent to £5.9bn.
It also flew a record number of passengers at 88.5 million, up +10.2 percent with a record load factor of 92.9 percent (2017: 92.6 percent).
Binter Canarias to be first European customer for E195-E2 jet
Binter Canarias will receive its first Embraer E195-E2 jet in the second half of 2019, becoming the first European customer of the E-Jets E2's largest model.
The airline signed a firm order with Embraer for three E195-E2s. The contract also includes purchase rights for two additional aircraft of the same model.
This agreement was previously announced as a Letter of Intent with an undisclosed customer at the Farnborough Air Show 2018.
Binter Canarias will configure the aircraft with 132 seats in a single-class layout.