Vienna on track for record year
Vienna Airport is on track for a 10 percent surge in passengers this year amid an influx of low-cost carriers and the opening of new long-haul routes.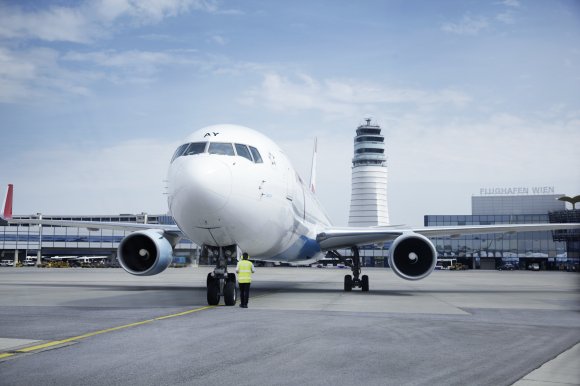 Over the past few months, Vienna Airport has secured the return of ANA, Air Canada and Royal Air Maroc and welcomed Saudia, Air Arabia Maroc and Hainan Airlines.
The recent additions follow hot on the heels of new bases for Wizz Air, Laudamotion and LEVEL, launching extensive short- and medium-haul operations from the airport. Currently 32 routes are on sale by WIZZ Air, Laudamotion offers 23 routes in winter 18/19 and IAG's LEVEL operates nine routes from the airport.
The surge in activity, particularly from low-cost carriers, comes less than a year after the insolvencies of Air Berlin and NIKI, the third and sixth largest carriers at the airport by seat capacity during 2017.
Vienna is now on track to top 2017 when a record 24.4 million passengers passed through its terminals, an increase of +4.5 percent on the previous year. Last year, 74 different airlines offered flights to 195 destinations in 70 countries across the globe.
From January to October 2018, the total number of passengers increased by +8.5 percent, boosted by the likes of Laudamotion, LEVEL and WIZZ Air.

The great performance of Austrian Airlines and easyJet, and increased frequencies on long-haul routes by several airlines including Air India, China Airlines, Ethiopian Airlines, EVA Air, Qatar Airways and Thai Airways, contributed to the success.
The airport now expects the current upward trend to continue, thus with passenger volume set to rise more than +10 percent in 2018.
Other recent announcements include Royal Air Maroc's plans to offer a three-weekly service to Casablanca from April 2019. This is in addition to Marrakech being served by Air Arabia Maroc, Austrian Airlines, Laudamotion and Corendon.
Air Canada - a new carrier at Vienna Airport - is starting as of April 2019 with its flight service to Toronto while Austrian Airlines will offer Montreal as a new travel destination from Vienna. Both flight connections to Canada offered by the Star Alliance partners will be served on a daily basis.
Besides, Austrian Airlines resumed operations from Vienna to Cape Town in October 2018 with a twice-weekly service, while the carrier also started operations to Tokyo-Narita in May 2018.
In addition, Star Alliance member ANA will link Vienna with Tokyo-Haneda Airport starting on 17 February 2019. The new route will be served daily by a Boeing 787-9 aircraft.
Vienna Airport is also focused on improving the quality of service for passengers. In 2016, it announced plans to expand and modernise its facilities. A new building is being constructed at the southern side of Terminal 3, with the development being carried out in phases over the next five years.
Vienna key facts
Passenger numbers (2017): 24.4 million (+4.5 percent)
Passenger numbers (January to October 2018): 22.6 million (+8.5 percent)
Flights per day: 600
Minimum connection time: 25 minutes
Destinations served (2017): 195 in 70 countries
Airlines: 74
Annual Cargo Capacity: 287,962 tonnes
Runways: 2
Terminals: 2
Hours of operation: 24