British Airways to order up to 42 Boeing 777 jets
British Airways owner International Airlines Group (IAG) has committed to buying up to 42 Boeing 777 aircraft to replace its ageing fleet of 747s.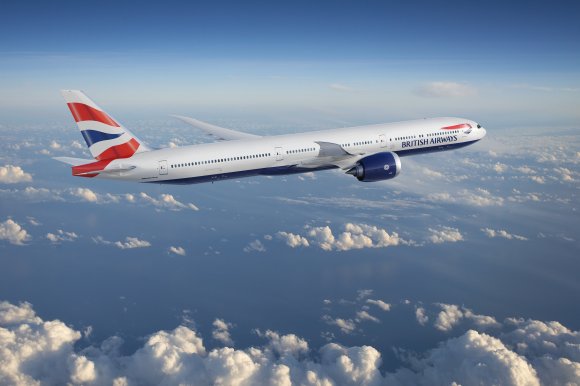 IAG is ordering 18 Boeing 777-9 aircraft, plus 24 options, for British Airways as part of its fleet modernisation programme.
They will be used to replace 14 Boeing 747-400 and four Boeing 777-200 between 2022 and 2025. Each aircraft will be fitted with 325 seats in four cabins.
"The new 777-9 is the world's most fuel efficient long-haul aircraft and will bring many benefits to British Airways' fleet. It's the ideal replacement for the 747 and its size and range will be an excellent fit for the airline's existing network," said Willie Walsh, IAG chief executive.
"This aircraft will provide further cost efficiencies and environmental benefits with fuel cost per seat improvements of 30 per cent compared to the 747. It also provides an enhanced passenger experience."
British Airways has 135 wide-bodied long-haul aircraft in its fleet (12 A380s, 30 B787s, 12 B777-300ERs, 46 B777-200s and 35 B747s) with 12 more B787s, four B777-300ERs and 18 A350s on order.
The 777-9, which will debut next month, has a standard range of 7,600 nautical miles (14,075 km).
Meanwhile, IAG has today (28 February 2019) released its annual full year financial results, with a pre-tax profit of €3.49bn in 2018, up from €2.48bn a year prior.
In 2018, the group, which also includes Vueling, Iberia, Aer Lingus and LEVEL, increased capacity by 6.1 per cent for the full year. Capacity was increased in all airlines and throughout each region except for Asia Pacific.
IAG said the increase partially reflects new long-haul routes at British Airways, Iberia and Aer Lingus and the full year impact of routes launched in 2017.
Passenger load factor reached its highest level since the creation of IAG at 83.3 points, 0.7 points higher than the previous year and 1.4 points higher than the IATA average.