Paris 2019: JetBlue to evaluate more European routes
JetBlue has followed fellow US carriers American Airlines and Frontier by selecting Airbus' longest-range narrow-body jet for the next phase of its expansion as it seeks to open more point-to-point destinations in Europe.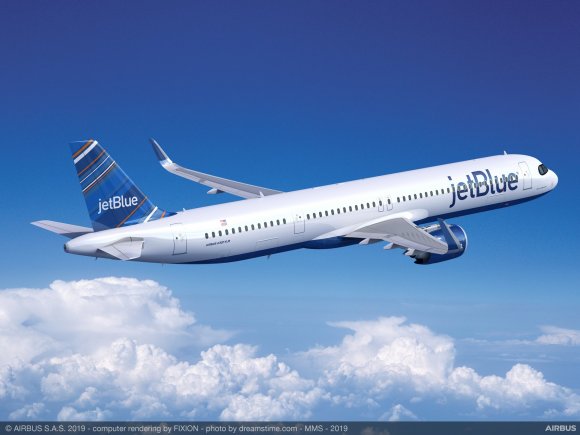 Low-cost carrier JetBlue will convert 13 aircraft in its existing Airbus A321neo order book to the XLR version, with the first delivery scheduled for 2023.
The airline said the newly launched long-range aircraft would allow it to consider more European destinations from Boston and New York, while also providing added fuel efficiency.
The move comes two months after it confirmed plans to open multiple daily flights to London from New York JFK and Boston. Its first transatlantic services are expected in 2021.
In addition to the A321XLR order, Jet Blue has firmed up an order for an additional ten A220-300 aircraft from existing options. An initial order for 60 A220 aircraft – announced in July 2018 – will be phased in as replacements for the airline's existing fleet of 60 Embraer E190 aircraft.
"The incredible extended range of the A321XLR allows us to evaluate even more overseas destinations as we think about JetBlue's expansion into European markets plagued by high premium fares and subpar service," said Robin Hayes, chief executive of JetBlue.
"Increasing our firm order for A220 aircraft gives us a valuable tool to support our network strategy in the Americas and continue to build our focus cities with an airplane that offers incredible economics and range."
Launched this week at the Paris Air Show, the A321XLR is the latest evolution of the A321neo aircraft family and features an extended range of 4,700 nautical miles – some 600 nautical miles more than the A321LR aircraft. The increased flying distance is made possible with an additional rear centre tank for more fuel volume.
JetBlue said the A321XLR allows it to evaluate new transatlantic options and explore additional point-to-point destinations it may serve in Europe. It also opens up possibilities for service between the northeast US and destinations in south, central and northern Europe.
Since unveiling the A321XLR on Monday Airbus has secured a steady flow of orders for the aircraft, including from US carriers Frontier and American Airlines. On Tuesday, private equity firm Indigo Partners signed a commitment for 50 A321XLRs, 18 of which will be allocated to Frontier.
Barry Biffle, chief executive of Frontier, said the addition of the long-range variant would enable it to fly from east to west coast in the US and reach Hawaii with a full density, as well as exploring international opportunities in Europe and South America.
"We cannot go coast-to-coast in the United States. The furthest we can fly is Philadelphia to Las Vegas. The range of this aircraft enables us to go from New York, Boston and Miami to all points in the western US and Hawaii."
American Airlines has also agreed to acquire 50 A321XLRs. It is converting 30 existing A321neo orders and buying an additional 20 of the new longer-range version.
The airline is the largest Airbus operator in the world with 422 aircraft. Including this deal, which was made at the Paris Air Show, it has outstanding orders for 115 A321neos and A321XLRs from Airbus.
American's president Robert Ibsom said: "Adding in some 321XLRs, I think is going to really give us an opportunity to do things we haven't done in the past.
"I take a look at places like JFK [New York John F Kennedy], Philadelphia, Charlotte, and even DFW [Dallas/Fort Worth]. Opening up some new markets that will help the network and will help us serve our customers better."