Kazakhstani newcomer Qazaq Air is hoping to attract a wealth of interline partnerships as it grows frequency across its network.
The state-owned carrier, which currently operates a fleet of Bombardier Q400 Dash-8 aircraft plans to increase the available services on its current network.
However the task is not without significant challenges said Iliya Assaev, director business development, Qazaq Air, at Routes Silk Road 2019.
According to Assaev, the small but ambitious airline is undertaking a "huge task" and "looking at big carriers all around the world" as it seeks to grow its passenger base through international partnerships.
"With the changes in our schedule, we expect to be more attractive to partner airlines," said Assaev. "We are looking to form codeshare and interline agreements with them, so this will help us to generate more passengers."
"We are a new airline and haven't had much time to grow, so we're looking to partner with major carriers in the region, and we will be talking to our friends Air Astana.
"We are looking at ways the schedules can be combined so we can both benefit."
Qazaq Air network map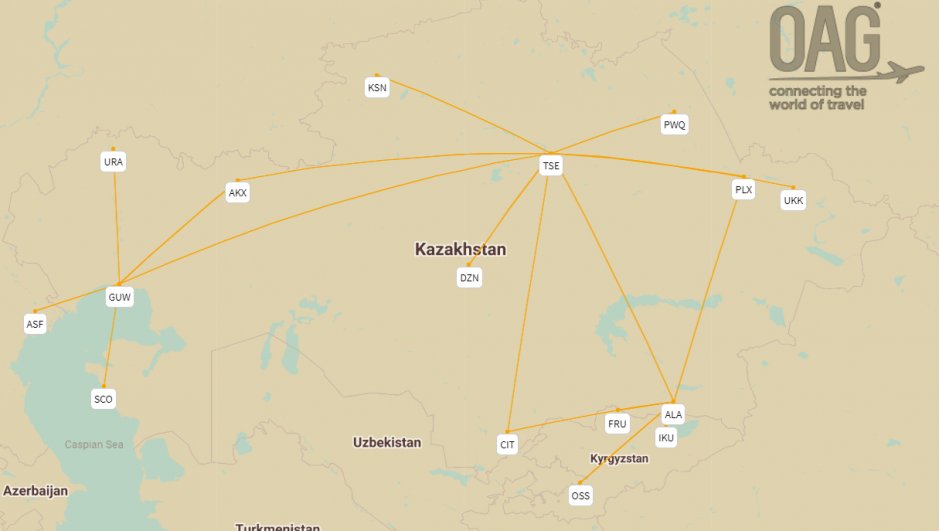 In addition, increased frequencies will open up new passenger markets, said Assaev.
"We mostly carry people under 35. There is lots of VFR, but not many business travellers yet because we offer fewer frequencies," he said.
"This will change when our new business strategy introduces more frequencies."
However, the airline's location in Kazakstan presents challenges in its goal.
"The airport infrastructure in the country is not developed to the point where you can offer service 24/7," said Assaev.
"Also the turnaround times are too long to have our expensive equipment sitting on the tarmac."