Darwin and Haikou seek non-stop route
An agreement designed to bring a non-stop route between the Australian city of Darwin and Haikou, the capital of China's island province Hainan, has been signed during a special event at World Routes.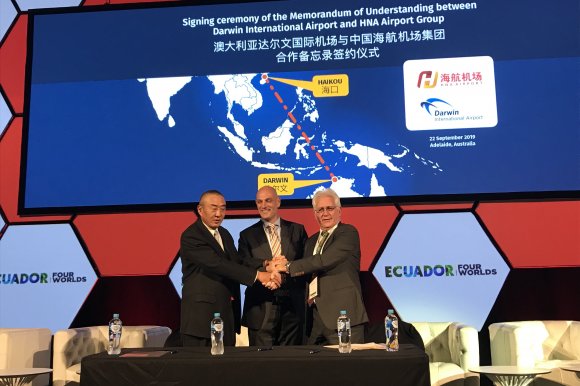 The Memorandum of Understanding was signed by Zhen Wang, chairman of the HNA Airport Group and Shane de Wit, director of commercial and aviation development at Darwin International Airport.
It comes a year after Darwin International Airport met with several Chinese airlines at World Routes 2018 in Guangzhou to discuss a possible air routes between China and the Northern Territory capital.
"With the increasingly close exchanges between Australia and Haikou, both Darwin International Airport and Haikou Meilan International Airport are confident there is scope to develop more routes to Australia and in particular to Darwin," said de Wit.
Darwin and Haikou formally established a sister city relationship in 1990 and since then there have been a number of successful education, arts and cultural exchanges between the two cities.
Wang added: "Haikou Meilan International Airport has now opened direct flights between Haikou and Sydney and Melbourne, the connection and relationship with Australian people is growing.
"Haikou Meilan International Airport hopes to open a direct flight between Haikou and Darwin as soon as possible through the cooperation of two both airports in the form of this Memorandum of Understanding.
"The MoU between two airports aims to strengthen the relationship and connectivity between the two cities and enhance the communication and exchange of the people of the two cities."
Darwin is Australia's northern most capital and serves all major Australian capital cities with multiple daily flights. In addition, there are regular services to key tourism destinations such as Cairns, Uluru and Alice Springs.