How Flybe connects the UK
As speculation mounts about the future of regional airline Flybe, Routes looks at the carrier's network and the important role it plays in UK connectivity.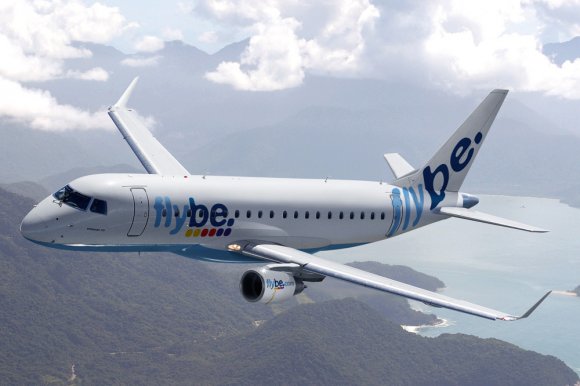 A total of 2,030 Flybe flights are scheduled to depart from the UK this week (w/c January 13, 2020), offering almost 150,000 departure seats, accoding to data provided by OAG Schedules Analyser.
The carrier operates from 26 airports in the UK, as well as 16 internationally. In total, it has 176,378 available weekly seats across 96 routes.
Manchester Airport is the European regional carrier's largest airport by frequency and capacity, with 250 weekly departures and 19,852 available seats.
The airline operates 16 routes from Manchester, connecting the city with eight domestic and eight international destinations. 65% of its capacity from the airport is domestic.
Overall, Flybe accounts for 51.6% of the total domestic capacity available from Manchester, followed by British Airways with 25.1% and easyJet with 17.3%. Aurigny Air Services and Loganair also provide domestic routes, with a 3.2% and 2.8% capacity share respectively.
Southampton Airport is the second-largest in Flybe's network by number of departures, with 235 flights scheduled to take off this week. The split between domestic and international is 164 departures versus 71.
A total of 17,335 weekly departure seats are on offer from Southampton, 68% of which are domestic. Flybe is Southampton's largest carrier by far, accounting for 93.4% of weekly departure seats.
Meanwhile, Birmingham Airport is the third-largest airport in the airline's network by frequencies and the second-largest by departure seats. A total 220 departures are planned this week with more than 18,000 seats on offer.
In the UK domestic market, Flybe is the UK's largest domestic operator by frequencies with more than 1,700 scheduled flights this week, while it is the third biggest by domestic capacity behind easyJet and British Airways.
It deploys the most capacity – 6,396 weekly seats – on the route between Edinburgh and London Heathrow, followed by Belfast City-Manchester and Belfast City-Birmingham.
Flybe operates from 26 airports in the UK and accounts for more than half the number of weekly flights at eight of them. At five of those airports – Anglesey, Southampton, Exeter, Belfast George Best City and Newquay – it accounts for 75% or more of all departures.
Looking at capacity share, Flybe operates more than 90% of weekly departure seats at two UK airports - Anglesey and Southampton. At its home base of Exeter, the carrier accounts for more than two-thirds of the total capacity on offer this week.
As previously reported, Flybe is in talks to secure emergency funding as it seeks to stave off a collapse. The airline was acquired last March by Connect Airways, a consortium comprising Virgin Atlantic, Stobart Group and Cyrus Capital Partners.
Sky News said that although the airline is in talks about securing investment, professional services firm EY on standby to handle an administration if the discussions prove unsuccessful.
A spokesperson for Flybe said: "Flybe continues to provide great service and connectivity for our customers while ensuring they can continue to travel as planned. We don't comment on rumour or speculation."
Flybe's UK domestic network (w/c Jan. 13, 2020):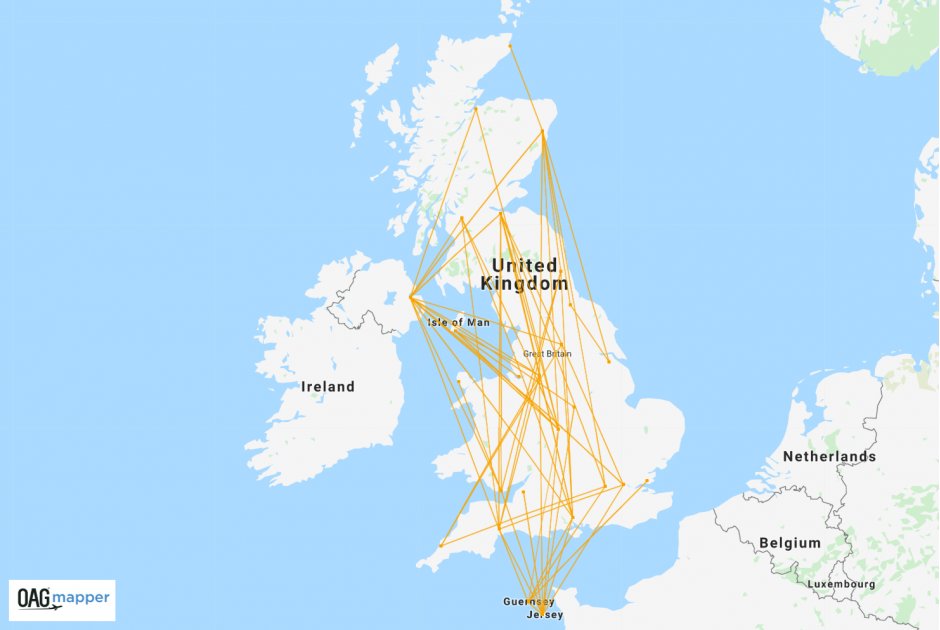 The data is all supplied by OAG Aviation using its OAG Schedules Analyser tool.