Airlines alter routes to China amid Wuhan coronavirus scare
WHO cautions that 'not enough' is known yet about virus to make definitive conclusions.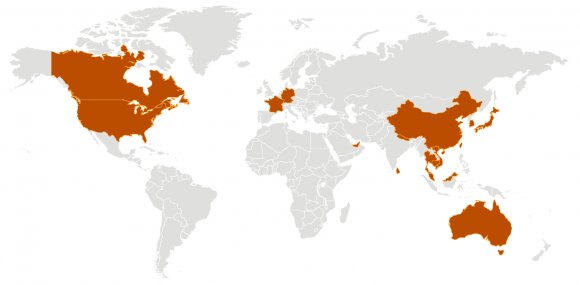 By Routes staff
Airlines around the world altered their schedules because of the Wuhan coronavirus outbreak, significantly curtailing flying to/from China.
The range of airline reactions varies widely. Some are canceling all flights to China, while others are only stopping flights to the part of the country most affected. In some cases, the changes are for public health reasons, and in others, the capacity reductions reflect plummeting demand as people cancel travel plans. The situation is fluid—airlines are considering making route adjustments and are likely to announce more changes soon.
Airlineroute is tracking the changes here.
"WHO has been working with Chinese authorities and global experts from the day we were informed, to learn more about the virus, how it affects the people who are sick with it, how they can be treated, and what countries can do to respond," the World Health Organization said in a statement. "Not enough is known about the epidemiology of 2019-nCoV to draw definitive conclusions about the full clinical features of disease, the intensity of the human-to-human transmission, and the original source of the outbreak."
The aviation industry must continue to learn from past lessons and work together to curb the spread of the Wuhan coronavirus, said Association of Asia Pacific Airlines (AAPA) director general Andrew Herdman.
Lufthansa, Austrian Airlines and SWISS became the latest carriers to stop all flights to China, following British Airways and Lion Air.
Herdman noted industry's efforts in suspending flights are not necessarily a result of banning passenger travel to China, but are adjustments in capacity based on the public's rapidly falling demand for travel to China. He stressed that the WHO has not yet recommended a travel ban and added the aviation industry has robust procedures in place to screen passengers.
"Air travel does not cause more virus cases, but rather disperses the cases further," he said, pointing out that the Spanish flu killed 40 million people around the globe in 1918 even before the advent of air travel.
Herdman suggested that instead of arrival screening, which is currently in place in most airports, exit screening would more effective in capturing passengers with symptoms and preventing the spread, based on studies following the Severe Acute Respiratory Syndrome (SARS) epidemic.
"It appears that we have to relearn that lesson," Herdman said.
Korean Air has suspended four Chinese routes from Seoul, and one each from Jeju and Busan. Frequencies will be reduced on five other Chinese routes. These changes will take effect Feb. 2. Korean Air had already suspended its Seoul-Wuhan route until Jan. 31 and has now extended this until March 27.
Like some other airlines, Korean Air is making changes to inflight services. This includes switching to disposable cutlery on Chinese routes, and items such as pillows and blankets will not be provided. Measures for staff include a recommendation that cabin crew wear masks and plastic gloves on all routes, and canceling crew layovers in Kunming and Guangzhou in China.
Many airlines are taking similar steps for inflight services. Similarly, several are waiving fees for those changing travel plato China.
Lufthansa, Austrian Airlines and SWISS are among the latest carriers to stop all flights to China, following British Airways and Lion Air.
Thai Airways and Japan Airlines (JAL) are continuing to operate Chinese flights for now. JAL does not have a flight to Wuhan, but it is believed to be evaluating its Chinese network. The airline has directed cabin crew to wear face masks on international and domestic flights. All Nippon Airways has suspended its Wuhan flight, but as of now has not taken similar steps with its other China flights.
Russia's Ural Airlines has stopped flights from its base at Yekaterinburg International Airport to Munich, Paris and Rome, as well as its Vladivostok-Sapporo flight, the carrier said Jan. 29. This is because the routes were popular with travel groups from China, the carrier said, and it had to cancel them after the Chinese government banned international group travel from Jan. 27 Ural also suspended four of its routes to China, but continues to operate flights to Beijing and Harbin.
Other Russian airlines also made changes. Azur Air suspended flights from seven cities to the Chinese resort city Sanya and Yakutia Airline stopped a Sanya route. S7 Airlines and Aeroflot have not announced any flight suspensions yet.
Many other European airlines have reduced their Chinese flights. French media is reporting that Air France has reduced its frequencies to Beijing and Shanghai as a result of lower demand.
Meanwhile, many countries are continuing to conduct special evacuation flights for their citizens trapped in Chinese cities subject to quarantine.
The US State Department has issued a "Level 4: do not travel" warning for the province of Hubei, where Wuhan is located. The US government has evacuated all non-essential personnel from China.
American Airlines, Delta Air Lines and United Airlines are still serving Beijing and Shanghai, but are rolling back China capacity, citing a severe lack of demand.
State and national governments are considering stopping flights from China. The Malaysian state of Sabah has announced that it will ban all scheduled and charter flights from China with immediate effect. The primary airport in Sabah is Kota Kinabalu International Airport, with AirAsia, China Southern, Malaysia Airlines, Malindo Air and Xiamen Air operating flights from there to Mainland China.
"Although this suspension will have repercussions on the state's tourism industry, the government is seriously concerned about the health and welfare of Sabahans, and we want to avoid the risk of exposing our people to any possible carrier of the novel coronavirus infection," said deputy chief minister Christina Liew.
Photo: Locations with Confirmed 2019-nCoV Cases, as of Jan. 29, 2020: China, Hong Kong, Macau, Taiwan, Australia, Cambodia, Canada, France, Germany, Japan, Malaysia, Nepal, Singapore, Sri Lanka, Thailand, The Republic of Korea, United Arab Emirates, United States, Vietnam. Credit: CDC