Hawaiian Airlines indicates network will remain skeletal for foreseeable future
Hawaiian does not want to take delivery of Boeing 787s in 2021 as planned.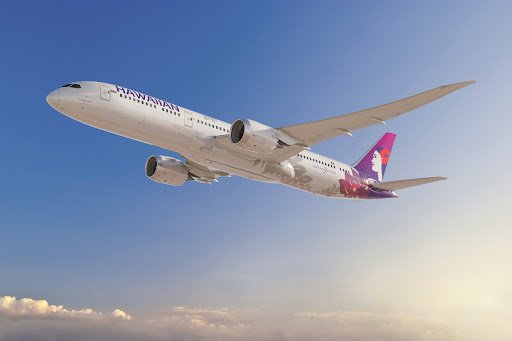 Hawaiian Airlines, which has scaled back its network to contend with the COVID-19 crisis, is looking to push back delivery of its Boeing 787 orders, an indication that the carrier's once-expansive route network will remain much more limited for the foreseeable future.
The airline has 10 787-9s on order, with first delivery slated for the first half of 2021. Because of the uncertainty of the business outlook and the cost and complexity of adding a new type, the current 787 entry-into-service date "is no longer appropriate," CEO Peter Ingram said during Hawaiian's first-quarter earnings call.
Hawaiian has "engaged with Boeing in discussions to determine whether our 787 deliveries can be re-phased," Ingram said. These talks are continuing. However, Ingram also stressed that the airline "remain[s] committed to the 787 as our flagship aircraft of the future."
The carrier reported a net loss of $144.4 million in the first quarter, compared to a profit of $36.4 million in the same period a year earlier. Passenger revenue was down 16.3% year-over-year.
Hawaiian has reduced operations to a "bare-bones" level, as travel restrictions in the US and overseas have "eviscerated demand," Ingram said.
Traffic dropped 10.1% in the first quarter on a capacity increase of 2.6%. Hawaiian cut its schedule by 95% in the last week of March, as Hawaii's state quarantine rules entered force. Capacity is estimated to be down by 94% for April, and 91% in May.
Hawaiian, which in addition to a formerly growing international network had expanded over the past decade to serve points throughout the mainland US, has scaled back its mainland service to flights from Honolulu (HNL) to just Los Angeles (LAX), San Francisco (SFO) and Seattle (SEA). The US Department of Transportation (DOT) has granted Hawaiian a waiver allowing it suspend service to eight mainland destinations, including SEA, while retaining service to LAX and SFO. Citing cargo demand and low fuel prices, Hawaiian decided to add back HNL-SEA flights on May 1.
Photo credit: Hawaiian Airlines