Spirit Airlines Wins Former Southwest Slots At Newark
The carrier beat out JetBlue Airways and Alaska Airlines for the runway timings.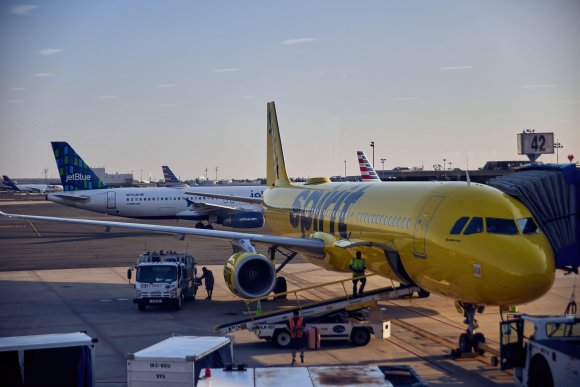 The US Transportation Department (DOT) has awarded
Spirit Airlines 16 peak-hour slots at Newark
(EWR) in New Jersey, capping off a nearly three-year contest to determine the fate of the vacant slots at the crowded airport just outside New York City.
The 16 runway timings were operated by Southwest Airlines between 2010 and November 2019, at which time the carrier exited EWR to consolidate at nearby New York LaGuardia (LGA). Southwest was originally granted the slots as part of a Justice Department (DOJ) competition remedy included in the merger between United Airlines and Continental Airlines.
Florida-based Spirit was not the only US carrier to apply for the slot pairs. JetBlue Airways—which is currently seeking to
acquire Spirit
through a hostile tender offer—also applied for all 16 runway timings, while Alaska Airlines had sought four.
After reviewing the competing bids, the DOT said it judged Spirit "will be best able to provide competition" consistent with the intent of the DOJ's 2010 competition remedy, "and is most likely to provide the lowest fares to the most consumers."
A Spirit spokesperson said in a statement: "We're pleased to see this process come to a conclusion, and we'll continue to promote competition and offer affordable, high-value travel options for guests traveling in and out of the New York metropolitan area."
An Alaska spokesperson said the company is "disappointed" that it was not awarded additional Newark slots "despite being a proven competitor and having a smaller presence in the New York region than the other applicants … We will continue looking for opportunities to increase access to our caring service and low fares for guests in the northeast."
JetBlue did not immediately respond to a request for comment.
As an IATA Level 2 "schedule facilitated" airport, the DOT expects airlines to cooperate with the FAA to ensure scheduled operations do not exceed the airport's limits of 79 runway movements per hour, spread across all carriers.
But executives at United–which controls around 70% of departures at EWR–have repeatedly blamed other operators for exacerbating the congestion by exceeding those limits on many days. United has also faulted ATC staffing challenges for recent delays and cancellations. The carrier recently culled its summer schedule at EWR by around 50 departures per day–or 12% of its total–to improve reliability following several weeks of irregular operations.
Recognizing how recent disruptions at EWR "have hurt travelers," the DOT is requiring Spirit to report additional data on disruptions facing its customers and its ability to accommodate them during periods of stress. The department said the reporting requirements will enable it to monitor Spirit's performance and "better quantify the financial impact of operational disruptions on passengers."
There is still some uncertainty about the future of the slots, however, despite the DOT's final decision. JetBlue has committed to divesting all of Spirit's assets in Boston (BOS) and the New York area as a condition to help its planned takeover gain antitrust approval. Were JetBlue to succeed in acquiring Spirit, therefore, it could end up relinquishing the slots back to the DOT, kicking off another round of carrier applications.