Atlantic Airways Adds Faroe Islands-New York Nonstop
Atlantic Airways' first route to the U.S. will start in August using Airbus A320neos.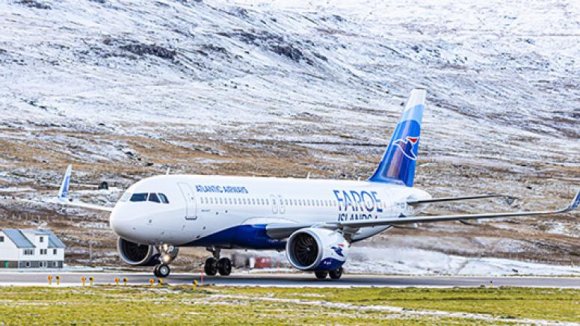 A new nonstop route is set to launch later this year that will connect New York with the Faroe Islands, the self-governing Danish archipelago in the North Atlantic Ocean.
Atlantic Airways, the flag-carrier of the Faroe Islands, has confirmed it will offer flights between its Vagar base and New York Stewart International Airport (SWF) from Aug. 22. The journey time will be about 6 hr. hours using Airbus A320neo aircraft.
The airline intends to operate the route once a week on Tuesdays on the outbound leg, and on Wednesdays on the return from the U.S. The schedule is currently in place for six weeks through Oct. 4 while the airline assesses levels of demand.
Atlantic Airways has mooted the potential for flights to the U.S. in the past, but its plans have failed to come to fruition until now. The addition of SWF will increase the carrier's network to nine destinations.
As well as offering routes to Aalborg, Billund and Copenhagen in Denmark, the airline also serves Edinburgh in Scotland, the Spanish island of Gran Canaria, Oslo, Paris Charles de Gaulle and Reykjavik Keflavik in Iceland. In total, it offers about 11,000 weekly seats across 64 flights.
The Faroe Islands is part of the Kingdom of Denmark and comprises 18 rocky, volcanic islands between Iceland and Norway. The islands have a total area of about 1,400 km2 (540 mi.2) with a sparse population of about 54,000 inhabitants.
Sabre Market Intelligence data shows that O&D traffic between the Faroe Islands and New York City was negligible in 2019 at just 385 two-way passengers. However, Atlantic Airways hopes that its direct service will stimulate sufficient outbound demand for a weekly narrowbody service, as well as attracting some inbound leisure passengers drawn to the islands' rugged landscape.
For New York Stewart, located in in Orange County, about 113 km (70 mi.) away from central Manhattan, Atlantic Airways will become the fourth carrier to offer scheduled flights from the airport.
OAG schedules show that Allegiant Air offers four routes from SWF to Myrtle Beach in South Carolina and Orlando Sanford, Punta Gorda and Tampa St. Petersburg-Clearwater, all in Florida, while Frontier Airlines flies to Fort Lauderdale and Orlando International in Florida. In addition, Iceland's Play serves the airport from Reykjavik Keflavik.
This article was originally published on aviationweek.com.