Air Canada To Connect Vancouver With Dubai
Air Canada follows Emirates and Etihad in increasing service between Canada and the UAE.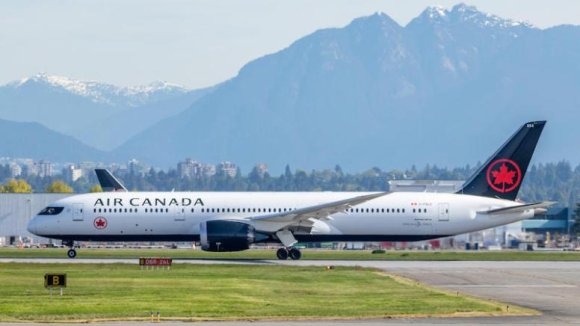 Air Canada is the latest carrier to expand service between Canada and the United Arab Emirates (UAE) after the countries forged a new air transport agreement.
The Star Alliance member is planning to launch a nonstop route between Vancouver (YVR) and Dubai International (DXB), operating four times per week using Boeing 787s. Flights will begin from Oct. 28. The service will become the Canadian airport's sole connection to the Middle East.
Canada and the UAE expanded their agreement earlier this month to allot 21 flights per week for each country, which is 50% more than what was previously available.
Since then, Emirates has confirmed plans to grow service between Dubai and Toronto Pearson (YYZ) by two flights per week from April 20, taking the route to daily. Etihad is also increasing Abu Dhabi-YYZ to daily from May 30 with the addition of an extra weekly flight.
Air Canada's new route from Vancouver will become its second nonstop service to Dubai alongside its existing daily flights from Toronto, operated using 787-9s. The airline already has a codeshare partnership in place with Dubai-based Emirates that will enable passengers traveling from Vancouver to connect to onward destinations in the Gulf carrier's network.
The two airlines began cooperating on flights last November, with Air Canada placing its code on routes operated by Emirates from DXB to cities including Colombo, Dhaka, Islamabad, Karachi, and Lahore. Emirates also began placing its code on Air Canada flights from Toronto Pearson to the likes of Calgary, Edmonton, Halifax, Montreal, Ottawa and Vancouver.
Vancouver-Dubai will become Air Canada's third route to the Middle East region in addition to its flights from Toronto Pearson to Dubai and Tel Aviv, Israel. The carrier also served Qatar's capital Doha from YYZ between December 2020 and February 2023. However, flights have been suspended indefinitely for "commercial reasons."
Tamara Vrooman, president and CEO at Vancouver Airport Authority, says the 11,735-km (6,336-nm) Vancouver-Dubai service will "provide new opportunities for travel, education and access to global markets." O&D traffic between Vancouver and the UAE totaled about 20,556 two-way passengers in 2019, Sabre Market Intelligence data shows. In the absence of nonstop service, Toronto Pearson was the largest one-stop connecting market, followed by London Heathrow and Seattle.
The YVR-DXB route will operate on Mondays, Tuesdays, Thursdays and Saturdays from Vancouver, departing at 8.50 p.m. The return service is on Mondays, Wednesdays, Thursdays and Saturdays leaving Dubai at 2 a.m.
This article was originally published on aviationweek.com.