London Heathrow Signs Up Consultancy To Manage Decarbonization
London Heathrow Airport will work with Mott MacDonald to meet its near and long-term emissions-reduction targets.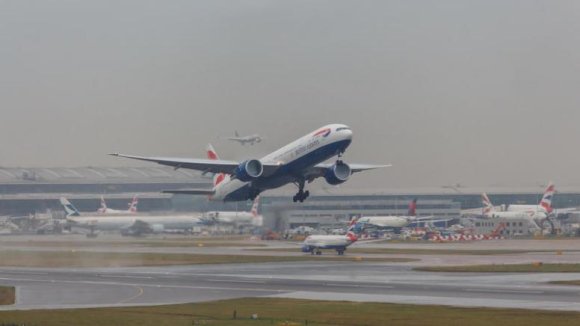 London Heathrow Airport (LHR), which aims to reduce carbon dioxide emissions by 2.3 million tons by the end of 2026, has hired the engineering and management consultancy Mott MacDonald to work toward achieving the goal.
UK-based Mott MacDonald says it will leverage "a wide range of energy sector expertise" from serving "global clients evaluating the future fuel supply chains for hydrogen and other Sustainable Aviation Fuels (SAF)." The firm says its work with Heathrow will "lay the foundation [for LHR] to achieve net zero by 2050."
The consultancy says decarbonizing aviation will require "a truly multidisciplinary solution … drawing on expertise from across aviation [and] wider transportation and energy sectors."
Work at Heathrow will focus on airport operations and future fuel solutions, as well as "behavioral change" and "data and digital and smart systems," according to Mott MacDonald.
LHR Chief Solutions Officer Helen Elsby says: "Decarbonizing aviation is widely considered our sector's greatest challenge, but Heathrow is committed to reducing our carbon footprint in order to achieve net zero by 2050, and today's announcement only accelerates our shift towards a greener future."
Mott MacDonald Strategic Advisory Director David Beare says LHT aims to turn its environmental goals "into reality by progressively investing in decarbonizing the airport and by leading the drive for coordinated action globally."
Beare adds the consultancy has been tapped by Heathrow to "design, manage and integrate their decarbonization program in the years ahead."
This article was originally published on aviationweek.com.