TAP Shares Its Long-Range Narrowbody Learning
TAP received its first A321LR in April 2019 and has since grown its fleet to 12 of the type, with another scheduled for delivery in July.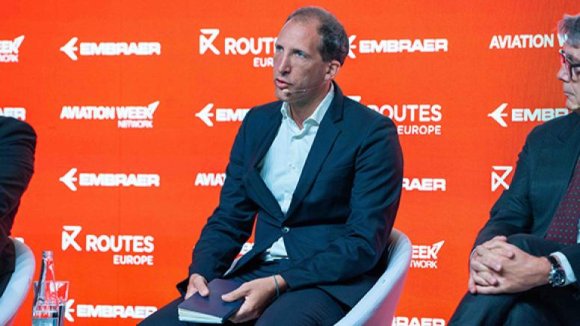 TAP Air Portugal has been operating long-range narrowbodies for four years, offering insights into the unique complexities of Airbus A321LR route planning, yield management and product design.
Lisbon, Portugal-based TAP received its first A321LR in April 2019 and has since grown its fleet to 12 of the type, with another scheduled for delivery in July. The A321LRs are deployed on routes to Africa, North America and South America from Lisbon and Oporto.
"We've had a lot of experience, flying lots of different routes," Henri-Charles Ozarovsky, TAP Air Portugal head of strategy, network and partnerships, told delegates at Routes Europe. "What is the role of something like an LR? Everybody has a view on that, but actually it's quite a difficult question."
Ultimately, the LR is a route development tool, which needs to deliver a return on investment. And while it can be used to develop new routes, Ozarovsky said it is important to have a longer-term plan for what happens after that.
Airlines operating long-haul narrowbodies need to strike a balance between connecting point-to-point routes, but also offering competitive frequencies. A smaller aircraft also means less space for cargo, which puts additional pressure on generating "quality revenues," he noted. Hold baggage capacity is also limited, which can be an issue on routes to Asia and Africa, where passengers tend to check in more bags.
Ozarovsky said airlines also need to have an intelligent turnaround strategy. TAP allows 90 min. for its A321LRs. "It's gone through a 9-hr. flight. You've got to clean it properly, you've got to set it up for the next 10-hr. flight and it takes a lot of work. It's not as simple to schedule as people think," he said.
Then there are the challenges of crew rests and efficient use of galley space for long-haul catering. "It's a very intelligent, but arduous operation to manage. It's not as easy as one would think. But it's incredible what we can do today because they see cost is unbelievable."
However, perhaps the most important question is how passengers feel about spending prolonged periods in a small cabin. This affects product design, and many airlines are still experimenting to find out what works.
TAP operates both A330s and A321s on its New York services.
"The feedback we get is great," Ozarovsky said. "The key is product consistency. That's really critical. If you start changing the product and you're putting in high-density configurations, people are going to hate it. You really need to have the full IFE [inflight entertainment], the full content, the full meal, the full service, the lie-flat seats in business and the ability to go into the restroom."
Finally, Ozarovsky flagged a "very interesting" crew benefit, because long-range narrowbodies give cabin and cockpit crew the ability to operate both short- and long-haul services.
This article was originally published on aviationweek.com.