SIA Monitors Changi Slots As It Expands, Restores Capacity
The flag-carrier continues to expand its fleet and work toward 100% capacity recovery.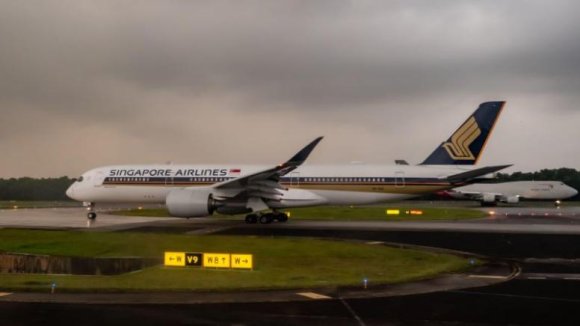 SINGAPORE—Singapore Airlines (SIA) is closely monitoring slot availability at Singapore Changi airport as the flag-carrier continues to expand its fleet and work toward 100% capacity recovery.
Changi airport is undergoing a massive expansion project, which includes the construction of a fifth terminal (T5) and a third runway, the latter of which will not be ready until the mid-2020s.
"Slots is an important aspect of operations. Not just now till 2025-2026, but also when T5 is ready, because we are very limited in capacity," SIA CEO Goh Choon Phong told Aviation Daily at the SIA annual results press conference.
"At the moment, we are working very closely with our ecosystem partners, including the airport to look at what are some of the projections and what we are expecting in terms of growth, both SIA and Scoot, on where can we operate to and how are we going to address if there are slots issues in the country," Goh said. "This an ongoing discussion, and very healthy one, and we expect that there will be some sort of suggestions going ahead."
SIA and Scoot are operating at around 79% and 90% pre-pandemic capacity, respectively, and are forecasting 90% by the end of the financial year, which ends March 31, 2024.
In fiscal 2023-24, SIA expects to take in 11 aircraft, including eight Boeing 787-10s, while LCC Scoot will receive three aircraft, including two Embraer E190-E2s.
Scoot CEO Leslie Thng said Scoot's 15 Airbus A320neo family aircraft fleet are not affected by issues found on its Pratt & Whitney PW1000G engines and will continue to phase out its A320ceos as planned. The PW1000G was in the spotlight following the bankruptcy filing of India's Go First, in which the LCC said half of its fleet were grounded due to engine serviceability.
SIA reported its best ever net profit of S$2.2 billion ($1.6 billion) for fiscal 2022-2023 and expects strong demand to continue, especially driven by the East Asian market following China's reopening in January.
Singapore's deputy prime minister is currently in Beijing on an official visit and has urged China to restore flight connectivity to Singapore to pre-pandemic levels, as well as resuming the pre-pandemic arrangement for Singapore citizens to visit without a visa for up to 15 days.
This article was originally published on aviationweek.com.