Routes In Brief: Rolling Daily Updates (W/C May 22, 2023)
The latest new route announcements, schedule changes and codeshares.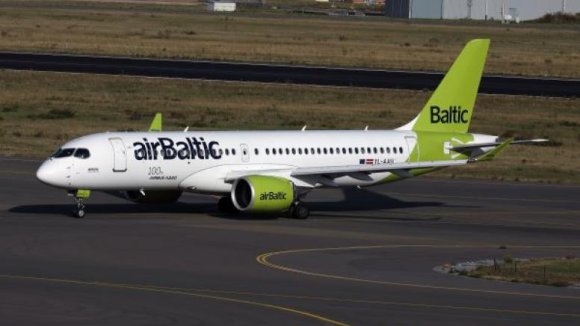 May 26
Latvian carrier airBaltic is launching a second route to Dubai International. Flights from Lithuania's capital Vilnius will operate twice a week on Wednesdays and Saturdays from Nov. 1. The expected flight time is around 6-hr. and 35-min. AirBaltic already serves the emirate from its Riga hub. Dubai is becoming one of the most popular destinations for Lithuanians in winter, and last year there were almost 17 000 passengers travelling between Vilnius and Dubai," said Mantas Vrubliauskas, vice president of network development at airBaltic.
---
FlyArystan has started nonstop flights between Nursultan Nazarbayev Airport, Kazakhstan, and Ankara Esenboğa Airport, Turkey. The route will operate twice a week on Tuesdays and Saturdays until Oct. 18. During the first four months of the year, Ankara Esenboğa Airport served 2.4 million passengers, representing a 38% increase compared to the same period last year. The number of international passengers from Ankara increased by 54% to reach 665,000 during January-April 2023.
---
May 25
LATAM Airlines Group is introducing a new service connecting Peru's capital Lima and Aruba Airport. Flights will start on Dec. 2, operating three times per week using Airbus A320s. Ronella Croes, CEO of Aruba Tourism Authority (ATA), said: "The new Lima route aligns with ATA's diversification strategy and allows us to grow our market share in long-haul markets in Latin America, which are known for their more extended length of stay as well as a higher spend at the destination."
---
Austrian Airlines has announced plans to launch a weekly service from Vienna to Finland's Rovaniemi from December. The carrier also intends to open a 2X-weekly Vienna-Seville service on Oct. 14 and operate a service from the Austrian capital to Finnish municipality Kittila as part of its charter program. In total, the carrier said it intends to fly to 86 destinations during winter 2023-24. The schedule includes increased frequencies on long-haul services to Shanghai, New York Newark, Marrakech and Cairo.
---
Taiwan's Starlux Airlines is opening a new route between Taipei and Clark, Philippines, starting Aug. 15. Clark becomes the airline's third destination in the Philippines, following Manila and Cebu. Service to Clark will be daily using A321neos.
---
Singapore Airlines is adding extra flights to Christchurch, New Zealand. Frequencies on the route from Singapore Changi will rise from 7X-weekly to 10X-weekly, starting Nov. 19. "The additional flights into Christchurch will add a further 759 weekly seats to the South Island gateway, so will enhance tourism and business connectivity," George Robertson, Singapore Airlines general manager for New Zealand, says.
---
Budapest Airport has further expanded its network to Turkey with Wizz Air's inaugural flight to Antalya. The ULCC's new 3X-weekly service will use 239-seat Airbus A321neo aircraft. "We now offer 50 weekly flights to four destinations within Turkey [Antalya, Istanbul, Izmir and Sabiha Gökçen] and witness high demand for all services to the popular country," Budapest Airport CCO Balázs Bogáts says.
---
May 24
Air Arabia has announced the launch of a new Russian route. Flights between Sharjah International Airport and Samara's Kurumoch International Airport will operate three times per week using Airbus A320s, starting from Oct. 1. "We are glad to announce the launch of our new route to Samara, which further expands our footprint in the Russian market," Adel Abdullah Ali, group CEO of Air Arabia, says. "The new service to Samara underscores our commitment to continuously providing our customers with affordable travel options while supporting trade, tourism and cultural exchanges." Samara will become the fifth city in Russia that Air Arabia serves after Ufa, Kazan, Yekaterburg and Moscow.
---
Transavia France is opening a new service to Armenia. A route linking Marseille and Yerevan will begin on June 27, operating once a week on Tuesdays.
---
South Korea's Air Premia has commenced a second route to the U.S. Flights between Seoul Incheon (ICN) and New York Newark (EWR) will be offered four times per week aboard Air Premia's fleet of three Boeing 787-9s. It is the sole service to connect ICN and EWR, given both Asiana and Korean Air fly to New York John F. Kennedy. Air Premia launched its first U.S. route in October 2022, connecting ICN and Los Angeles.
---
IndiGo has announced the addition of three domestic routes from western India between May-October 2023. The Indian LCC has commenced daily direct operations linking Bhubaneswar and Mumbai, while Ahmedabad-Srinagar starts on Aug. 11. The airline will also resume operations between Mumbai and Port Blair in early October.
---
May 23
Hong Kong Airlines has confirmed that Nagoya will be its sixth destination in Japan. Starting July 8, the carrier will operate a 4X-weekly route from Hong Kong International Airport to Nagoya Chubu Centrair International Airport, utilizing Airbus A330-300 aircraft. According to OAG data, the frequency of flights will increase to daily from mid-August, with A320s replacing A330s on the route. This marks the second addition to Hong Kong Airlines' network in Japan in recent months, following the launch of Fukuoka in April.
---
South Africa's Airlink is adding a new route to Zimbabwe later this year. From Nov. 28, the carrier will begin serving Victoria Falls from Mbombela, previously known as Nelspruit. Frequencies will be 2X-weekly using Embraer RJ135 aircraft. To facilitate the new service, Airlink will adjust its flights from Mbombela to Livingstone—situated on the Zambian side of the Victoria Falls—from daily to 4X-weekly. Additionally, Airlink said it plans to increase domestic frequencies to both Mbombela and Bloemfontein from Aug. 7. The carrier will increase service between Johannesburg and Mbombela from 34X-weekly to 40X-weekly, and between Cape Town and Mbombela from 7X-weekly to 13X-weekly. Johannesburg-Bloemfontein will also rise from 19X-weekly to 26X-weekly.
---
TAP Air Portugal has inaugurated a new summer route between Lisbon and Palma de Mallorca. Frequencies will initially be 4X-weekly, rising to 6X-weekly from June 12.
---
Cebu Pacific has resumed flights between Clark and Tokyo Narita. The service will operate four times per week and becomes the LCC's third route to Japan's capital, alongside flights from Manila and Cebu. Additionally, the airline has restarted a connection linking Manila and Laoag, which becomes the 35th destination in the Philippine carrier's domestic network.
---

May 22

Qatar Airways has announced a codeshare agreement with Air Seychelles. The move will see the Oneworld alliance member place its code on Air Seychelles' operated flights between Mahé and Praslin. At present, Qatar Airways operates daily service between Doha and Seychelles International Airport, located on the island of Mahé, near the capital city of Victoria. "Our strategy of facilitating connectivity to African markets through partnerships is in line with this enhanced cooperation with Air Seychelles," Qatar Airways CEO Akbar Al Baker says.
---
Air Canada is to begin a nonstop, year-round service between Toronto Pearson and Yellowknife. The 3X-weekly service will increase connectivity between eastern Canada and the capital of the Northwest Territories. Flights will begin on Dec. 1 using Airbus A220 aircraft. "Flights are timed for easy connections through our Toronto hub to elsewhere in eastern Canada, the U.S. and to winter sun destinations, while from Yellowknife customers can travel onward conveniently on our interline partner, Canadian North," says Mark Galardo, Air Canada's executive vice president for revenue and network planning.
---
Vietnam Airlines has inaugurated a route connecting Hanoi and Mumbai. Frequencies will be 4X-weekly on Tuesdays, Thursdays, Saturdays and Sundays, while the airline will also offer three flights per week from Ho Chi Minh City to Mumbai on Mondays, Wednesdays and Fridays. Vietnam Airlines Deputy CEO Trinh Ngoc Thanh says: "We hope this new route will help to strengthen the bilateral relationship between the two countries, as well as the economies." The number of visitors between Vietnam and India reached 319,000 in 2019. India is also one of Vietnam's top trade partners, while Vietnam is also India's 15th-largest trade partner and fourth among Southeast Asian countries.
---
Air Serbia has commenced three new routes, following on from recently launches services to Chicago, Gothenburg and Cologne among others. Flights from Belgrade to Naples will operate twice a week on Mondays and Fridays, while Belgrade-Marseille and Belgrade-Florence will also be 2X-weekly on Tuesdays and Saturdays.
This article was originally published on aviationweek.com.