Airline CEOs to speak at Routes Asia Strategy Summit
Airline CEOs and leading industry experts to speak at the Routes Asia Strategy Summit in Kunming
Taking place on Sunday 15th March 2015 and open to all attending delegates, The Routes Asia Strategy Summit will open Routes Asia in Kunming. The Strategy Summit will provide a valuable insight into aviation across the region as panels of leading industry experts take part in a number of moderator led panel discussions addressing key air service development issues affecting commercial aviation across the Asia-Pacific region.
Attendees of the Summit will hear an opening presentation from Conrad Clifford, Regional Vice President for Asia-Pacific, IATA, followed by three moderator led panel discussions, with key speakers including: Andrew Cowen, Deputy CEO, Hong Kong Express; Zhang Xiuzhi, CEO, Spring Airlines and Andrew Herdman, Director General, Association of Asia Pacific Airlines (AAPA).
The first session will look at the impact the growth in low cost carriers (LCCs) is having on the region. There are nearly 50 LCCs in Asia Pacific with nearly 1000 aircraft, more are due to be launched this year and with LCCs currently accounting for 15% of the region's fleet and slightly over 20% of seat capacity, what challenges do the markets in China and North East Asia face? How are these markets in opening up? And what lessons can be learnt from the southeast Asia LCC market? With input from Andrew Cowen, Deputy CEO, Hong Kong Express, who has recently overseen the rebranding and transformation of the airline into Hong Kong's first low-cost carrier, this should make for an interesting and lively debate.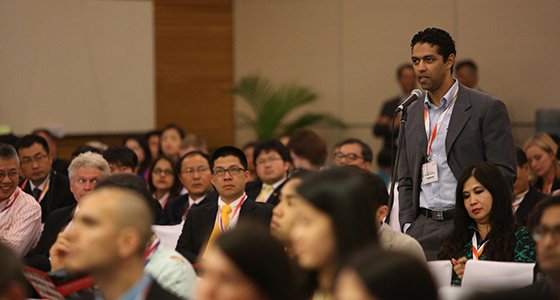 Session 2 will centre on airport infrastructure and keeping up with the demand. Asian nations are building hundreds of new airports to cope with the surging demand for air travel in the region. International tourist arrivals in Asia-Pacific grew an annual six percent to 248 million last year, the strongest of any region worldwide. Over the next 10 years, more than 350 new airports in the Asia-Pacific are expected to be built with an investment cost of over US$100 billion, with China building over 100 airports. Speakers on this panel include: Hou Wei, Chief Marketing Officer and Vice President, Hainan Airlines and Xia Xinghua, Chairman of China Civil Airports Association.
Mario Hardy, CEO, Pacific Air Travel Association (PATA) will moderate the third and final session titled Tourism – Capturing the China Market. By 2030, 49 percent of all global passenger traffic will be within the Asia-Pacific region or between the region and the rest of the world. Forty percent of Asian outbound travellers by 2030 will come from China, at which point they will probably overtake the United States as the world's largest domestic travel market. Between 2012 and 2030, the Chinese outbound travel market will grow at an annual rate of about 11 percent. Which destinations will capture this market and how will they achieve this? Where are the Chinese travelling? And what is new in those travel patterns?
Delegates can also expect to be welcomed by the Opening Ceremony, a first for any Routes Asia event. Taking place directly before the start of the Strategy Summit, the Opening Ceremony will see attendees hear from the Vice Governor of Yunnan Province Government, who will deliver the Welcome Address and representatives from both Yunnan Airport Group Co. Ltd and the Provincial Tourism Development Commission who will each deliver a Keynote Presentation.
Keep reading the HUB for regular updates on the Routes Asia Strategy Summit and for more information and to register for Routes Asia 2015 click here.