INSIDE THE STRATEGY SUMMIT - Arab Liberalisation – Are the Skies Really Opening Up?
This year's inaugural Routes Middle East & Africa brought together two regions of the world that are at very different stages of their evolution and the event's Strategy Summit on the afternoon of May 31, 2015 and morning of June 1, 2015 blended together key topics impacting both parts of the world.
This year's inaugural Routes Middle East & Africa brought together two regions of the world that are at very different stages of their evolution and the event's Strategy Summit on the afternoon of May 31, 2015 and morning of June 1, 2015 blended together key topics impacting both parts of the world.
The Middle East has experienced impressive changes in recent years, through tremendous economic development and massive investments, at the same time as becoming a major centre for air transport and one of growing global importance.
The region's medium-term economic outlook remains supported by its substantial petroleum resources, growing tourism potential, and strategically important geopolitical location. In terms of aviation, the share of passenger aircraft in the world operated by the region's carriers has doubled in ten years and the region's largest airlines are using their geographic advantage at the crossroads between Asia, Africa, and Europe to enhance global connectivity, turning their home airports into some of the world's fastest growing hubs.
While aviation has taken off in the Middle East, the African market remains the next big opportunity, thanks to a growing population and an increased propensity to travel. Over the next twenty years the population in Africa is expected to grow by more than 50 per cent - half of which will be living in urban areas, surpassing the expected population in China or India.
Add this to strengthening entrepreneurship, travel and tourism, and regional integration and you have many drivers for sustainable economic growth in Africa. The travel and tourism industry already contributes 10 per cent of Africa's GDP, and the number of foreign tourist arrivals has increased by 50 per cent in just 15 years. Outbound tourism is also booming growing by more than a third in the past ten years.
The fast-growing middle classes in the region will help further boost consumer spending with positive impact on economic growth. Long-term economic progress will require medium term political stability but growth prospects certainly remain favourable.
After welcome addresses from H.E. Engineer Kamal bin Ahmed Mohammed, the Kingdom of Bahrain's Minister of Transportation and Telecommunications and Mohamed Yousif Al Binfalah, chief executive officer of Bahrain Airport Company (see separate story: Bangladesh, Nepal, Malaysia, Indonesia and China the Prime Target Markets for Bahrain Airport), the first of five fifty minute panel discussions on some of the key air service development issues affecting commercial aviation across Africa and the Middle East, opened up a dialogue one of the major topics of the year... liberalisation.
Session 1 - Arab Liberalisation – Are the Skies Really Opening Up?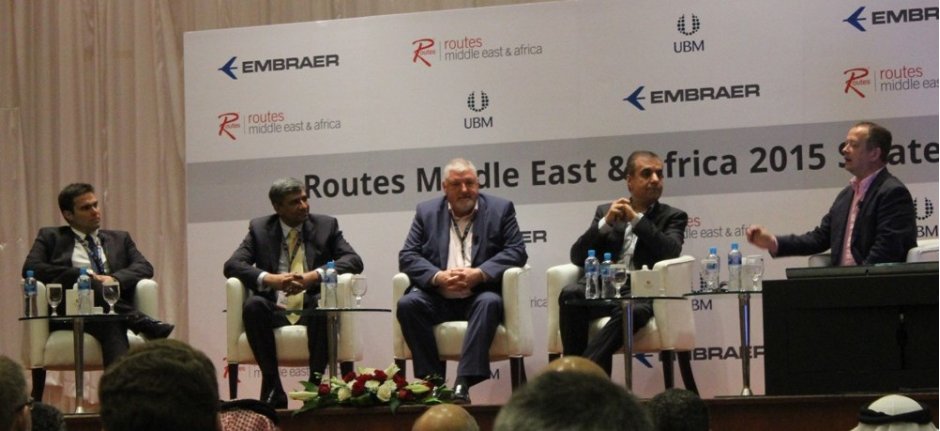 Titled 'Arab Liberalisation – Are the Skies Really Opening Up?', the session, moderated by John Grant, executive vice president of data intelligence provider, OAG; prominent airline bosses Adel Ali, chief executive officer, Air Arabia Group and Paul Byrne, chief executive officer, flynas; Aloke Singh , chief officer, network planning, Oman Air and Raul Villaron, market manager of Brazilian manufacturer, Embraer.
The 2004 Damascus convention laid down the framework for liberalisation in the Arab world and came into force in 2007 and provided the basis for discussions along the themes of has there been much change since?; do bilateral restrictions remain the norm in the Arab world?; certain countries that have made open skies declarations – UAE, Qatar, Kuwait, Oman and Bahrain, but what changes have these countries seen?; are the processes and protocols maturing in step with traffic growth? And what lessons can the Arab World learn from Europe and the US with regard to Open Skies?
According to Air Arabia Group chief, Adel Ali, it is clear that countries across the Middle East and Africa look very differently at the economic impact of a liberalised air service market and what opportunity it offers and cited Kuwait and Jordan as good examples of destination markets that have seen tremendous success from more relaxed regulation. "In the past nobody flew to the countries, remove the restrictions and now everybody is flying there, carrying many passengers and stimulating demand," he said.
The respected airline executive said that open skies is perhaps not the right term to describe liberalisation as "the skies have always been open". The challenge, he noted was for "airports to open up" and let airlines take advantage of the free skies. "Every Middle East government says 'we want more flights but...' It's time to remove the 'but'," he added.
The restriction to offering a liberal operating environment always seems to focus around the issue of protectionism. The airline panellists all shared the view that in some parts of the Middle East and certainly in Africa, the aviation sector is seen purely as an asset to bring in revenues to the country and is taxed at many levels.
According to flynas boss, Paul Byrne, "there's an awful lot of work that needs to be done in terms of getting infrastructure right in Africa" and alongside this he said there was "a lot of waste" within the many state airlines currently dominating African skies, highlighting the inefficiencies of their operations.
On the inefficiencies at airports he highlighted that many operators aren't addressing the high concentration of bird flocks around active aircraft areas, which has led to flynas suffering many bird strikes. "We should have been in KFC," he quipped referencing the popular global chicken restaurant.
Around 70 per cent of flynas' operations are focused in or to/from Saudi Arabia and therefore Byrne suggested that due to local market regulations and pricing systems, the airline cannot be defined as a true low-cost carrier. However, he acknowledged that it was clearly a "Saudi low-cost carrier" when compared with its local rival.
The airline has worked hard to reduce its cost structure and develop a low-cost ethos, but even that wasn't enough for it to succeed in a recent expansion into the low-cost, long-haul sector which had seen the addition of A330 widebodies to its fleet for flights to the UK and Malaysia, among other destinations.
"It's possible if you're completely focused on it," he said on the potential success of the model. "We dabbled. It didn't work for us as we weren't good at it and are poorer for it, but have learnt from the experience and are certainly wiser as a result." There airline is instead looking at entering into partnerships with other carriers to serve long-haul markets.
Air Arabia appears to have no plans to enter this sector either and will stick to its single aircraft fleet concept that has enabled it to grow from Sharjah International Airport in the United Arab Emirates (UAE) and at other bases across Arabia, namely Morocco, Egypt and most recently Jordan. "So far on a spreadsheet they [low-cost long-haul airlines] don't work," he said.
Long-haul may not be in the plans, but growth will continue, according to Ali, and Africa is certainly a market of opportunity for Air Arabia. "Africa is one of the places where we see huge potential, but it has to change a lot to prosper," he said and added that markets in the Continent are "thin" and thus they "need time" to prosper and make money.
One market where Air Arabia has already secured rights to grow is China and it has already launched flights between Sharjah and Urumqi in the Xinjiang district in the west of the country, a five hour plus sector. The three times weekly link was launched in February 2015 and the Chinese city is one of three markets that the airline actually has rights to serve in China, according to Ali, the problem is the airline doesn't currently have the equipment to serve them.
"Our Airbus A320 fleet currently only has the range to serve Urumqi, but we are certainly interested in flying to other markets in China. If the new generation aircraft do what we're told by the manufacturers they will do we will grow our network [in China]," he said.
For Raul Villaron, the benefits of liberalisation are clear for aircraft manufacturers such as Embraer with a need for smaller capacity aircraft to more efficiently serve many of the smaller markets across the Middle East and Africa until they can sustain the use of larger aircraft. According to the market manager, Oman Air has proved the success of this in the Middle East and currently has the highest utilisation rate for the Embraer 175, part of the E-Jet family, in the world.
Oman Air has had to grow up over recent years in the shadow of the big Gulf carriers and is only now beginning to show its strength and aspirations as like in Bahrain, Oman seeks to develop a new sustainable future model for the country, in its case based around its tremendous tourism potential.
According to the airline's Aloke Singh, although there has been liberalisation across many of the markets it currently, or wishes to serve, "we still don't have the level access we really want in many others". He said that despite a proliferation of low-cost carriers, the penetration of this type of operator remains "fairly limited" and that there is significant potential to develop, thus the reason Oman Air is investing in an expanded fleet of modern airliners. "Every airline can't have the same strategy. We have our own business model in Oman," he added.
Presentation: Efficiency: Matching Capacity to Demand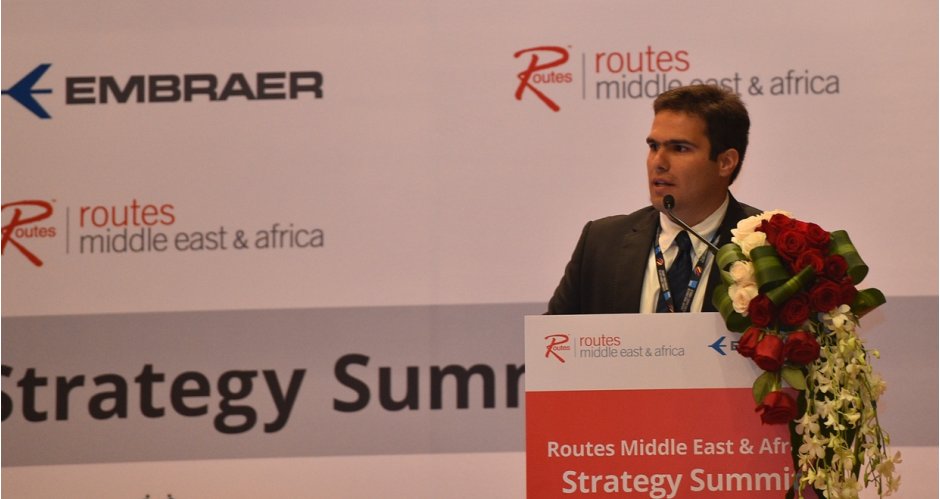 In a short presentation, Routes Middle East & Africa Strategy Summit sponsor, Embraer, presented an overview of the Brazilian manufacturer's activities in the Middle East and African markets. Presented by Raul Villaron, market manager, the presentation looked at how the manufacturer is using its E-Jet family of regional airlines to right-size capacity to meet demand more efficiently.
Citing capacity and demand data, Villaron said that 88 per cent of flights within Africa operate with less than 100 passengers per departure, while around 41 per cent of intra- Middle East flights operate with less than 100 passengers per departure. This, he said, was a perfect market for the E-Jet family, ranging from the E170 through the E175 and E190 to the E195, to meet demand and stimulate growth in a sustainable manner. He said these markets were certainly not ideal for the operation of larger narrowbodied aircraft which he said would likely operate at a loss on such routes.
Embraer has a good market penetration across both Africa and the Middle East. In Africa last year there were 42 E-Jets operating across 127 markets, making over 200 flights per day. After making its debut in Africa in 2007 the number of E-Jets flying within the Continent has grown steadily as has demand for its smaller ERJ-135 and ERJ-145 jets.
In the Middle East the E-Jet family is operated by four airlines: EgyptAir Express, Oman Air, Royal Jordanian and Saudia. In 2014 these served 40 markets, including seven major hubs, with one E-Jet flight departing every six minutes. Villaron sees a strong potential for aircraft of E-Jet size in the Middle East market as, he said, 56 per cent of intra-Middle East markets are served with less than one daily rotation.
Session 2 - Information Exchange / Regulatory Reform

The second panel session, titled 'Information Exchange / Regulatory Reform', moderated by our own head of content and industry relations, Mike Miller, brought together the world's big organisations in the form of Mohamed Khonji, regional director, Middle East Office, ICAO and Achim Baumann, regional director, safety & flight operations, Middle East & North Africa, IATA; Dr. Elijah Chingosho, secretary general, African Airlines Association (AFRAA) and gained an aircraft perspective from Imed Ben Abdallah, head of airline marketing - Middle East & Africa, for Canadian manufacturer, Bombardier Aerospace.
The two Malaysia Airlines disasters of 2014 (missing airliner MH370 and the shot down MH17) have highlighted issues in information exchange and the growing need for regulatory reform. The panellists discussed if there is a need for greater global regulation and support and collaboration, whose responsibility it actually is to share information about unsafe airspace and what role governments, IATA, ICAO and airlines should play in the process.
The big change since last year's events has been on industry collaboration, according to ICAO's Mohamed Khonji and better practices in relation to conflict zones and overflight decisions over such areas. "We need to share information. Without that we won't have safe airspace. We are certainly in a better position with this now," he said.
The conflict zones are not just in the air, however, and Imed Ben Abdallah highlighted how the Canadian manufacturer has lost some of its own equipment over the past few years due to political instability in such countries as Libya and more recently Yemen. "We have seen new equipment delivered to airlines in these countries now burnt out on airport aprons after attacks," he said.
For IATA's Achim Baumann, a clear and more efficient future path is important to having a better regulatory environment moving forward. "We have an inefficient airspace structure," he said. "This needs to be reformed if we are to reach our potential."
Session 3 - How Does Good Data Bring in New Airlines?

The third and final panel session of the day, titled 'How Does Good Data Bring in New Airlines?', again moderated by our own head of content and industry relations, Mike Miller, looked behind the scenes at route development decisions and how accurate and valuable certain data sets are in influencing airlines to launch new routes. Airlines have said new route decisions are at their core based on good data and session explored what data is that, who has the data and what are the best ways to show it at Routes meetings to generate the business case for new air service.
The panel brought experience from an airline: Fernando Estrada, chief strategy officer, Vueling; an airport: Karl Dandler, chief executive officer, Kosice International Airport; two consultants: Aidan Mooney, vice president, consulting, ASM and Sabine Reim, vice president, airline network strategy, InterVISTAS Consulting; and two data providers John Grant, executive vice president, OAG and Paul Rayson, director of supplier relations, Flightglobal.
The consensus was that traditional catchment area analysis is not necessarily valid for airlines when making network decisions as Fernando Estrada of Vueling noted, all airports in Europe overlap one another's catchment. However, Karl Dandler of Kosice International Airport said it still remained a useful tool for educating airlines to the potential for serving lesser known facilities, such as his own in Eastern Slovakia.
Sabine Reim of InterVISTAS Consulting said in her experience catchment area data can be over used in new route discussions. "Catchment area information can be over used showing market size rather than its actual value," she suggested. "Imagine you are benchmarking demand between US and Indian cities against one another. It is not just about how big the market is but other factors such as the age of the population, wealth etc."
For John Grant at OAG the catchment area data so popular with airports is "indiscriminate about what it describes". Citing an example from his days in the airline business he highlight how his company had managed to profitably fly a Norwich – Aberdeen route in the UK despite the figures based on catchment not adding up, as the yield was so high.
"We were at the time offering a fare more expensive than flying Concorde from London Heathrow to New York John F Kennedy International as the demand was there. This was oil workers flying up and back that were pretty much willing to pay any amount of money to get home on a Friday evening. The catchment area data meant nothing," he said.
Aidan Mooney at ASM said it is always about more than just the data. "There may be a huge catchment area at either side of a route and significant demand, but if you haven't got the resources to cater for them at the opposite end of the route, such as hotel accommodation, then such a route will never get off the ground," he said.
"The data is just a number," he added. "You have also got to have the skills and experience to interpret it. Is it just O&D demand? What about other passengers connecting beyond the destinations or those that have transited from behind the origin market? There are so many parameters and a context that needs to be considered rather than simply offering number x for this and number y for that."
According to John Grant we are perhaps a little too obsessed with the numbers and should look beyond the numbers. "Data is important but it may play just a 20 per cent role in successful route development decisions with the rest down to network management, he said. He suggested that frequency, schedule and type of operator and many more parameters can all come together into a complex equation that will ultimately stimulate the market at a varying rate.
However, some form of data intelligence will remain as a root to future development strategies and ASM's Aidan Mooney highlighted how companies are becoming more and more innovative in the ways they try to find intelligence on customers. "One airport is collating car number plates to come up with an origin map of its passengers that drive and park at the airport," he said.
Session 4 - A
irports – Congestion and Building for the Future

?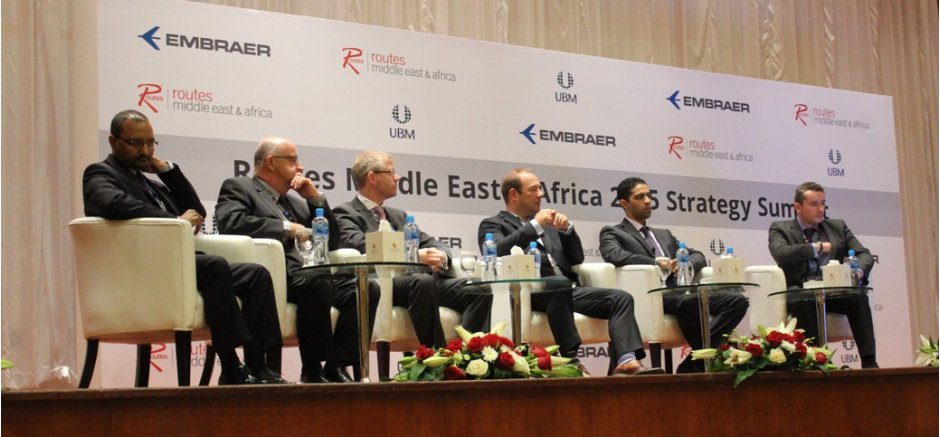 The fourth panel session and the first of the Monday morning session, titled 'Airports – Congestion and building for the future', moderated by Oliver Clark, senior reporter, Flightglobal, brought together airport delegates from across the Middle East and Africa and one of the latter's most innovative airlines, low-cost carrier fastjet. These comprised Richard Bodin, chief commercial officer, fastjet; Khalil Lamrabet, director of aviation business development, Dubai Airports; Terence Delomoney, general manager, King Shaka International Airport, Airports Company South Africa (ACSA); Gordon Stewart, chief support services office, Bahrain Airport Company and Gilles Darriau, chief executive officer, Abidjan International Airport (AERIA).
The session allowed the airport perspective in the Middle East and Africa to be explored more closely and questioned the fact that as one of the most important economic drivers in the region they serve, can airports keep up with demand and what challenges and opportunities will they face as global air travel increases and facilities become more congested.
For Gordon Stewart, balancing the needs of a strong base carrier and third party operators has been important for the recent development at Bahrain Airport. "The success of Gulf Air is key to success of this airport," he said. "They have overcome a difficult period and are now playing an important role in growing connectivity in and out of the Kingdom. We have to understand and satisfy their needs as well as our other customers to develop a sustainable model."
According to Khalil Lamrabet of Dubai Airports, it is essential to distinguish between the needs of airline partners and passengers as "their interests are not the same". He acknowledged that despite the massive investment that the Emirate is making in Dubai International Airport and the new Al Maktoum International Airport at Dubai World Central, external factors will still limit its success.
"There are a number of factors that we cannot control directly ourselves which could limit our success in meeting market demand. A single airspace in the region is certainly something that we should address. We keep talking about it, but nobody is willing to make the first move," he noted.
As an airport you need to gain greater capacity through efficiency, said Lamrabet, as congestion can become big issue. "We need to look at ways of eliminating multiple charges for airlines," he said, noting that the world's second largest international airport (behind Dubai International), London's Heathrow Airport is 800 per cent more expensive for airline costs than at Dubai International.
A significant investment project is in place at Abidjan's Félix Houphouet-Boigny International Airport International Airport as it develops an airport city business model to propel the Côte d'Ivoire's main international gateway as a hub for West Africa. The nation is home to West Africa's largest economy and is in the midst of a revival following a decade-long political crisis that ended in a brief 2011 civil war, with economic growth averaging around 9 per cent and investor interest growing.
All the airports represented on the panel are looking to grow infrastructure to meet demand. However, providing the airline viewpoint and a low-cost view at that, Richard Bodin warned about constructing new palaces to handle passengers. "We want absolute simplicity at the lowest available cost from an airport. Airlines and airports have joint incentives to stimulate passengers, but to do this you need low fares and facilities that enable passengers to travel," he said.
Bodin believes that the Middle East has shown the way forward for the industry with an integrated view on transport and tourism. "Africa has a lot to learn from the success in the Middle East," he said, noting that airlines and airports both need to work together to ease issues of congestion. "Airlines should work on scheduling to avoid bottlenecks but airports should manage congestion issues," he said.
Terence Delomoney from King Shaka International Airport, agrees that cooperation is one clear way to overcome congestion issues and make airports more operational efficient, but he also noted the better use of advancing technologies as key to reducing delays and streamlining processes. However, he warned: "We need to get existing facilities right before we start work adding more complexity to model."
For Delomoney the major question is how as an industry we enable smaller airports to develop as, he noted, that's where the greatest potential is. He highlighted the difficulty securing funds for expensive future infrastructure projects and the danger the industry could face of continued construction work to meet demand.
"We talk about supporting the needs of our passengers and making their journeys as efficient as possible. However, with all our development work there is the danger than we will simply become construction sites carrying passengers," he said.
Keynote Presentation - Air Service Development in Africa in an Age of Greater Liberalisation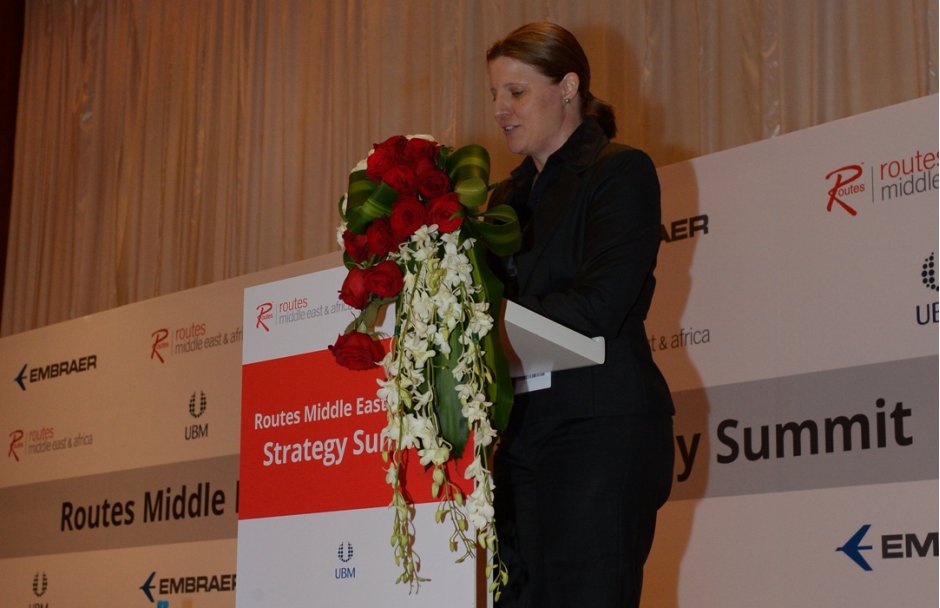 Breaking up the morning's two panel sessions, Sabine Reim, vice president, airline network strategy, InterVISTAS Consulting provided a keynote presentation on air service development in Africa in an age of greater liberalisation. The former British Airways air service development specialist highlighted that it is "an exciting time for Air Service Development in Sub-Saharan Africa," but warned it still "remains a challenge".
InterVISTAS has recently worked with IATA to develop a report, 'Transforming Intra-Africa Air Connectivity –The Economic Benefits of Implementing the Yamoussoukro Decision', which has examined the impacts of air service liberalisation for 12 countries in Africa, studying full liberalisation between all 12 countries and liberalisation just within each sub-region (North, East, South and West Africa).
According to Reim, "a causal relationship exists between air service liberalisation and economic growth" with liberalisation leading to new and better air services, traffic growth, economic growth and job growth and its analysis has highlighted a range of estimated outcomes from liberalisation across Africa, including the impact on traffic volumes and air services, the impact on average fares, the impact on employment, the impact on Gross Domestic Product (GDP) and the impact on trade.
The study suggests that partial or full liberalisation could create over 155,000 jobs and $1.3 billion in GDP and that is across just 12 countries – Algeria, Angola, Egypt, Ethiopia, Ghana, Kenya, Nambia, Nigeria, Senegal, South Africa, Tunisia and Uganda. According to Reim, the "causality of liberalisation is widely external to internal –opposite to other regions in the world".
With more people in Africa wanting to travel more frequently, more conveniently and more widely, Reim said that nation's need to overcome the misconceptions over liberalisation and open their doors to the opportunity new entrants can offer. "What I often hear when visiting Sub-Saharan Africa is question such as what will happen to our national carrier? ... Isn't a low cost carrier bad news?... but, of course, we heard similar questions in the Americas, Europe, Asia when these regions were at the same stage of the liberalisation cycle as Africa is now," she said.
In a commercial world, Reim noted: "Air service is not a right. It has to be earned". She outlined the air service development process as it relates to Africa and the key factor that an effective Air Service Development programme begins "with a realistic assessment of an airport's services and facility to identify how its air service can best be improved".
Reim highlighted that good data and relevant information "give the edge as airports compete for scarce aircraft resources". She noted that core Air Service Development components should include a clearly defined air service strategy, catchment area and leakage analysis, route forecasting and airline business cases and financial incentive evaluation and negotiation, while tourism and other stakeholder engagement, the economic impact of new air services and air cargo development are also important in the decision making process.
But, Air Service Development in the region is still only a small piece of the air access puzzle, acknowledged the consultant, highlighting the many external factors influencing the process. "There is a high cost of doing business in this part of the world through airport / passenger charges, taxation, limited access, uncertain operations, visa costs," she said
"New facilities are also needed, but are not solving air access problems by themselves, while there is a difficulty acquiring the skills for and implementing suitable and integrated air service development programmes. The attitude appears to be to protect the few instead of enabling the many. We need eyes to be opened and to recognise and reward aviation as an enabler," she added.
Session 5 - Tourism – An Economic Driver for Africa

The UNWTO predicts that tourism growth on the African continent is to grow at an average rate of 4.4 per cent per annum up to 2030. The continent is home to six of the ten fastest growing economies in the world but represents only five per cent of the world's total international arrivals, but how can it reach its potential was the big question being addressed during the final panel session, titled: 'Tourism – An Economic Driver for Africa' and moderated by tourism expert and head of future hosting, Routes, Gerard Brown.
The session brought together representatives from some of Africa's emerging tourism destinations and questioned them on how Africa can keep up with the predicted tourism growth, what barriers need to be removed to allow it to reach its potential and whether visa restrictions need to be relaxed to accelerate this growth. These comprised Karikoga Kaseke, chief executive officer, Zimbabwe Tourism Authority; Prince Chintimbwe, director, airport services, National Airports Corporation Ltd in Zambia; Solomon Dube, director general, Swaziland Civil Aviation Authority, while a mature perspective of the tourism market was provided by Stephanie Wear, director of economic development, Tenerife Tourism, a destination seeking to grow its links into Africa.
The mood was set with an excellent state of the nation introduction from Gerard Brown that clearly illustrated that Africa has fallen behind in the global tourism marketplace with just a three per cent share of global tourism revenues. "The Continent is clearly underplaying its position in the world," he said.
Prince Chintimbwe of National Airports Corporation said tourism contributes 4.9 per cent of Zambia's GDP, but said he would expect this to grow to double-digits in time. However, he noted that Zambia still has "perception of being expensive destination" to visit and that "there's a need to attract quite a bit of investment in the tourism product in the country".
Zimbabwe Tourism Authority boss, Karikoga Kaseke, highlighted the rapid rise in tourism's contribution of GDP in the country which has risen from just three per cent in 2005 to eleven per cent in 2010 & 13 per cent in 2014. This remarkable growth may not solely be due to tourism development but as much due to the decline of the country's general economy over the period.
The two southern African countries share one of the wonders of the world, the majestic Victoria Falls, but Chintimbwe noted that Kaseke and his team at the Zimbabwe Tourism Authority had been more successful in promoting the popular visitor attraction. "Zimbabwe has done a much better job of selling Victoria Falls than Zambia," he said.
Stephanie Wear of Tenerife Tourism highlighted how a mature market still needs to adjust its position to support tourism demand and maintain its economy. The popular holiday location in the Canary Islands sees tourism revenues generate a 36 per cent share of its GDP and according to Wear, every seven additional tourists that arrive in Tenerife, creates one additional job.
"Our recent growth has been fundamentally driven by air service development," she said, noting the important role that Government and Ministerial support can play in developing a sustainable solution for any destination.
As one of the outermost regions of the European Union, air access is critical for both residents and foreign visitors to Tenerife. Future growth is unattainable without excellent connectivity, Wear noted, and that efforts are continuously undertaken to establish strong relationships with airlines both to attract new operators and de-risk new flights as well as supporting established airlines.
"We see Tenerife's future as island that is open to world and we must be outward looking. Enhancing air connectivity is essential for our future. We see a great opportunity for Tenerife to become future hub for air travel into parts of Africa and are working to strengthen ties with Africa," she said.
The end goal, according to Wear, is to increase the number of tourists as well as to increase the economic impact of each visitor by increasing expenditures (spend per trip and per person) on the island. However, efforts are certainly being impacted by visa restrictions. "There is a growing population in Africa that wants to travel but the Schengen visa restriction is a big barrier," she said.