Route Rundown: KLM arrives back into the London City market
The return of KLM into London City comes at a time that capacity on the Amsterdam route is at its highest level. Amsterdam continues to be a hugely popular route for the airport, last year seeing a six per cent of passenger growth and becoming the second busiest route in terms of passenger numbers.
An Embraer E190 of Netherlands flag carrier KLM Royal Dutch Airlines touched down at London City Airport in the UK capital's docklands area shortly after 07:25 on the morning of February 6, 2017 marking the return of the famous livery at the city centre airport following an eight-year hiatus. The airline had previously suspended flights into London City in January 2009, albeit it has continued to serve the market in subsequent years through marketing arrangements with sister carrier Air France and later through a franchise arrangement with CityJet.
KLM Royal Dutch Airlines has initially introduced a daily morning weekday flight, but will add a second weekday and Sunday rotation from February 19, 2017 and then a Saturday morning flight from March 26, 2017, growing its summer 2017 operation to a daily schedule with 12 flights in each direction. The service will complement the SkyTeam carrier's existing flights into London Heathrow, one of 17 destinations it serves in the United Kingdom, more than any other international carrier.
"Once again, KLM is strengthening its European network by flying independently to London City. From now on, passengers on this route can enjoy all the advantages of KLM services and digital products. And the flight schedule is extremely attractive for business travelers," said Boet Kreiken, managing director, KLM Cityhopper.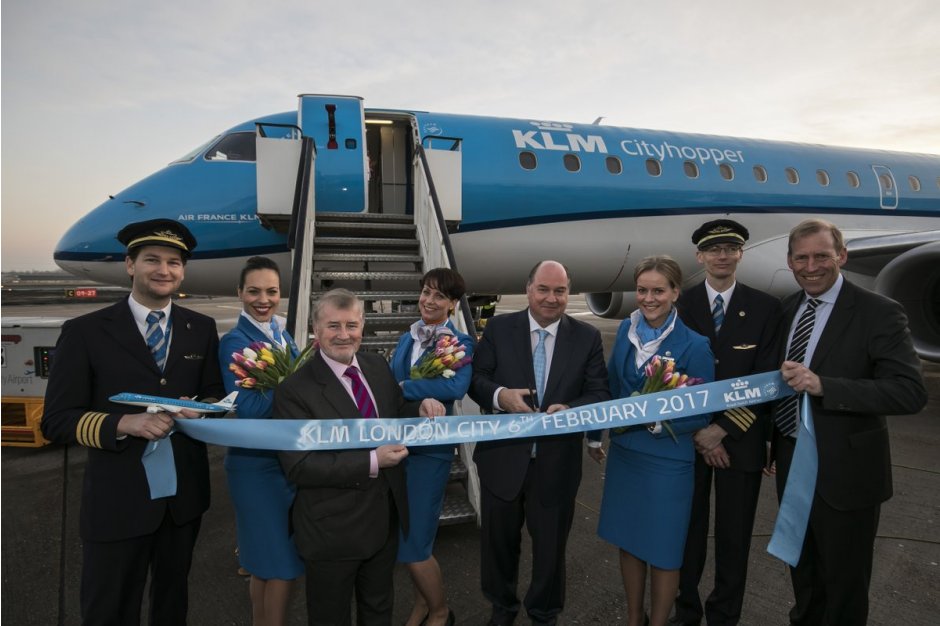 This statement highlights the important value KLM places on serving aircraft with its own metal. The airline will bring 2,400 weekly seats into the Amsterdam – London City market each week from the start of the summer schedules, including a business class and premium economy product and onward connections via its Amsterdam Airport Schiphol hub.
The Dutch carrier has been successful in not only supporting the large local traffic between Amsterdam and destinations across the UK, but has leveraged the value of its hub to bring important one- and two-stop options for particularly for travelers from UK regional points seeking to fly into markets not served directly.
With London City located within the competitive London-area you may consider that KLM already has the market covered by its London Heathrow operation. However, the capacity-constrained hub airport is around an hour to an hour-and-a-half away by car or public transport, meaning London City has its own connecting and local market in its own right.
The return of KLM into London City comes at a time that capacity on the Amsterdam route is at its highest level. Amsterdam continues to be a hugely popular route for the airport, last year seeing a six per cent of passenger growth and becoming the second busiest route in terms of passenger numbers.
When KLM last served this market in 2008 there were just under 400,000 return seats in the summer and around 285,000 return seats in the winter. Last summer that figure has grown 11.7 per cent to over 445,000 seats, while last winter's capacity was up 17.8 per cent on 2008 at an estimated 340,000 seats.
The Amsterdam – London City market is currently also served by British Airways (BA) CityFlyer, CityJet and Flybe. The BA docklands operation launched flights in summer 2008 shortly before KLM pulled off the route, while the others are relatively new arrivals – CityJet from summer 2014 (having previously flown for Air France) and Flybe from summer 2015. Belgian regional carrier also used to serve the route but ended flights in winter 2010.
Data from the AirVision Market Intelligence tool from Sabre Airline Solutions shows an annual O&D market of around 540 PPDEW (passengers per day each way) between London City and Amsterdam, almost 400,000 passengers per year. This demand grew quickly during the 2000s before peaking at the start of this decade and subsequently seen a small slide.
But, this KLM operation is not just about the local traffic and the airline has consistently shown with its other UK services that it can stimulate markets through Amsterdam connections. This has been most recently seen in Belfast and Inverness (where it replaced a Flybe codeshare with flights on its own equipment), while the success of its Durham Tees Valley – Amsterdam has enabled the small northeast England airport to retain international connectivity.
London City Airport has grown significantly over the past ten years from handling 2.91 million passengers in 2007 to over 4.5 million last year. During this time it has grown its direct connectivity from 40 destinations to over 55, including a one-stop transatlantic link to New York via Shannon. But, a closer look at passenger flows shows strong existing indirect demand between London City and many other markets, including a surprising number one market for indirect passengers in and out of the Docklands airport.
KLM is well placed to serve many of these markets via Amsterdam. "We're delighted to be back in the heart of London city. We know how important connectivity is to both our corporate clients and our leisure customers and we are confident that this new service will be another KLM success story," said Warner Rootliep, general manager Air France-KLM Great Britain & Ireland after arriving at London City on the first flight.
While Italian destinations dominate the largest indirect markets from and to London City in 2016, it is actually Lagos in Nigeria that tops the list with over 11,000 annual passengers, approximately 16 PPDEW. Ghana's capital Accra also makes the top ten list with over 6,000 annual passengers, just under nine PPDEW.
Six of the ten largest unserved O&D markets to/from London City are on the Italian mainland or islands, comprising Catania and Palermo in Sicily, Cagliari in Sardinia, Bari, Naples and Brindisi. Also in the top ten was Nuremberg, a market served previously in 2013 and 2014, and Dubai, while Beijing, Tokyo, Rio de Janeiro, Buenos Aires, Hong Kong and Sao Paulo are all long-haul markets with annual O&D flows of more than 3,500 passengers.
A closer look at yields in the Amsterdam – London market highlights the 'added value' for KLM serving City airport alongside Heathrow. With its strong business clientele, two-way fares between London City and Amsterdam were on average 2.5 per cent higher than between London Heathrow and Amsterdam last year. KLM's own marketed flights through codeshare partners in the London City – Amsterdam market actually demanded a 9.0 per cent premium on the average fare during 2016 and 23.4 per cent more than its own average fares in and out of London Heathrow.
The KLM codeshare partnership at London City means it launches flights with an already strong base demand. Last year 'KL' marketed flights were responsible for one in five travellers (19.44 per cent) on the Amsterdam route in and out of the Docklands airport, a greater share than the airline has on Amsterdam – Southampton (16.42 per cent), a market it has served itself since May last year.