Lucky Air reveals plans to operate long-haul from 10 bases
The ambitious Chinese low-cost carrier wants further growth in SE Asia and beyond.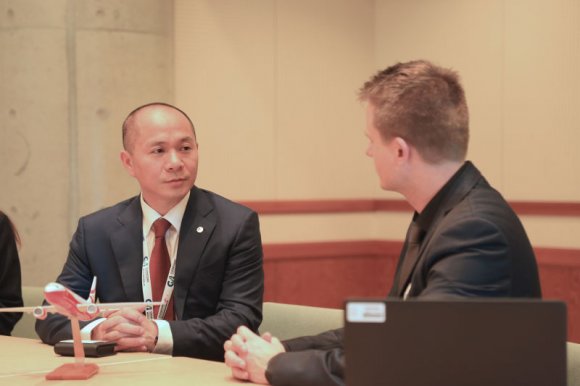 Chinese low-cost carrier Lucky Air has told Routesonline that it plans to continue its growth into the long-haul market with ten bases across China.
The airline revealed the plans during an exclusive interview with president Byron Ding at Routes Asia.
Routesonline first reported plans for Lucky Air to expand into the long-haul market back in March 2015 when Routes Asia was hosted in its home city of Kunming. But now the airline is seeing success and plans to prioritise the new service.
"Last year we officially launched our LCC transition and so far there have been excellent results," he said. "In China LCC is a new market, and especially for long-haul. It's not like the West where the market is already established, so the opportunities are far greater."
"The opportunities are more abundant because there is much less subdivision in the Chinese market."
New locations will include Chengdu and possibly Zhengzhou in Henan province, Mr Ding said, as these second and third-tier cities will provide the greatest potential for growth.
"The population is much higher in Henan than the Yunnan province," said Mr Ding. "We think LCCs will be a massive benefit for customers in China's second-tier cities who usually need to travel to Shanghai or other first-tier cities in order to connect to Europe or America.
"By going direct it will be more convenient and we believe this will be very attractive for them."
Although expanding the inter-continental network is on Lucky's radar with recently-announced flights to Moscow, the airline is primarily targeting South East Asia and destinations within five to eight hours of its bases.
Aside from Moscow, Mr Ding was coy on future destinations the airline might be targeting: "We haven't got the traffic rights yet, so it's not possible for us to announce any more routes!"
Mr Ding also noted that the new Airbus A330 aircraft are "just one of the ways we are changing our fleet to enable us to transform to a long-haul strategy. At the end of next year we will also incorporate A350s."
"Of course the wide-body aircraft create a great foundation for the development of our network, but it's not only for inter-continental routes; narrow body aircraft are not enough for us to fly even to other destinations in Asia."
However, Mr Ding also admitted that an under-developed marketplace will bring "challenges as well as opportunities".
"We have two main challenges in China," he said. "First is regulation; our civil aviation administration places lot of restrictions on international routes."
"Secondly we need to consider our customers. The new business model will also take time for Chinese customers to adapt; two years ago we were a full-service airline offering a meal and other benefits included in the fare, but now the price only includes the flight.
"We need to give our customers time to get used to the change. However, we believe in the success of the operation of this model in the Chinese market. Of course it's a challenge, but we're confident about it."
Finally, Mr Ding said that Routes events will play a major role in helping the airline continue its development. World Routes will be hosted in Guangzhou in 2018.
"We have attended Routes Asia for three years," he said. "It helps us to have more convenient conversations with airports not just around Asia, but around the world. It's also a good chance for us to let the world know more about China and Lucky Air."
"China is a fast-changing market, and moves faster every day – just like Lucky Air."
Lucky Air, which was established in June 2004, started the first service in February 2006, and is owned by HNA group and State-owned Asset Supervision & Administration Commission of Yunnan Province. It is a member of the U-FLY Alliance formed in January 2016 between founding members HK Express, Lucky Air, Urumqi Air, West Air and Easter Jet.