Twitter reacts to #UA747Farewell
From 1970s costumes to an appearance from Oscar Munoz, Routesonline rounds up the best tweets and images as United Airlines bid farewell to its last Boeing 747.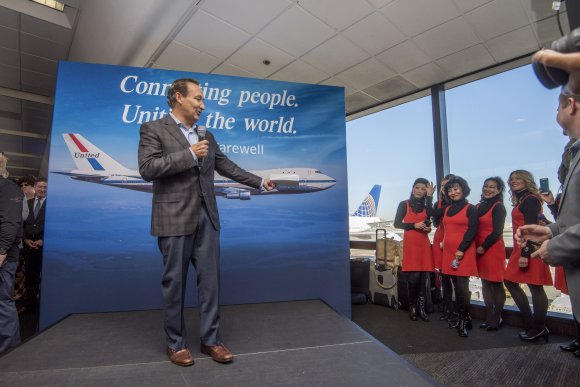 United Airlines has waved goodbye to its last Boeing 747, marking the end of an era in US domestic commercial aviation.
The special one-off flight from San Francisco to Honolulu paid homage to the carrier's first 747 flight in 1970.
"The iconic 747 is a remarkably special aircraft that signaled a new era of air travel and was equally recognisable and beloved by our customers and crew alike," said Oscar Munoz, chief executive of United.
"While today is bittersweet, we'll continue to honor the Queen of the Skies' game-changing legacy of connecting people and uniting the world with our next-generation of long-haul aircraft."
The send-off began at SFO with a gate party featuring a 747 gallery, 1970s costumes for use in a retro photo booth, a life-size retirement card for customers and employees to sign and a cake.
Routesonline looks at some of the best tweets and images from the event as United said an emotional farewell to the iconic Boeing 747.
---
Read more:
UA747 Farewell: United's last Boeing 747 takes off into the sunset
United Airlines Boeing 747 Network 1970 - 2017