Ryanair aims to turn up the heat in Berlin
Irish low-cost carrier Ryanair has applied for slots to base nine aircraft at Berlin Tegel, a move which would double its number of planes in Germany's capital city.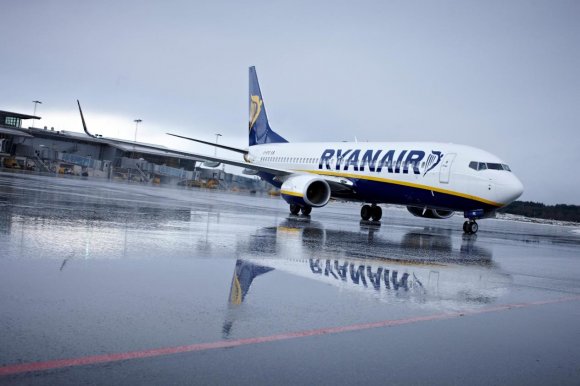 Ryanair has applied for slots to base nine aircraft at Berlin-Tegel as part of efforts to compete with rival easyJet, which is taking over parts of failed airline Air Berlin's business at the airport.
The Irish low-cost carrier said the nine aircraft at Berlin Tegel would be in addition to the nine it has at Berlin Schönefeld. It comes as easyJet awaits approval from the European Union to complete the €40m purchase of Air Berlin's assets at Berlin Tegel.
Ryanair chief executive Michael O'Leary has criticised the way Air Berlin was carved up after it filed for insolvency, describing it as a "stitch up". In addition to the easyJet deal, Germany's flag carrier Lufthansa is taking on the bulk of the Air Berlin business.
David O'Brien, Ryanair's chief commercial officer, said: "Ryanair has applied for slots at Berlin Tegel and is prepared to invest up to $1bn in additional Berlin aircraft and double its Berlin traffic to 10 million over the next 18 months.
"This investment would guarantee access to Ryanair's lowest fares, and enable Berlin citizens and visitors to avoid the emerging high fare Lufthansa/easyJet duopoly."
Ryanair has been rapidly increasing its presence from Berlin in recent years. According to figures from OAG, the number of departure seats has risen from 282,177 in 2013 to 2.87 million in 2017.
O'Brien added: "We look forward to confirmation of the necessary slots in due course which would replace approximately 30 percent of lost Air Berlin capacity at Tegel with new low fare Ryanair routes.
"Additionally, Ryanair calls on the Berlin authorities to respect the vote of the Berlin people and keep Tegel open if and when Brandenburg eventually opens, so that Berlin has the connectivity and capacity a capital city of its stature deserves."
EasyJet has also been steadily increasing capacity from Berlin Schönefeld in recent years. According to figures from OAG, available seat capacity is set to rise to 5.77 million in 2017, up 7.4 percent on the previous 12 months.
This winter it will fly to 44 destinations from the airport, compared with 41 in winter 2016/17 and 36 in winter 2015/16.
More from Berlin:
Budget carrier Scoot is to introduce

Singapore-Berlin

Schönefeld

flights in the second half of next year, in what will be its third long-haul destination. It intends to start selling tickets to the flights, which will operate four times a week, in the first quarter of next year.

The flights to Germany's capital will be operated with Boeing 787 Dreamliners and will be Scoot's second European destination.

Joon, the latest subsidiary of Air France, on 4 December 2017 started its first flights to Berlin-Tegel. Passengers from the region can now fly to Paris Charles de Gaulle 38 times a week. Stefan Gumuseli, director of Air France-KLM for Germany, said: "Thanks to its optimised operating cost, we are sure that Joon would help boost our growth in the highly competitive markets, like Berlin, and further fortify Air France's position at the Paris-CDG hub."

On 6 December easyJet revealed its first domestic routes in Germany. The new routes announced between 5 January and 24 March 2018 connect Berlin Tegel

with Düsseldorf, Frankfurt, Munich and Stuttgart. easyJet will also add 15 international destinations, including flights up to five times a day to key cities like Vienna and Zurich, as well as regular connections to popular leisure destinations like Mallorca and Catania.