Hainan Airlines applies to add new routes from China to the UK and Ireland
Hainan Airlines looks set to increase the number of services it operates to the UK and Ireland following a series of new route applications.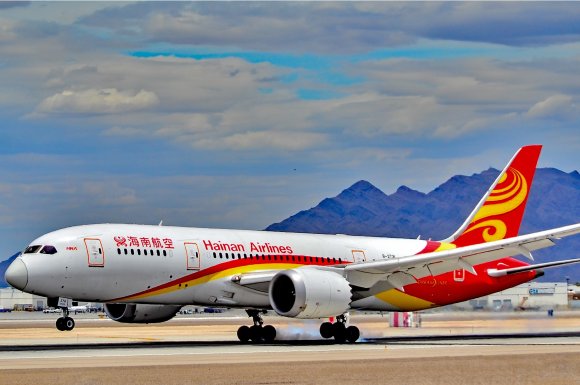 As reported by Airlineroute, Chinese carrier Hainan Airlines has applied to the Civil Aviation Administration of China (CAAC) to serve new destinations in the UK and Ireland.
The airline has applied to fly Changsha – London three times a week from March 2018; Beijing – Edinburgh – Dublin / Beijing – Dublin – Edinburgh twice weekly each from June; and Guangzhou – Manchester three weekly from December. All are currently unserved.
The application comes less than two months after China and the UK signed a deal to boost the number of flights permitted between the two countries by 50 percent to 150 per week. The UK government's transport secretary Chris Grayling said the expansion would allow for a rise in routes from regional airports.
Theresa May, the UK prime minister, is currently making her first official visit to China as she seeks to boost bilateral ties and trade. News of the potential new routes from the UK to China will come as a welcome boost as Britain prepares to exit the European Union.
According to the latest figures available, the number of Chinese tourists visiting the UK surged during the first half of 2017. Between January and June, 115,000 visits were made from China to the UK, a rise of 47 percent on the same period last year. Spending also increased to £231m, up 54 percent.
Hainan Airlines currently operates just one route to the UK; it started a Manchester – Beijing service in June 2016, which is claimed will be worth £250m in economic benefits to the UK over the next decade.
Regarding the potential Guangzhou route - the host city for World Routes 2018 - a Manchester Airport spokesman said: "We continue to discuss and progress the commercial case for airlines to connect Manchester to key strategic markets across the globe."
According to OAG Schedules, total capacity between the UK and China has almost doubled over the past decade, rising from 865,251 seats in 2008 to 1.67 million in 2017. The number of frequencies has also grown from 3,013 to 6,386 over the same periods.
A spokesman for Edinburgh Airport added: "We've been working towards introducing a direct route between Scotland and China and we have made sure we are in a great place to take advantage of any opportunity that arises."
Hainan Airlines' routing to Dublin will mark Ireland's first direct link to mainland China. However, Cathay Pacific last August announced it planned to operate Dublin – Hong Kong from 2 June 2018. Dublin Airport declined to comment on the proposed Beijing route.
Image credit: Tomás Del Coro