Airlines must be the 'master of their destiny' amid Brexit uncertainty
Airlines need to be the 'master of their own destiny' to ensure they can continue to operate in a post-Brexit environment, according to Jochen Schnadt, the chief commercial officer for British regional airline bmi. His comments come as Hungarian low-cost carrier Wizz Air has secured a UK air operator certificate to help safeguard flights once Britain leaves the EU.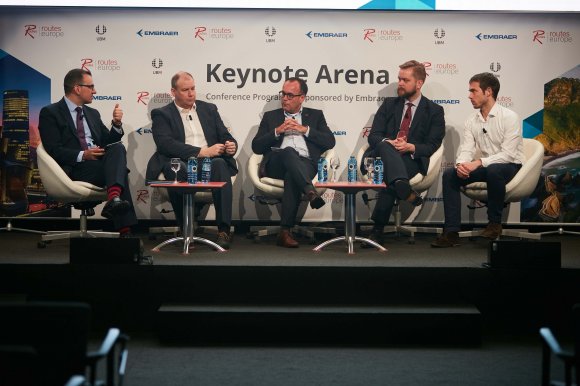 bmi's Jochen Schnadt has described Brexit as a "massive disruptor" and said it was creating much uncertainty in the market.
"It's that uncertainty that creates a problem," he explained during a panel debate at Routes Europe 2018 in Bilbao. "We hedge for fuel, not because we are gamblers and should be in Vegas, but because we're trying to create a cost certainty so we can price our product for a period in advance. The same is the case for currency.
"What we are doing is creating certainty in an inherently uncertain industry. That allows us to conduct our business in a way that drives a positive outcome from a financial point of view."
Schnadt said the best way of dealing with Brexit was therefore to try and "certainty where there is no certainty". He previously told Routes News that one option for bmi is to follow easyJet's lead and apply for an EU air operator certificate in Austria. The other strategy is a merger, equity stake or joint venture with an EU airline.
"For us at bmi, we are headquartered in the UK but more than 50 percent of our operations are outside of the UK. It's a very pan-European outlook that we have," Schnadt said.
"We have one of two choices to make: we can either say we need to change our strategy and become a UK-centric airline, which is essentially undoing 50 percent of what we're doing today; or we can try to find a solution that allows bmi to do what it's doing today in a post-Brexit environment.
"If you take that view - regardless of whether it's going to be a soft, hard or medium Brexit - we need to create facts that allow us to continue doing what we're doing today. That's what we're doing, rather than relying on somebody else to come up with the answers. It's a case of being the master of your own destiny as much as you can be."
Speaking during the same panel debate, Wilken Bellmann, head of network planning and scheduling at Turkish airline SunExpress, said the carrier could logically fly from the UK to anywhere in Europe. However, it is not evaluating routes from the UK because of the Brexit uncertainty.
"When we looked at our network a few years back we were actually contemplating [flying from the UK], but I put certainly to it and decided not to pursue it because I didn't want to build up a route that I'm then not allowed to operate.
"At this point in time, we don't know how all this will play out in terms of the traffic rights situation. We are therefore not pursuing options right now, which would've benefitted travellers and airports, because of that. Opportunities are therefore being shoved away."
Bellmann added that one way airlines can deal with such market disruption is to ensure that their networks are diverse. "If you just focus on one market - and there's an effect on that market - then you're doomed," he said.
"Even though it might not be as profitable, you need to have your network set up in a way that you can shift around capacity and respond to challenges in particular markets."
Since the panel debate, Wizz has become the latest airline to firm up its strategy in preparation for Brexit. The carrier has now secured an AOC and operating licence from the UK's Civil Aviation Authority. Its UK arm will have eight Airbus A320 and A321 aircraft in service by the end of 2018 from its base at London Luton Airport.
József Váradi, Wizz Air's chief executive, said: "While Wizz Air UK is a key part of our Brexit contingency plan, it is also the first genuine ultra-low cost carrier licensed in the UK and the natural next-step in the development of our UK business, putting us in a strong position to take advantage of opportunities that may arise in what remains Europe's largest travel market."
Pictured (L-R): Jochen Schnadt, bmi; Léon Verhallen, Brussels Airport; Otso Iho, Jane's Terrorism and Insurgency Centre, IHS Markit; Wilken Bellmann, SunExpress