Bamboo Airways eyes international routes after being cleared for launch
A new carrier is set to take to the skies in Vietnam later this year after Bamboo Airways secured its Aircraft Operator Certificate, with plans already in place to expand internationally.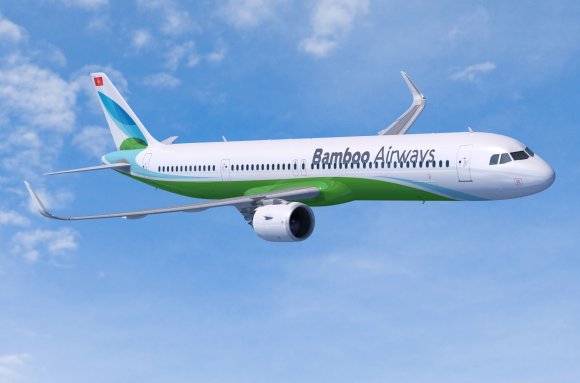 Vietnamese start-up Bamboo Airways plans to launch flights to Japan, South Korea and Singapore this year after securing its Aircraft Operator Certificate (AOC).
The airline expects to operate 37 routes, with its first services set to connect Vietnam's capital Hanoi with Ho Chi Minh City and the coastal cities of Quyi Nhơn and Dong Hoi. It is also planning flights from Ho Chi Minh City to Qui Nhon and Van Don.
In addition, Bamboo is targeting services to Japan, South Korea and Singapore before the end of 2019 and hopes to add long-haul destinations in Europe.
"AOC certification is the result of four years of efforts of all Bamboo Airways employees," said Dang Tat Thang, general director of Bamboo Airways.
"This is a certificate of belief, will and consensus of all parties. I am confident that this AOC certification is an important first step for Bamboo Airways to serve passengers and devote themselves to Vietnam's aviation industry."
Bamboo is owned by FLC Group, one of the largest conglomerates in Vietnam. The group is involved in a wide range of businesses including real estate development, hotel construction and management, financial services, and mining.
Bamboo plans to serve destinations where FLC Group has heavily invested in tourism infrastructure.
In June 2018, the carrier signed a deal to buy 20 Boeing 787-9s which are tentatively scheduled to be delivered from April 2020 through to 2021.
Three months earlier, FLC Group also signed a Memorandum of Understanding (MOU) with Airbus for up to 24 A321neo aircraft.
The airline said it expects to launch with a fleet of 20 leased aircraft in the first quarter of 2019, with expansion to 40-50 by the end of 2019.
According to OAG Schedules Analyser, the number of scheduled airline departure seats in Vietnam's market topped 60 million in 2018, a rise of 9.9 percent on the previous 12 months. Capacity in the market is split 65 percent domestic and 35 percent international.
Low-cost carrier VietJet has driven a large portion of the growth, initially in the domestic market but increasingly internationally. Since launching operations in late 2011 it has rapidly captured market share from the established flag carrier Vietnam Airlines.
A look at the number of domestic departure seats on offer over the past five years highlights Vietjet's rapid expansion in its home market. From offering 1.96 million available seats in 2013, the carrier had 18.4 million seats on offer in 2018.
Number of departure seats in Vietman (2013-18):