Emirates to begin Mexico City route this year
Gulf carrier Emirates will launch a new route to Mexico City later this year, less than ten months after cancelling plans to serve the Mexican capital.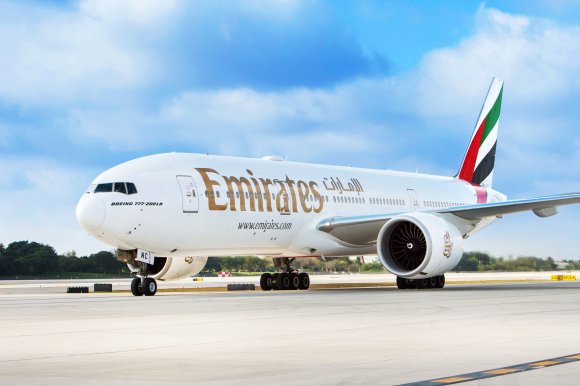 Emirates has firmed up plans to begin daily service between Dubai and Mexico City from 9 December 2019, with president Tim Clark saying the market remains underserved "despite the strong customer demand".
The route will operate via the Spanish city of Barcelona on board a two-class Emirates Boeing 777-200LR, which offers 38 business class seats and 264 seats in economy. The stop in Barcelona is required because the high altitude of Mexico City means it could not operate to Dubai non-stop.
The planned launch comes less than ten months after Emirates withdrew an application to operate flights from Dubai to Mexico via Barcelona after failing to secure rights to operate daily. It said a three times a week service would not be commercially viable given the resource investment required for such a long distance operation.
However, in January this year the airline was granted fifth freedom traffic rights for daily flights, paving the way for the launch of the new route.
"We are pleased to offer a direct connection on the route between the Spanish city and Mexico City that has long been neglected by other airlines and remains underserved despite the strong customer demand," said Clark.
"The availability of high-quality, daily international air services is essential for the development of tourism, business and cultural ties.
"Trade, especially in high-value and time-sensitive products, will be facilitated by the ample cargo capacity on Emirates' Boeing 777 aircraft. We also expect tourism to receive a major boost from the daily flights on our newly-refurbished Boeing 777-200LR."
The new 777 flight will offer up to 14 tonnes of cargo, opening up access to more global markets for Mexican exports such as avocados, berries, mangoes, automotive parts and medical supplies. Emirates SkyCargo has been flying freighters to/from Mexico City since 2014 already and in the last year carried more than 22,500 tons of cargo on the route.
Rodrigo Vasquez C, director general of the Mexican Civil Aviation Authority, said: "Emirates' arrival will bring a significant contribution to our international connectivity network by adding up daily services to Dubai and beyond. Emirates will be the 43rd carrier operating international flights into Mexico."
The planned launch of Emirates' new route comes just a month after Aeromexico started a three-weekly Boeing 787 Dreamliner service between Mexico City and Barcelona.
It had previously intended to begin flying between Mexico City and Barcelona on 1 November 2018, but cancelled its plans less than six months before the proposed start date, citing an intention by Emirates to serve the same route. However, it revived the plans in late January and service started on 15 June 2019.
O&D traffic data provided by Sabre shows 1,011,280 passengers travelled between Mexico and Spain in 2018, a rise of 7.9 percent compared with the previous 12 months.