Routes In Brief: Rolling Daily Updates (W/C Jan. 16, 2023)
Routes details the latest new route announcements, as well as the services returning to carriers' networks.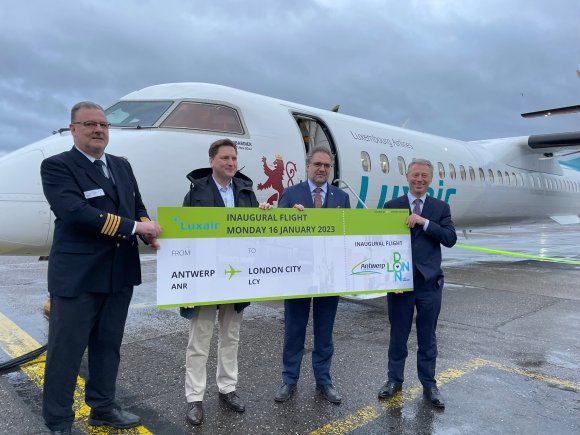 Jan. 20
Air Malta has added Portugal's capital Lisbon (LIS) to its summer 2023 schedule. The city becomes the fifth new destination in the airline's network for the season, in addition to Naples, Nice, Palermo and Tel Aviv. Flights from Malta (MLA) to Lisbon will be 2X-weekly from June 26 through Oct. 26 using Airbus A320s.
---
Armenian carrier Fly Arna is launching nonstop flights from Yerevan (EVN) to Novosibirsk (OVB) in Russia, starting from Feb. 7. Service will be twice a week. "The new flights will connect Armenia with a fourth destination in Russia after Moscow, Sochi and St. Petersburg," Fly Arna spokesperson Gayane Antonyan said. "We are confident that the new service will further strengthen the ties between the two countries as well as contributing to the travel and tourism sector."
---
Japanese carrier Zipair Tokyo is to increase service to Singapore (SIN) during the summer travel season. The airline will increase frequencies from Tokyo Narita (NRT) from 5X-weekly to daily, starting March 26. Additionally, the airline will increase Tokyo Narita-Honolulu (HNL) from 3X-weekly to daily from March 26 through April 2 and April 26 through May 8.
---
Ryanair has announced a string of new routes from destinations in Germany and Italy. One new service is being added from Münster Osnabrück (FMO) to Zadar (ZAD) in Croatia, while Cologne/Bonn (CGN) will receive summer connections to Lanzarote (ACE) and Venice (VCE). Genoa (GOA) in northern Italy has secured a pair of new routes to Cagliari (CAG) and Dublin (DUB), and Ancona (AOI) will receive four new connections to Brussels Charleroi (CRL), Kraków (KRK), London Stansted (STN) and Weeze (NRN).
---
Jan. 19
Volotea is adding two new routes from Nice (NCE). Flights to Brussels Charleroi (CRL) will be 2X-weekly from May 26, while a 2X-weekly service to Olbia (OLB) begins two days later. "Volotea wishes to develop connectivity between European regional cities, particularly in France," Volotea's head of international development Céline Lacroix said.
---
Emirates will reintroduce Airbus A380 flights to Casablanca (CMN) as part of the airline's ramp up of operations to Morocco. Starting from April 15, the airline will replace the Boeing 777-300ER aircraft currently used between Dubai (DXB) and Casablanca. The route was launched in March 2002 and Emirates has carried more than 3.5 million passengers between the destinations.
---
Australia's Queensland government is investing A$1.2 million to boost connectivity from Cairns (CNS) to the remote communities of Normanton (NTN) and Mornington Island (ONG) as part of a 10-month trial. Rex will operate additional flights on Mondays and Fridays from March 6. "The increase in capacity supports this growth in demand and will be instrumental in enhancing the social and economic wellbeing of these remote communities in 2023," Rex general manager of network strategy Warrick Lodge said.
---
Etihad Airways plans to increase Abu Dhabi (AUH)-Jakarta (CGK) from daily to double-daily. The route will rise to 14X-weekly from Oct. 1 using a mix of 787 and 777 aircraft.
---
IndiGo has announced the launch of 28 new flights. This will include 16 special flights for India's Republic Day, which will operate between Jan. 19 and Jan. 26, 2023. The airline has also added 12 new flights and additional frequencies to its winter schedule. The additional services will be introduced between regional destinations like Bengaluru-Ahmedabad, Chennai-Ahmedabad, Bengaluru-North Goa, Mumbai-Rajkot, Raipur-Mumbai, Kolkata-Guwahati, Guwahati-Agartala and Port Blair-Chennai. In addition, IndiGo will also launch a new flight between Chandigarh and North Goa and additional frequencies on the Kolkata-Bengaluru and Bengaluru-Cochin routes.
---
Jan. 18
Air New Zealand is boosting capacity to the Gold Coast (OOL) in Queensland, Australia. The airline is adding two additional weekly flights on its route from Auckland (AKL), providing an extra 27,400 seats between the two cities from March. It currently served the sector once a day. "On average, over the past six months more than 91% of seats have been booked out on flights between Gold Coast and Auckland, and in recent months we have seen many flights operating at capacity," Queensland Airports CCO Adam Rowe said.
---
Binter Canarias has announced routes to Granada (GRX) and Ibiza (IBZ) for the summer 2023 season. The Gran Canaria (LPA)-based airline will serve Granada twice a week and Ibiza once a week from its Canary Islands base. During the forthcoming summer season, Binter said it plans to offer 650,000 seats on more than 45 routes, representing an increase of 12% compared to the summer of 2022 and almost triple the capacity operated the summer before the pandemic.
---
Emirates will expand frequencies to Hong Kong (HKG) with a daily nonstop Airbus A380 service from its Dubai (DXB) hub, starting from March 29. The flight adds to its existing daily service that operates via Bangkok (BKK). "By bringing back its Dubai-Hong Kong flight EK380/EK381, Emirates is responding to the growing demand on the route and offering travelers the choice to fly non-stop or break their journeys in Bangkok," the airline said. Earlier this week, Routes reported that the carrier will increase flying to China ahead of the Lunar New Year holiday.
---
Jan. 17
German LCC Eurowings intends to offer about 140 destinations and more than 380 routes during summer 2023, the airline has said. The Lufthansa subsidiary's schedule includes new routes from Berlin (BER) to Alicante, Antalya, Gothenburg, Graz, Helsinki, Ibiza, Copenhagen, Larnaca, Malaga, Nice, Porto Rhodes and Zakynthos. Other new services include Dusseldorf (DUS)-Bergen (BGO) and Stuttgart (STR)-Stockholm (ARN). Palma de Mallorca (PMI) will be receive almost 400 flights per week across Eurowing's schedule.
---
Italy's ITA Airways has said it intends to launch routes to Riyadh (RUH), Jeddah (JED) and Kuwait City (KWI) once the Airbus A321neo enters its fleet. The carrier made the announcement ahead of its participation in FITUR 2023, the international tourism fair taking place this week in Madrid. In November, the airline said it was planning to take delivery of 39 new aircraft in 2023, including nine A321neos.
---
Royal Jordanian has increased flight frequencies between Amman (AMM) and Aqaba (AQJ) to 17 per week. CEO Samer Majali said the move was part of efforts to promote domestic tourism. OAG data shows that the carrier plans a further increase to 19X-weekly from April 3.
---
Air China will resume flights between Geneva (GVA) and Beijing Capital (PEK) on Jan. 26. One weekly flight is planned onboard A330-200 aircraft. Connections via Beijing to other cities in China will also be available. "After a long and difficult period of travel restrictions due to the COVID-19 pandemic, we are excited to once again offer this popular route to our customers," a statement from GVA said. The route will operate nonstop in both directions.
---
Jan. 16
Luxembourg-based Luxair operated its first flight from Antwerp Airport (ANR) on Jan. 16. Its new service to London City (LCY) will initially be 4X-weekly using a 78-seat De Havilland Canada Dash 8-400, rising to 5X-weekly from March 29. ANR CEO Eric Dumas said: "Antwerp and London are two important economic and cultural cities. A fast connection between the two cities is therefore important. As of today, both business and leisure travelers can once again travel from one metropolis to the other in one hour."
---
Taiwan's Starlux Airlines has opened a new route between Taipei Taiwan Taoyuan (TPE) and Hanoi (HAN), Vietnam. Service will be daily using Airbus A321neos, with a flight time of about 3 hours. OAG data shows the airline is entering an already competitive market served by five other carriers. China Airlines and EVA Airways each offer a double-daily service on the route, while Vietjet flies daily. Vietnam Airlines also serves the sector 5X-weekly and Bamboo Airways 3X-weekly. Of the 27,000 two-way weekly seats currently available, Starlux will have a 9.7% capacity share of the market.
---
Indian LCC IndiGo is to introduce a new domestic route between Jaipur (JAI) and Jodhpur (JDH). From Feb. 2, flights will be 4X-weekly every Monday, Tuesday, Thursday and Friday. "IndiGo has been at the forefront of enhancing regional connectivity and these flights will connect Jodhpur to many destinations across the country via Jaipur," head of global sales Vinay Malhotra said.