Laudamotion in talks with 'more than 50 airports'
Austrian leisure airline Laudamotion will increase its fleet to 25 aircraft this summer across its four European bases as it continues to expand its route network.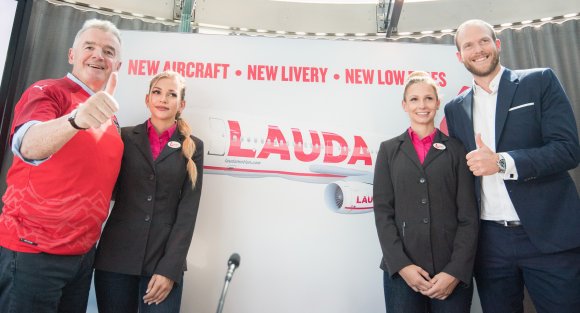 Laudamotion's fleet will increase to 25 aircraft in summer 2019, while the airline has signed agreements with a number of lessors to grow to 30 aircraft in summer 2020.
The low-cost carrier hopes the expansion will enable it to grow passenger numbers from four million in its first year of operation to six million in year two (year to March 2020). It is then targeting 7.5 million passengers in the full-year to March 2021.
In summer 2019, Laudamotion will grow its Vienna base from four to eight aircraft, Dusseldorf to seven aircraft, Stuttgart to three and Palma to two. In winter 2019, the Vienna base will increase further to 11 aircraft.
The airline said details of up to 20 new routes from Vienna, Stuttgart, Dusseldorf and Palma will be announced in the next month or two once airport and handling negotiations have been successfully completed.
The planned fleet expansion comes as Ryanair confirmed it has now taken 100 percent control of Laudamotion having previously owned a 75 percent stake.
Former Formula One racing champion Niki Lauda, who last year founded Laudamotion after buying assets of the failed carrier Niki, gave Ryanair the option of taking full control.
"With the backing of Ryanair, Laudamotion is set to grow strongly over the next three years to carry ten million passengers per year," said Laudamotion's chief executive Andreas Gruber.
"Our summer '19 programme will allow us to carry six million passengers in year two, a growth rate of 50 percent over the four million carried in year one, as we continue to offer our customers in Vienna, Stuttgart, Dusseldorf and Palma the lowest air fares on a fleet of young Airbus aircraft."
Deputy chief executive Colin Casey added that the airline is negotiating new routes and handling agreements with more than 50 new airports.
"In winter 2019 we hope to announce at least one new base, which will be outside of Austria and Germany, and there are a number of new airports both in central and western Europe who are pitching to win this business," he revealed.